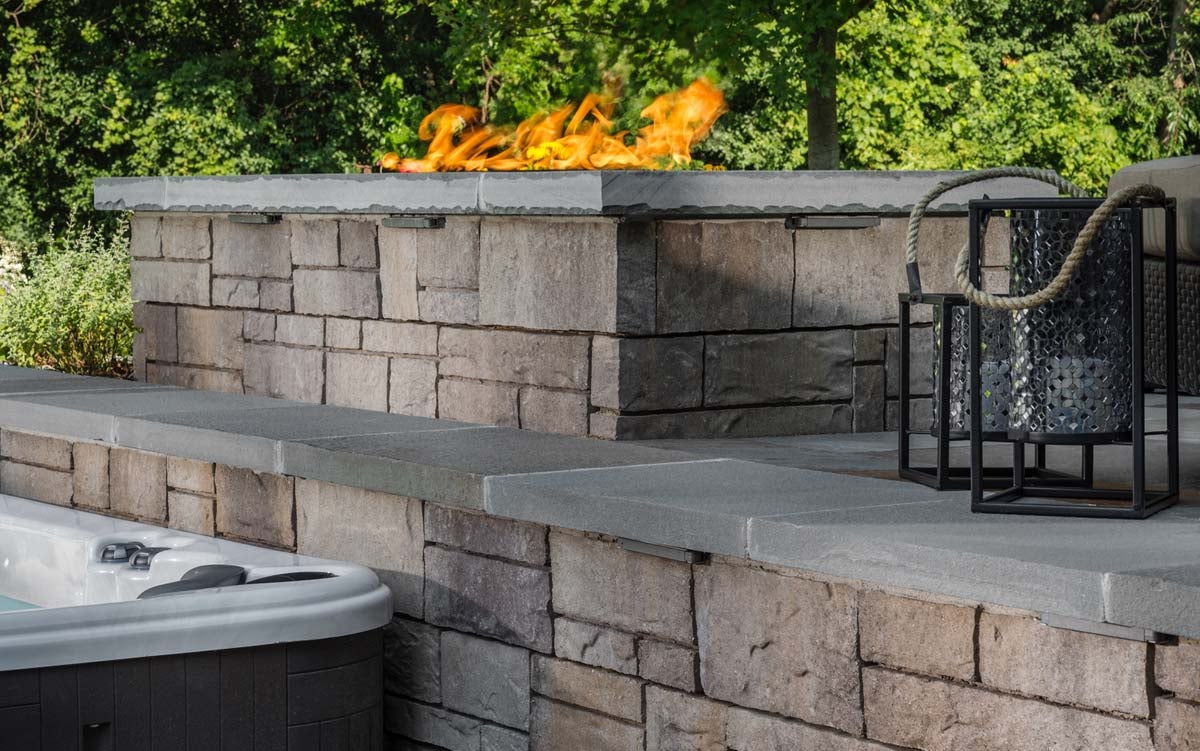 Fire pits continue to rise in popularity, and it's no wonder. There's just something about gathering around a fire that's inherently human. A fire pit instantly becomes everyone's favorite gathering spot. It's the ideal place to relax, unwind, tell stories, and get to know one another on a deeper level. If you're thinking of adding a fire pit to your backyard, there are a lot of options to consider before you begin.
Decision 1: Mobile or Built-In
Many people opt for a mobile fire pit that can be moved around to various locations. Movable fire pits are certainly less expensive than a built-in pit, come in a wide variety of designs, and have the added benefit of portability. The primary drawback, however, is that a movable fire pit tends to only last a season or two before the materials begin to deteriorate.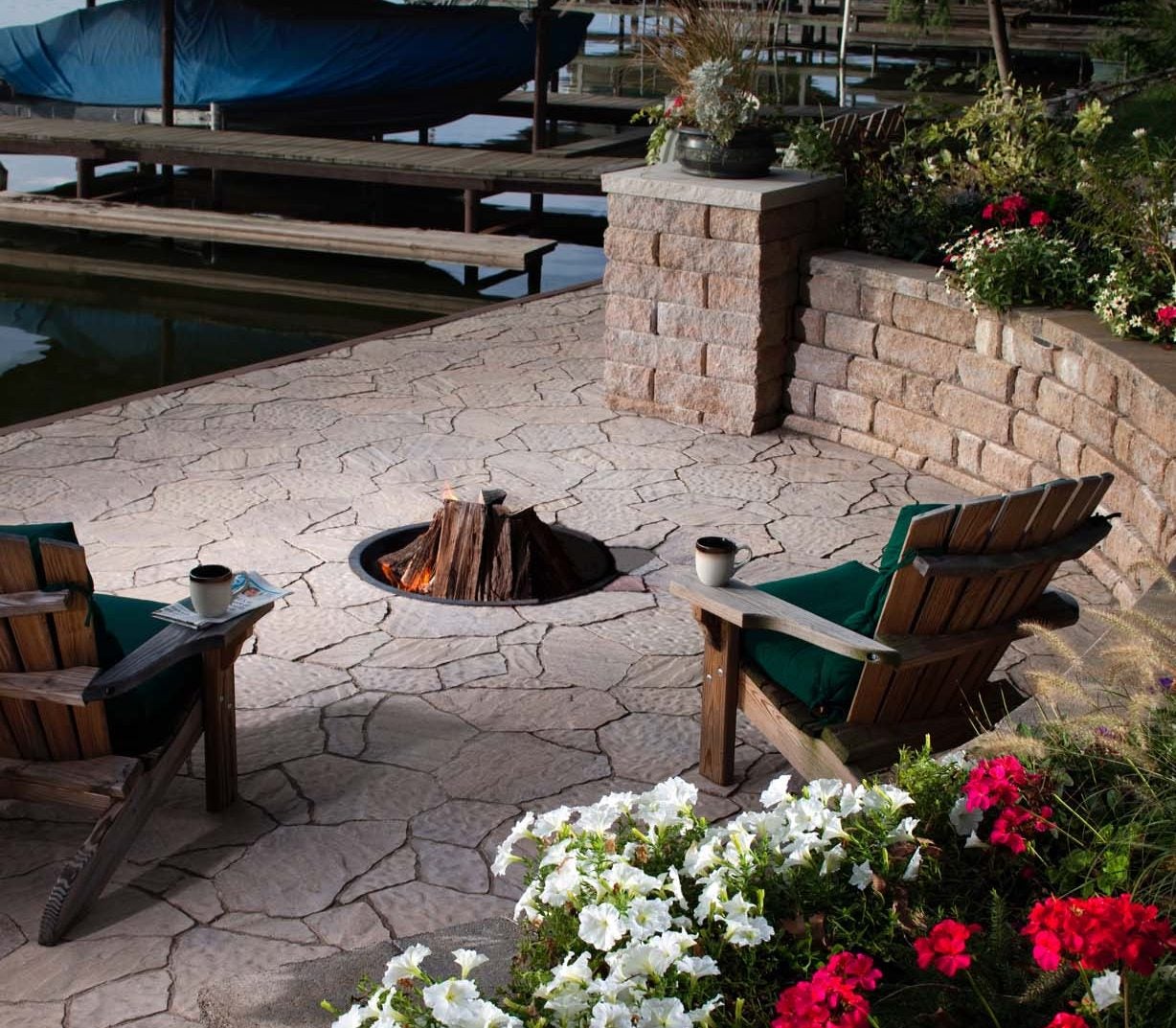 Decision 2: In-Ground or Above-Ground
An in-ground fire pit can be cost-effective, however above-ground pits are more common. One trend is to create a "sunken living room" design for an above-ground fire pit. This offers the added benefit of built-in seating. In addition, the surrounding wall can act either as a wind barrier or a heat reflector, creating a warm and cozy room.
Decision 3: Gas, Wood or Hybrid
There are a number of benefits to a gas fire pit. It's easy to start, there's no mess, there's no smoke, and it can be placed closer to the house. For purists, however, burning wood is one of the primal reasons to even have a fire pit. For the best of both worlds, consider a wood-burning fire pit with a gas starter. One popular trend is to install a gas starter with a switch that can be operated either locally, from inside the house, or with a mobile app.
Decision 4: Placement
An above-ground pit becomes a focal point of your outdoor living design. Be sure and place it where it balances with other large design elements. A gas fire pit can be placed just about anywhere, but a wood-burning pit will need to be at least 10 feet away from any structure. Before putting in a permanent fire pit, check for wind patterns that may cause potential smoke issues. Also, remember to leave ample room for seating around the pit.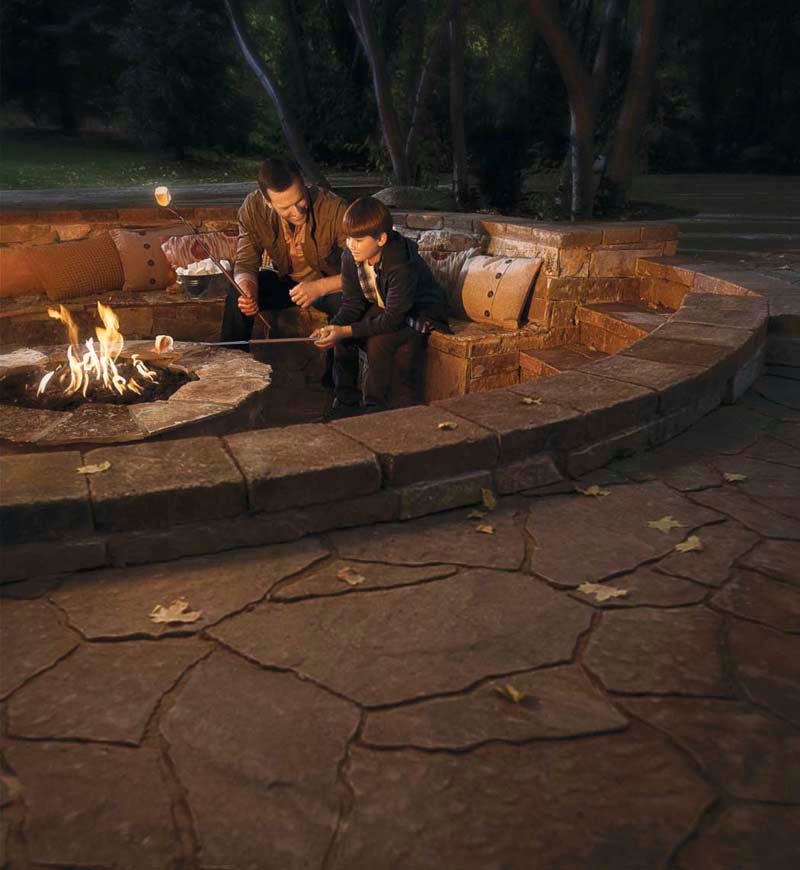 Decision 5: Materials and Shape
Above-ground fire pits can be constructed from a variety of materials. The most popular options are brick, natural stone and concrete blocks, such as Belgard retaining wall products. Although design options are endless, most fire pits are either round or square. One reason has to do with the shape of standard fire pit liners. Fire pit liners are highly recommended and may be required by your local municipality. In addition to adding a finished look, a steel liner keeps excessive amounts of heat from absorbing into the surrounding stone. By reflecting the heat up and out, it adds to the life of the stone and creates a safer environment. It also increases the feeling of warmth for those around the fire.
Decision 6: Seating Options
Built-in seating is currently one of the top trends in outdoor living and makes an excellent addition to a fire pit design. Some people like to place seat walls four feet away from the fire pit, which allows for walking room. Others prefer a three-foot distance, which can allow you to prop your feet on the ledge of the pit. If using seat walls, consider leaving one or two sides open. This will allow for the option of furniture placement, which softens the look and adds interest to the design. To add comfort and color to seat walls, use a variety of throws and outdoor pillows.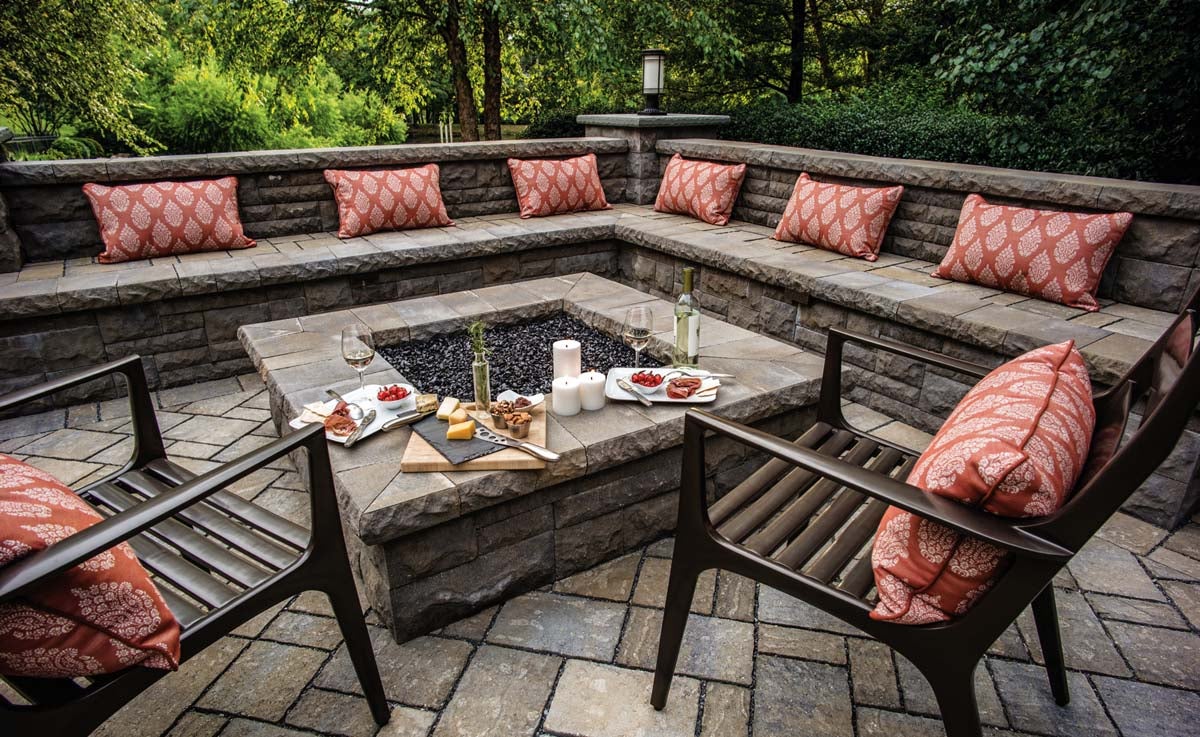 Fore more fire pit design inspiration, visit our "Fire Pit Ideas" Pinterest board. To discuss your ideas with a Belgard authorized contractor or dealer near you, visit our contractor and dealer locator page.
. . .