Grilling season is here. It's time for backyard barbecues, summer picnics, delicious food, sunshine and summer vibes. Become the grill master at the next party with Omaha Steaks' secrets to grilling the perfect steak in your outdoor kitchen.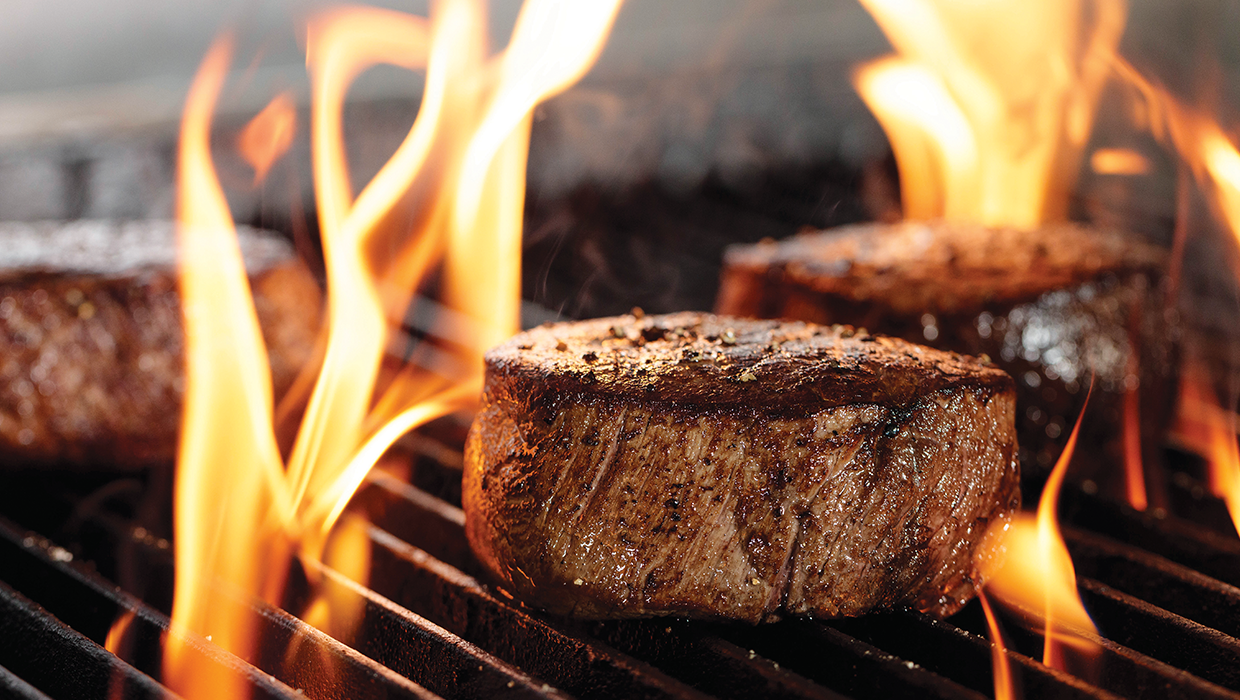 SELECTING YOUR IDEAL STEAK CUT
Every steak cut has a unique flavor profile and tenderness. The key to perfect grilling is starting with a great steak! Select an aged steak for increased tenderness and intense flavors -– all Omaha Steaks steak cuts are aged at least 21 days. Here's a guide to finding your perfect steak cut:
Filet Mignon – The most tender steak with a mild, elegant flavor. The filet mignon is an ideal companion for rich toppings, wine-based sauces, blue cheese butters and mushroom sauteés.
Ribeye – The most marbled steak cut with a rich butter and bold flavor. This versatile steak cut features a tender texture and intense flavor. Top a ribeye with this smoky bacon butter for a truly decadent steak experience.
New York Strip – A well-marbled steak with a firmer texture. Bone-in or boneless, the New York strip delivers an unmistakably bold beef flavor.
Top Sirloin – This naturally lean cut of steak is bursting with bold, full-bodied beef flavor and a firm texture.
T-Bone – This iconic steak is actually two steaks in one — a filet mignon and a New York strip — giving it two distinct flavor profiles. This large steak is perfect for sharing (or not, we won't tell.)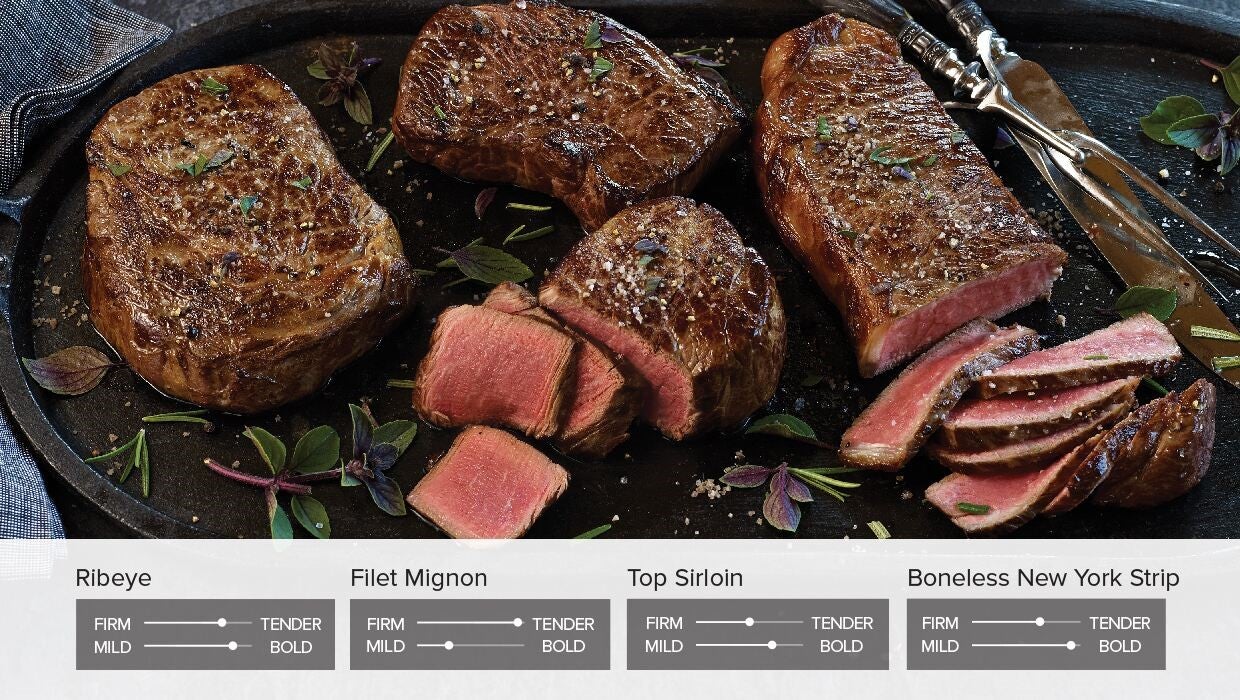 STEAK SEASONING TIPS
Thaw your steak completely and season both sides liberally with sea salt and cracked pepper or a coarse steak rub. Our chefs recommend seasoning your steak about 30 minutes before cooking to allow the salt to work its way into the beef and create more flavor. You can also rub a little bit of olive oil on your steaks before seasoning to help seasonings stick.
GRILL PREP TIPS
Whether you use a charcoal or gas grill, it's the heat that matters. Before grilling, clean your grates and preheat your gas grill to high or start your charcoal 10-15 minutes before you grill. You want your grill to be hot before adding your steak. We recommend brushing your clean grill grates with oil before adding any food.
STEAK COOKING TEMPERATURES
Once the grill is hot and oiled, carefully place your steaks directly over the heat source. Now… let the heat do the work. Flip your steak only once, and don't poke, press or prod it. We use the 60/40 rule when steak cooking: flip the steak once, at about 60% of the total cooking time for an even cook. Use the chart below or the Omaha Steaks app cooking timer for juicy grilled steaks every time.

The "doneness" of a steak is best determined by the internal temperature of the beef. Every person has a preference, but if you ask our experts … medium rare is best. Use a high-quality meat thermometer to measure the temperature of your steak for your perfect doneness.
| | |
| --- | --- |
| Rare | 120-130F |
| Medium-Rare | 130-140F |
| Medium | 140-150F |
| Medium-Well | 150-160F |
| Well-Done | 160F+ |
RESTING YOUR STEAKS
Grilling a great steak is easy when you select a great steak, follow our grilling steps and use the cooking chart. But, the real secret to a juicy steak is to let your steak rest!
Rest your cooked steak at least 5 minutes after removing from the grill to allow the steak juices to redistribute. A foil tent can help regulate temperature during the resting period.
We've shared our steak cooking secrets. Now, grab a drink, head outdoors and enjoy the best steak you've ever made!
. . .
Guest post and images by Omaha Steaks , America's Original Butcher, delivering the best steaks in the world.