Belgard is proud to adorn the outdoor living spaces of the 50th anniversary edition of the Southern Living Idea House. As the official hardscape sponsor, we are honored to be a part of Southern Living's legacy of bringing new design ideas to the marketplace.
This year's home is a charming raised cottage nestled in the Birmingham community of Mt Laurel, Alabama. With wrap-around porches and a wooded lot, this home exemplifies southern living, as is appropriate for the 50th anniversary showcase. Take a virtual walk with us through the welcoming outdoor living spaces of this lovely home.
• • •
Picturesque natural stone and Mega-Lafitt™ paver walkways lead from the street to the raised wrap-around porch on the front of the home. The use of natural stone creates a rustic look, as though the entrance to the home was cut directly into the natural landscape. The natural slate look of the Mega-Lafitt™ landings adds a touch of elegance.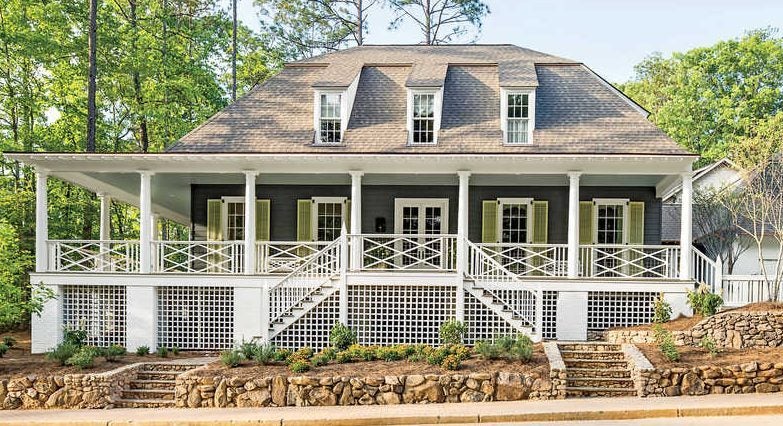 • • •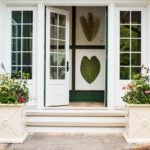 An Old York™ paver driveway installed with a traditional herringbone pattern connects with a Mega-Lafitt™ walkway that leads to a welcoming rear entrance. The driveway and walkway are both trimmed with contrasting tones of Lafitt™ pavers. The Lafitt™ border serves a dual purpose of adding visual interest and tying the overall hardscape design together. The french doors of the entrance are accented with coordinating sidelights. Elegant planter boxes are filled with a variety of colorful and whimsical annuals that help maintain a casual look.
• • •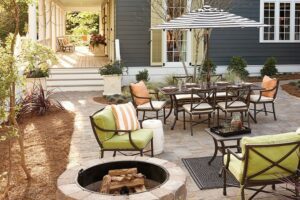 The deep and welcoming side porch leads from the interior living room to a delightful Mega-Lafit™ paver patio that serves both as a dining terrace and an outdoor living room. A wood-burning Weston Stone® fire pit acts as a visual anchor for the outdoor design which provides ample sitting room and multiple conversation zones.
• • •
A striped party cabana adds a festive look to the terrace and creates a cozy spot for private conversation or an escape from the elements. Cabana design elements coordinate with the outdoor living room, dining area and porch to create a cohesive design.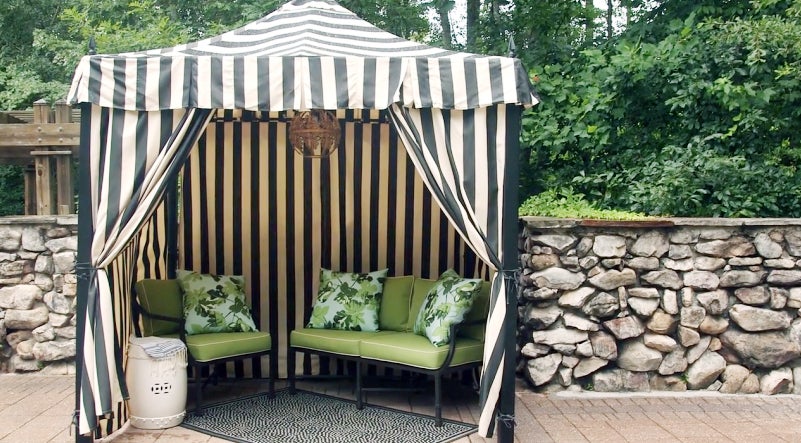 •   •   •
Interesting in learning more about the Southern Living 2016 Idea House?
all images of the southern living design home provided courtesy of time, inc.