Sometimes it's just unrealistic to build everything you want at one time. However, you can still save yourself a lot of money and headaches by planning ahead. If you have an overall vision for your backyard that you plan to build out in phases, below are some questions you'll want to consider before beginning the process.
SHOULD I HIRE A PROFESSIONAL DESIGNER?
If you're talking about a large scale makeover, it's often a good idea to enlist a landscape designer to design your completed makeover, even if you don't plan on doing everything at once. For example, if you plan to install a pool now and an outdoor kitchen down the line, you'll need to know where the gas and electric lines will need to go, as well as footings for any heavy items, such as a porch post or a fireplace. The added cost of a professional design can save you from having to rip up and replace sections of a patio or pool deck later.
WHAT FUTURE IMPROVEMENTS SHOULD I KEEP IN MIND?
When you're planning an outdoor living space, think of what you would plan for an indoor living space. Think lighting, music, televisions, gas or electric appliances. Consider your local climate and think about ways of keeping warm in the winter and cool in the summer. Installing junction boxes or live outlets where you may need electricity later will make a huge difference. Just remember that everything will be out in the elements and needs to be outdoor-rated with safety in mind.
DOES BELGARD OFFER DESIGN SERVICES?
Yes, working with a Belgard Authorized Contractor gives you access to the Belgard Design Studio, which offers over 50 free 3-D design templates and can also create custom designs with fly-through animation. However, your contractor may need to consult with a professional plumber or electrician, as needed, to plan for immediate or future utilities.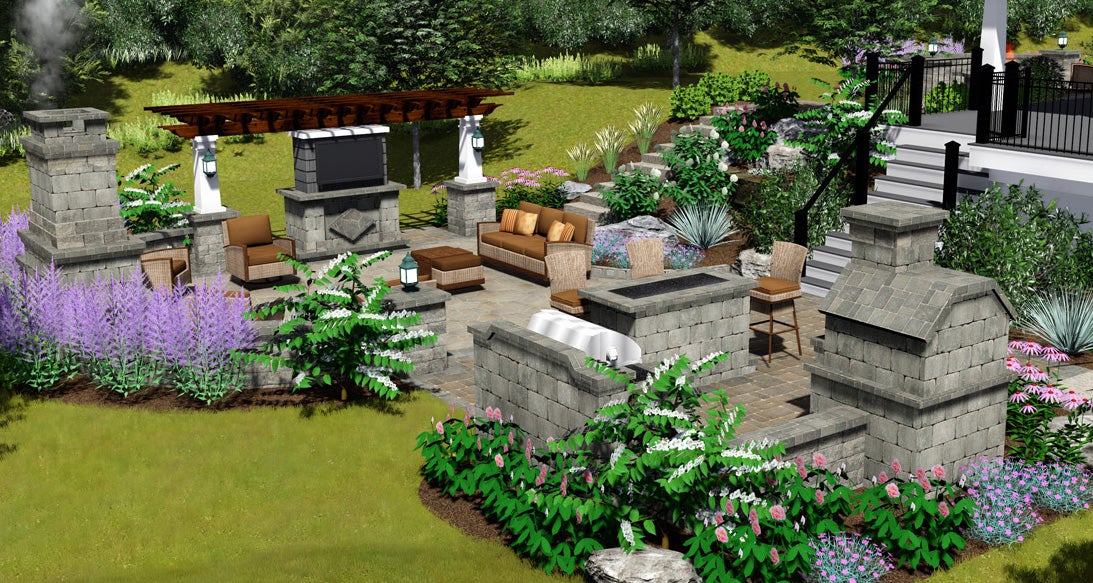 The multi-faceted design above (created by the Belgard Design Studio) represents the perfect opportunity to plan a phased project. Phase I could include the patios, walkways, and fire pit. Phase II could include the outdoor kitchen's grill station and brick oven. Phase III could include the outdoor fireplace and bar. Phase IV could include embellishments like the arbor, seat wall, TV stand, pillars, and hardscape lighting. In order to phase this out properly, before installing the patios, all future utilities would need to be run, and placement of future heavy elements would need to be fortified with the proper footings.