As the largest hardscapes manufacturer in the nation, Belgard has partnered with the largest horticultural event in the nation as the 2016 PHS Philadelphia Flower Show's official hardscapes sponsor at their event to be held March 5 – 13, 2016, in the Pennsylvania Convention Center. This year's show, "Explore America," will celebrate the centennial of the National Park Service and America's majestic landscapes, rich history, and vibrant culture by showcasing stunning displays created by the world's premier floral and landscape designers. From Acadia and Cape Cod, to Valley Forge and Shenandoah, to Yellowstone, Yosemite and other iconic parks and historic sites, American beauty and glory will serve as inspiration for a variety of interactive exhibits. In addition to the use of Belgard hardscapes throughout the entire show, Belgard will also exhibit a variety of hardscape products in their entrance display garden, which is titled "A Chesapeake Kind of Beautiful" and is a tribute to the Chesapeake Bay National Park.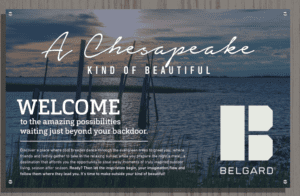 The Belgard feature exhibit, which was designed by the Belgard Design Studio, will be constructed to emulate a home with an expansive backyard outdoor living space, which includes an Old World Paver™ driveway, a Mega-Lafitt™ paver patio, meandering gardens bordered with Anglia Edger®, a Bordeaux Belgard Elements outdoor kitchen and fireplace, and a Mirage® porcelain paver pavilion. Tandem™ Modular Grid will be used to create various structures throughout the feature display, included the pavilion posts, an arbor, end caps, and column wraps.

The Philadelphia Flower Show is hosted by the Pennsylvania Horticultural Society and benefits a variety of year-round programs in the Philadelphia area that have become national models of urban greening. For more information on the show, visit theflowershow.com.