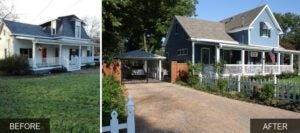 Wayne Goodall is known in McKinney, Texas, as The British Builder, a transplanted British native who specializes in historic home renovations. One of his recent projects involved renovating the historic home built by Civil War Veteran, General Elbert Wiley Kirkpatrick, in 1880. In addition to his civic and military leadership, Gen. Kirkpatrick was also known for horticultural work with various fruits and nuts, including his patented Elberta Peach tree. Goodall's restoration of this historic home included extensive interior and exterior renovations, as well as multiple hardscape and landscape installations. The home gained a significant amount of curb appeal with a new gabled roof, picket fencing, and paver driveways that flank both sides of the home. The cobbled look of Bergerac® pavers complement the picket fencing to add an air of sophistication with old world charm. Bergerac pavers continue to the outdoor garage, located at the back of the property, and connect with a backyard outdoor living area that includes a Bergerac paver patio with a circular brick fire pit and surrounding curved brick seat walls, which tie in with the look of the home's brick chimney. A tailored stained wood privacy fence encloses the backyard with the help of arched wrought iron gates. The combination of building materials in the outdoor living area work together to create an eclectic, homey feel that bridges the past with modern design.
For this upcoming Christmas season, the home will be open for tours during the 42nd annual Chestnut Square Holiday Tour of Homes, which is planned for December 5 and 6 and expects over 2,000 visitors over the course of the weekend.
.   .   .
For views of the home's renovated interior and expansive porches, click here.