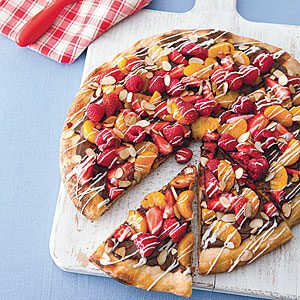 Looking for a new and different idea for this weekend's cookout? While the grill is still hot, throw on a Grilled Dessert Pizza for a sweet ending to your meal. Smokey, fruity, flakey, nutty, and chocolaty…a winning combination for any family gathering. For a fun family activity, let the kids help place the fruit toppings in step 4. But you might want to have a little extra on hand, in case they're tempted to sample while they work!
Ingredients
2 ounces white chocolate, chopped
1 pound pizza dough, thawed if frozen
1 cup chocolate chips
1 cup sliced strawberries
1 cup raspberries
1 cup drained canned mandarin orange segments
1/3 cup sliced almonds, toasted, optional
Preparation
1. Preheat grill to medium. Lightly mist a rimmed baking sheet with cooking spray and dust with flour. Place white chocolate in a bowl and set over a small pan of simmering water (do not let bottom of bowl touch water). Cook, stirring often, until white chocolate has melted. 2. Press and stretch dough to form a 14- to 15-inch round. Place dough on prepared sheet, place on grill, cover and cook for about 5 minutes, until crust is puffed and golden. Using tongs, flip dough over and cook for about 3 minutes longer. 3. Sprinkle dough evenly with chocolate chips, leaving a 1/2-inch border. Cover grill and cook 2 minutes, until chocolate chips have melted. Using an offset spatula or butter knife, spread chocolate evenly over dough. Using tongs or spatula, transfer pizza to a large cutting board. 4. Scatter berries and orange segments over pizza. Sprinkle with almonds, if desired. Dip a fork into bowl with melted white chocolate and drizzle over pizza.
.   .   .
Photo: Kate Sears, Styling: Susan Vajaranant (courtesy Time Inc.)