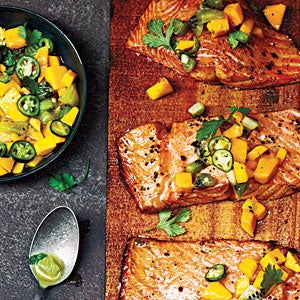 Grilling salmon on a cedar plank is a simple and elegant way to prepare a light yet full-flavored summer dish. The salmon stays incredibly tender and moist, while picking up smoky flavors from the grill and woodsy flavors from the cedar, along with whatever was used to soak the planks. With this recipe, the smoky Cedar Plank-Grilled Salmon stands up nicely to the spicy sweetness of the tropical Mango Kiwi Salsa. Prepare the salsa before the salmon, or even the day before, so the flavors have time to meld.
.   .   .
Cedar-Planked Salmon with Mango Kiwi Salsa
1 large cedar plank
1 cup finely diced peeled ripe mango
1/2 cup diced peeled kiwifruit
2 tablespoons chopped fresh cilantro
1 teaspoon extra-virgin olive oil
1 teaspoon fresh lime juice
1 serrano chile, finely chopped
1/2 teaspoon kosher salt (1/4 for salsa, 1/4 for salmon)
1/2 teaspoon freshly ground black pepper (1/4 for salsa, 1/4 for salmon)
4 (6-ounce) skinless salmon fillets
Preparation
Soak plank in water for 25 minutes. (For additional flavor, try soaking the plank in wine, cider, or sake.)
Combine mango and next 5 ingredients (through chile). Add 1/4 teaspoon salt and 1/4 teaspoon pepper; set aside.
Preheat grill to medium-high heat.
Sprinkle salmon with remaining 1/4 teaspoon salt and remaining 1/4 teaspoon pepper. Place plank on grill rack (without salmon); grill 3 minutes or until lightly charred. Turn plank over; place fish on charred side. Cover; grill 8 minutes or until desired degree of doneness. Place each fillet on a plate; top each with 1/3 cup mango salsa.
•   •   •
Photo credit: Johnny Autry; Styling: Mary Clayton Carl (Courtesy Time, Inc.)