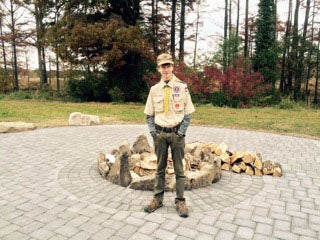 As one of the final qualifications for achieving the rank of Eagle Scout, a scout must organize and complete a community service project. For his project recipient, Timothy Bedford of Troop 996 in Virginia Beach chose to help the Landing Zone Grace Warriors Retreat (LZ-Grace) build a relaxation area for special operations forces veterans returning from deployment.
"I chose the project because our family has a great appreciation for military personnel," said Bedford, whose father is a retired Navy senior chief. "We are aware of the effects of wartime deployments on service members and their families. I wanted a project that would help those who serve our nation and sacrifice to protect us."
With Cambridge Cobble pavers donated by Belgard and local dealer Lancaster Farms, Timothy organized over 35 volunteers to build a fire pit and patio area as a relaxing gathering spot where veterans can help each other decompress from the tensions of deployment and transition back to life at home.
The dream for the LZ-Grace retreat center was originally conceived by 32-year veteran Navy SEAL, Steve Bukowski, who himself had trouble transitioning from each deployment. But before Bukowski could achieve his dream, he died of a massive heart attack only six months after his retirement.
A little over four years later, Bukowki's widow, Lynette, and the Bukowski family have now brought this dream to life by converting a rundown horse farm into LZ-Grace where special operations forces veterans will benefit from peer mentoring, recreation-based therapy, life skills instruction, and post-transition planning.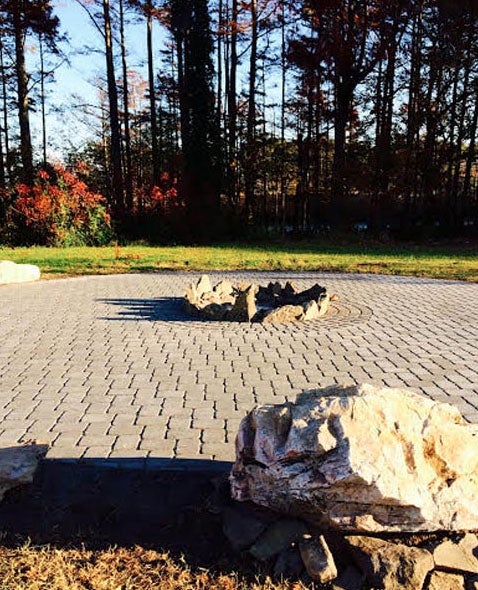 "Mrs. Bukowski shared her late husband's vision of a place where service members could rest, heal, and reconnect," Bedford said. "She told me recovery happens when people can talk over a meal or sitting around a fire. As a scout, I have always enjoyed campfires. I would have done whatever project she needed most, but my heart was to build the fire pit."
Although, the retreat center is not scheduled to open until late summer or fall of this year, the Warrior Fire Pit, as it has been named, is already well used by the numerous volunteers working daily to renovate the property, many of whom are retired or former combat special operations forces, local firefighters or police officers, or SWAT team members.
"I often find many of the guys volunteering out here sitting around the fire talking after a full day of hard, dirty labor," said Lynette Bukowski, LZ-Grace founder. "The comradery which naturally takes place around an outdoor fire opens a space for healing of hearts and minds and spirits in many. It's easy to talk and tell stories around a fire. It's also easy to sit quietly and listen and reflect."