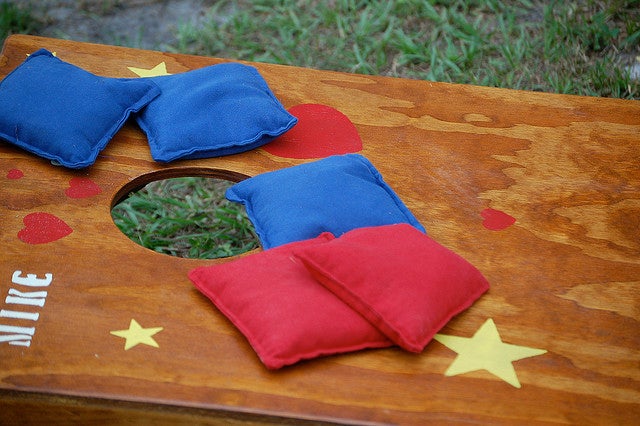 August is upon us once more. For many of us, that means the kids are heading back to school. Doesn't it seem like June was just kicking off a season of family adventure? Time flies when you're having fun in the sun!
After months of warm weather and long summer nights, why not take one more chance to celebrate the season and send the kids off in style? Just because school is starting, that doesn't mean you can't enjoy the last of summer. Make August your time to throw the ultimate back-to-school bash!
A lot goes into planning a party, but thankfully, we've got all you need to make the process easy, quick, and fun! Check out these five steps and have the best back-to-school party on the block.
1. Center on summer
When planning your back-to-school bash, make sure you channel the season. Summer might not be over, but for the kids, heading back to school pretty much marks the end of summer fun. So, make this no ordinary outdoor party… you're celebrating the end of summer, the kids starting another year of school, and all of the wonderful fun you've had together these past few months.
Emphasize the best parts of the season, like the warm weather, long nights and of course, the perfect time to be outside. You know what that means…. get outdoors! Put your yard to use and center the party around your landscape's best features—whether that be the pool, the patio, or the yard. There's no better way to say goodbye to summer than making it the focal point of your party. Get everyone out of the house and enjoy the sun!
2. Choose your theme
Every great party starts with a great theme, and back-to-school parties are no different. In order to make decorating easy, choose a theme and stick to it.
Do you want to have a barbeque? Grab some checkered tablecloths and mason jars. Or maybe you'd rather pretend you're at the beach and have a luau around the pool. In that case, think Hawaii– leis, tiki torches, the whole deal. Don't really feel like going all out on decorations? No problem! Check out our tips for lighting up your hardscape for an easy way to add some flair to your backyard!
3. Make a menu
It isn't a party until you break out the food and drinks, so take time developing your menu. Highlight your family's summer favorites: BBQ chicken, burgers, fruit salad, and more. There's no need to hide inside while everyone else is enjoying the sun… put your grill to use and cook outdoors with your family and friends!
Make sure you consult the kids about kid-friendly options—it is their last hurrah, after all. Get them involved and come up with "kid-cook" options that they can prepare too. And of course, don't forget dessert. Need some inspiration? Check out our Salted Caramel Ice Cream recipe, or whip up some s'mores!
4. Plan activities
One of the best parts of summer is the endless list of outdoor activities you can do. Plan some fun summer games for your back-to-school bash. Want to get an expert's opinion? Ask the kids! They are the masters of fun.
In the mean time, here are a few suggestions for you: If you're having a pool party, enjoy a game of Marco Polo or set up water races. Winners get a prize, like a piece of candy! If a luau strikes your fancy, do the limbo or have a hula contest. Cornhole (bag toss) is great for barbeques, and water balloons are guaranteed fun for any theme. Be creative, and remember, get outside!
5. Have a blast
Planning and hosting a party can be overwhelming. Make sure to take a deep breath and enjoy your time with your family and friends. After all, that's what this celebration is all about!
Remember that going back to school marks a big time for the kids. New teachers, new classmates and new subjects can be a lot of exciting changes all at once! So soak in the sun, reminisce with them about your favorite summer memories, and cherish your time together. Summer only comes once a year, and this is it for the kids. Send them off with a bang, and get ready for the fun the school year brings!