The salted caramel flavor train is sweeping the nation and its next stop is right in your kitchen! Last month we gave you a skinny margarita recipe, and now that summer's here it's time to indulge. You'll need an ice cream maker, so if you don't have one, see if you can borrow one from a neighbor or friend! Here's our recipe for homemade salted caramel ice cream: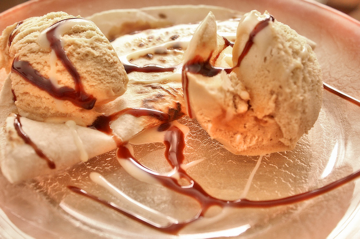 (source)
Equipment
Ice cream maker
10-inch heavy skillet
2 medium-sized bowls
Small, heavy saucepan
Whisk
Wooden spoon
Instant-read thermometer
Fine-mesh sieve
Large bowl
Airtight container
Ingredients
1 ¼ cups sugar, divided
2 ¼ cups heavy cream, divided
½ teaspoon flaky sea salt
½ teaspoon pure vanilla extract
1 cup whole milk
3 large eggs
Step One:
Heat 1 cup of the sugar in a dry, 10-inch heavy skillet over medium heat. Stir it with a fork so that the heat distributes evenly. When it begins to melt, stop stirring and cook it by picking up the skillet and swirling it around so that it melts evenly. When the sugar takes on a dark amber color, it's time for Step Two!
Step Two:
Add 1 and ¼ cups of heavy cream to the sugar (this might spatter, so be careful!) and cook until all of the caramel (AKA dark, melted sugar) has dissolved. Move this mixture to a bowl and then stir in the ½ teaspoon of sea salt and ½ teaspoon of vanilla extract. Pro tip: if you don't have two ½ teaspoon measuring spoons, use the same spoon for dry ingredient first, then the wet ingredient last. That way you'll end up with the right amounts of both.
Step Three:
Bring milk, the remaining 1 cup of heavy cream and the remaining ¼ cup of sugar to a boil in a small, heavy saucepan. Stir occasionally.
Step Four:
Lightly whisk eggs in a medium-size bowl, then add half of the hot milk mixture in a slow stream, whisking constantly. Pour it back into the saucepan and cook over medium heat, stirring constantly with a wooden spoon, until a custard-like consistency appears and coats the back of the spoon, registering 170 degrees Fahrenheit on an instant-read thermometer. Do NOT let the custardy mixture boil!
Step Five:
Pour the custard through a fine-mesh sieve into a large bowl and then stir in the cooled caramel. Chill the custard, stirring occasionally, until it's very cold – this will take between 3 to 6 hours. Freeze the custard in an ice cream maker (it'll be soft), then transfer it to an airtight container and put it in the freezer to firm up.
This recipe will last you a whole week, so once you're done be sure to save some to show off what a cooking maestro you have become!
Need more inspiration? Check out our Idea Book and learn more about how to take your hardscape to the next level.