The weather outside may be frightfully cold for many of you, but what about a delightfully bold, crackling fire outside? It's a terrible thing to feel like you can't enjoy the outdoors without worrying about frostbite. That's why we're spotlighting our fireplaces and fire pits along with ideas for entertaining outside! Don't let the weather keep you cooped up with cabin fever. Here are some tips:
Plan something that coincides with the hottest part of the day. Depending on where you live, that still might be pretty cold! But there's no rule that says it's only appropriate to use a fire pit at night to roast s'mores and tell spooky stories. Fireplaces are for light and heat!
Invite some friends, neighbors or family members over for a mini-camping experience. Everyone brings a blanket and curls up in a chair around the fire to play a game. There are plenty of games you can play without sacrificing the comfort of heat. Try charades, or the endlessly amusing "who am I?" game. If you've never played it before, it's easy and always a scream. Pick a famous person (alive or dead, real or fictitious) and write their name on a post-it, then stick it onto the forehead of the person to your left. Now guess, one question at a time, moving clockwise, who you are!
Have hot drinks and snacks ready, and don't forget to remind everyone to bundle up. Check out our mulled wine recipe or whip up some hot apple cider. Or, if you happen to be an always-on-the-go type, let people pick their own drinks from a single-serve coffee/tea/cocoa maker. You could even set out pre-stuck marshmallow roasting sticks, warmly welcoming everyone the moment they set foot into your backyard.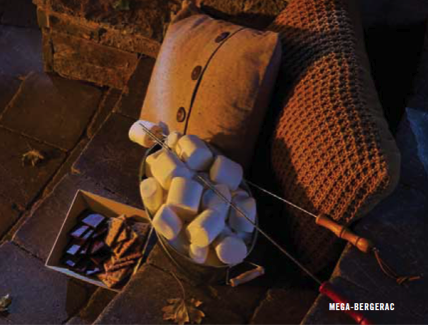 Now let the quality time and fun begin!