Coconut Lime Shrimp Skewers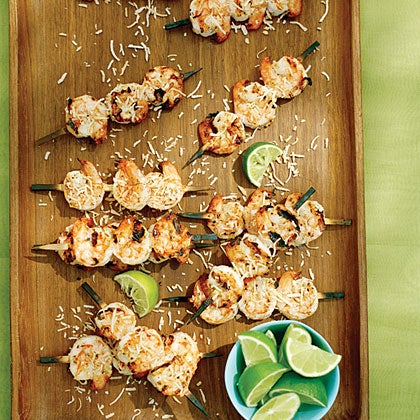 Summer is a time for seafood! With this Hawaiian flavor, shrimp never tasted better. A squeeze of lime adds zing and toasted coconut contributes crunch to this easy make-ahead, crowd-pleaser. You'll need at least 24 wooden skewers (6 in).
Time: 30 minutes, plus marinating time.
Serves 12 or 8 if the group is hungry!
Ingredients
1 tablespoon minced fresh ginger
1 tablespoon minced garlic
1 tablespoon freshly grated lime zest
2 tablespoons fresh lime juice
1 can (14 oz.) coconut milk
2 pounds large uncooked shrimp (26 to 30 per lb.), peeled and deveined
1/4 teaspoon kosher salt
Fresh lime wedges for squeezing
1/2 cup toasted, sweetened shredded coconut
Preparation 1. In a medium bowl, combine ginger, garlic, lime zest and juice, and coconut milk. Add shrimp, tossing to coat, and chill, covered, at least 1 hour and up to 1 day.
2. Meanwhile, soak skewers in water. Prepare a grill for high heat (450° to 550°; you can hold your hand 5 in. above cooking grate only 2 to 4 seconds). Push 2 or 3 shrimp onto each skewer in a "C" shape (through each end); cook, turning once, until flesh has just turned pink and is slightly charred, about 3 minutes on each side.
3. Arrange skewers on a serving platter and sprinkle lightly with sea salt, a squeeze of lime juice, and coconut. Serve with extra lime wedges on the side. Enjoy!
Consider a sweet rice made with extra coconut milk or sweet Hawaiian rolls as a side. Add to the menu with a fresh salad of butter lettuce, papaya, mango, and strips of avocado. Fresh pineapple cubes with maraschino cherries on a skewer adds to the tropical menu.
Recipe courtesy of Sunset Magazine, June 2009.