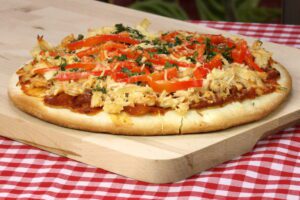 BBQ Chicken Pizza on the Grill
Ingredients (amount varies depending on the size of the pizza and your preferences)
Pizza Shell (buying the pre cooked one is quick, but homemade works too*)
BBQ sauce
Chicken
Cooked Canadian Bacon, chopped
Pizza Cheese, grated
Red Peppers, sliced or diced
Scallions, sliced
Cilantro, shredded
Baby Spinach, shredded and washed thoroughly
Preheat half your grill to medium, or fire up your Chicago Brick Oven. Cook chicken (or buy rotisserie chicken from market and strip into bite-size pieces) and mix with cooked bacon and BBQ sauce. Lightly brush the bottom (grill side) of the pizza shell with oil.
Brush a thin coat of BBQ sauce over the top side of pizza shell. If using dough, see recipe below for grilling instructions. Spread a generous coating of the cheese mixture over shell. Spread BBQ chicken pieces over pizza. Top-off with spinach, peppers, scallions and cilantro. OPTIONAL: Add drops of BBQ sauce over pizza before grilling. Cook on the grill's indirect heat side. Leave on the grill until the cheese is melted, approx 5-7 minutes depending on pizza size.
BBQ chicken goes great with most toppings. Try topping the shell with fresh mozzarella, the bbq chicken mixture, garden tomatoes, and oregano.
* Basic Pizza Dough
Ingredients:
1 1/2 cups warm water (about 110°F to 115°F)
1/4 ounce active dry yeast
1 teaspoon sugar
3 1/2 cups all–purpose flour
1/2 cup semolina flour or fine ground yellow corn meal
1/3 cup olive oil, and extra for coating the bowl
1 teaspoon salt
Combine yeast, water and sugar in a mixing bowl and stir. Let sit until foamy on top. Add 1/2 cup flour, the semolina, and 1/3 cup olive oil with the salt. Mix and continue working in the flour a 1/4 cup at a time until completed. Put the dough on a lightly-floured work surface and knead until smooth and tacky. Prepare a large mixing bowl coated in olive oil and place the dough in it. Cover the bowl with wax paper or wet towel. Place in a warm area and let double in size; usually takes over an hour. Knead the dough a little and separate into two equal portions. At this point, store in airtight bags; it's ready to use as directed in recipes.
Cooking on the grill: You'll want to spread out your dough to a circular 1/2 inch thin layer (no sky-high flipping needed) by pressing out in a circular motion or flipping between hands. Lightly coat a preheated grill with oil and place stretched dough on direct medium high heat for 2-3 minutes depending on size. Then flip to indirect heat and add toppings. The dough may char lightly, but that will give it a crunch! If you are using your Brick Oven, follow those directions.
Note: You can freeze and store this dough up to four months. Make sure before using to thaw for several hours at room temperature or in the refrigerator.