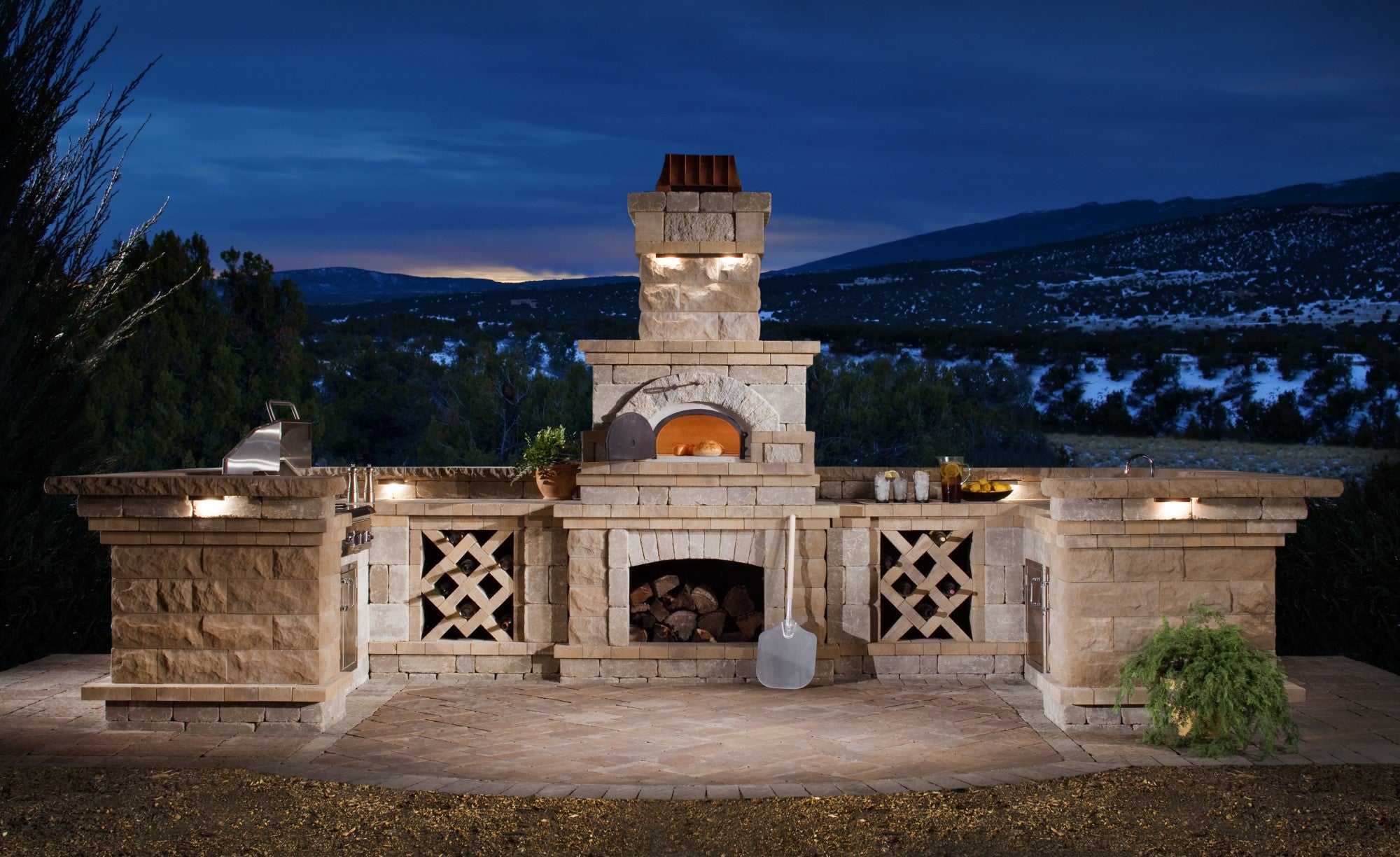 Spring naturally brings people back outdoors, with friends and neighbors gathering in the backyard more frequently as the weather warms. Belgard offers you the opportunity to be the neighborhood house that's always "prepared for company." Adding outdoor living spaces, such as an outdoor kitchen, outdoor bar, water feature, or a fireplace creates a naturally appealing gathering place. Yet, to build these features from scratch can be laborious and time consuming.
With that consideration in mind, Belgard has partnered with Harmony Outdoor Living, Inc. to offer the Elements Collections. Each item is modular, uses Belgard products and arrives ready to be installed. Most installations are done in one day! With five collections, and multiple color options, there's a style to coordinate with any architectural look.
The Bristol and Wexford Collections offer upscale options with extra details and generous sizing, and the upper end Nottingham and Euro Series each offer a distinguished look.
"Whether it is the entry level Brighton collection or our top of the line series, all Elements are build to the same exacting standards and carry the Belgard lifetime warranty," states Joe Raboine, President of Harmony Outdoor Living.
How do I decide
It's a judgment call in most cases. "Considering the home's architectural style is important, as is color. When in doubt, keep it neutral," suggests Raboine.
Look at your area – measure and layout the available space on graph paper. Cut out pieces representing the features you are considering. Don't forget to add furniture and leave ample space for walking. Rule of thumb is to leave four feet of space around all cooking features. At this stage, consider contacting a Belgard Authorized Contractor who can create a 3D scale model.
What do I need
The beauty of the Elements collection is they're designed to coordinate with Belgard pavers. For a complete look, consider the backyard as a whole – this could be the right time to install pavers as well. At a minimum, it is recommended pouring at least a concrete base for all features, which allows for easier installation. The Elements Collections are designed to be buried four inches below the finished pavement. "This is specially important when installing the kitchen and bar units, which would be too high otherwise," Raboine points out. Natural gas, propane and wood options are available. Most important, be sure to check your local building codes first.
What are the options
The Elements Collection offers a wide range of options – from complete kitchen islands to simple grill combination to fire pits and fire tables. Plus, there are accents galore! Collections can be accentuated with wood boxes, a hearth, seating walls, planters, lighting pillars, a mailbox, water features, and the popular Chicago Brick Oven. "And don't overlook lighting," Raboine is quick to add. "If you skimp on lighting, you will be very disappointed and it's difficult to retrofit after the fact."
Click to see our whole product line or download our catalog.
More on Chicago Brick Ovens/Medium Rare Grills.
Read past posts on this topic: fireplaces and fire pits, choosing a fire feature, project planning: outdoor kitchens, modular units
Examples from various collections: