As a contractor, the more products and services you are able to offer your clients, the better your chances are for winning larger projects, or upselling on smaller ones. Belgard has a multitude of products, services and tools to help you add outdoor kitchen packages to your repertoire. Here's how we do it.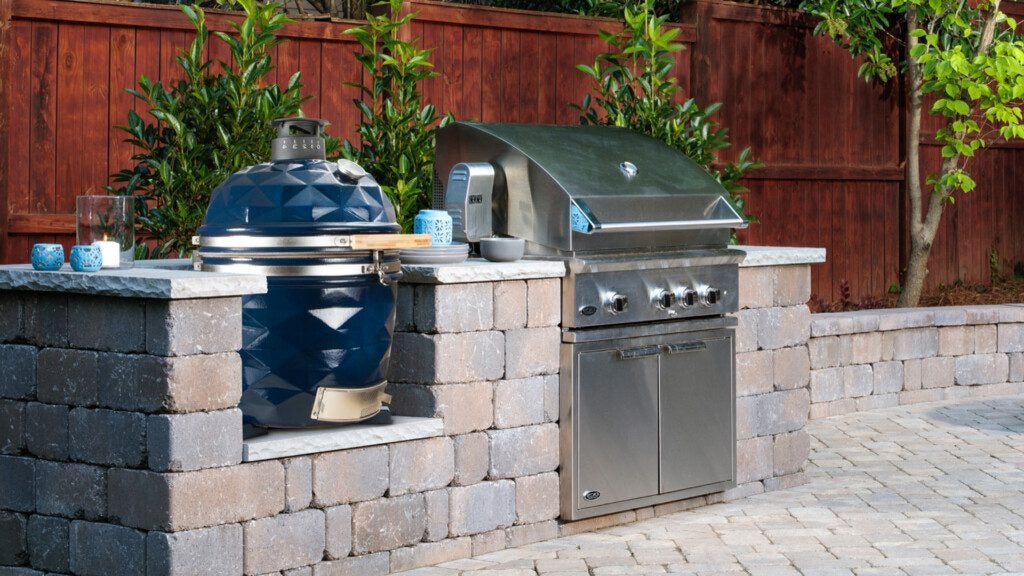 Elements: Plan Early for Kitchen Finishing Touch
Whether you're planning an outdoor kitchen from the ground up, or adding features to one that's already built, our Belgard Elements™ line of outdoor kitchen essentials offers the perfect way to customize the space with a complete outdoor kitchen package. For the charcoal purist, our versatile Blue Diamond Kamado allows the griller to grill, roast, smoke or bake. For those who prefer the ease of cooking with gas, our built-in grills are a great option. A side burner next to the grill station allows any outdoor chef to warm sauces or cook sides like beans, corn or potatoes, while built-in outdoor pizza ovens are always ready for homemade pizza night plus other baking needs.
Storage areas are important, so plan ahead in the placement of handy outdoor kitchen cabinets and outdoor kitchen drawers. Clients should be reminded that a drawer next to the grill area is a must to keep cooking accessories like tongs, spatulas and pizza cutters within reach. If your client has room, a sink or wet bar and refrigerator is always a good choice. From cooking to storage and everything in between, Belgard Elements has a product to enhance outdoor cooking and living.
An outdoor pizza oven ensures your clients can get the most out of their kitchen

The Elements line of outdoor kitchen grills and accessories fit seamlessly in any outdoor kitchen, seen here in the kitchen for Lauren Beavers of @Handmakeshome.

The Elements Blue Diamond smoker completes the grilling enthusiast's outdoor kitchen

The Blank Slate house features an outdoor bar by the pool area made from Belgard Elements and Artforms

The Elements Built-in Gas Grill and storage in Lauren's kitchen enhances functionality.

The Belgard Elements line includes all the outdoor kitchen accessories you need to complete any project!
Go Modular with Grill Islands and Matching Stone Fireplaces
Belgard can offer you and your clients a variety of amazing prefabricated grill islands and coordinating outdoor fireplaces and fire pits. With our modular kitchen and fire features, we do the work for you! Prebuilt in a factory setting, these handsome outdoor living features coordinate perfectly with Belgard pavers and walls because they're made with our products. They offer a distinguished look and even include modules for firewood storage. Not only are these products easy to install, but they ultimately end up saving time and costs. Each module ships prefabricated on a palette and includes forklift slots for easy placement, allowing you to build in hours what would otherwise take days. Options include rustic stacked-stone looks and contemporary tailored options.
. . .
Sell Predesigned Outdoor Kitchen Packages with Belgard Rooms
Need help or inspiration on an outdoor kitchen design? Belgard Rooms offers full predesigned kitchen concepts to help you craft custom outdoor living spaces. You'll find plans with bars islands, L-shaped kitchens, grills (gas and charcoal or both), fireplaces, pergolas, seating and more. Just direct your customers to our gallery of kitchen plans and work with the Belgard Design Studio to swap out materials and provide material quantities for easy ordering. You can also use Belgard's Augmented Realty (AR) technology to digitally superimpose virtual kitchen designs into your client's backyard using a mobile device like a phone or tablet. Looking through the device, you and your client can take a virtual walk through the space, look at the design from all angles, and get a realistic view of how they would live in that space. Talk about a great selling tool! They'll be ready to invite the neighbors over to check it out.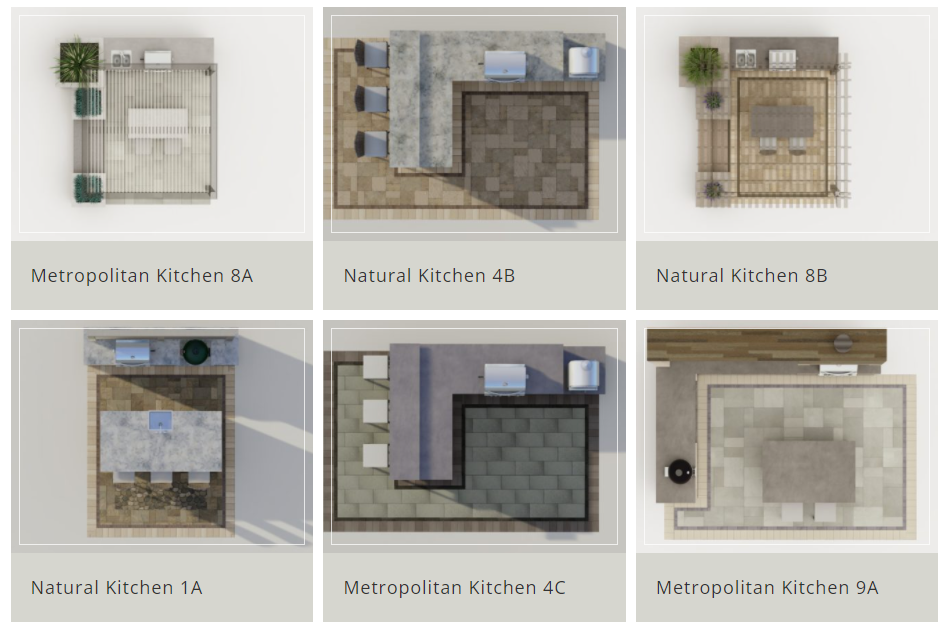 . . .
Artforms Makes Building Outdoor Kitchens Easy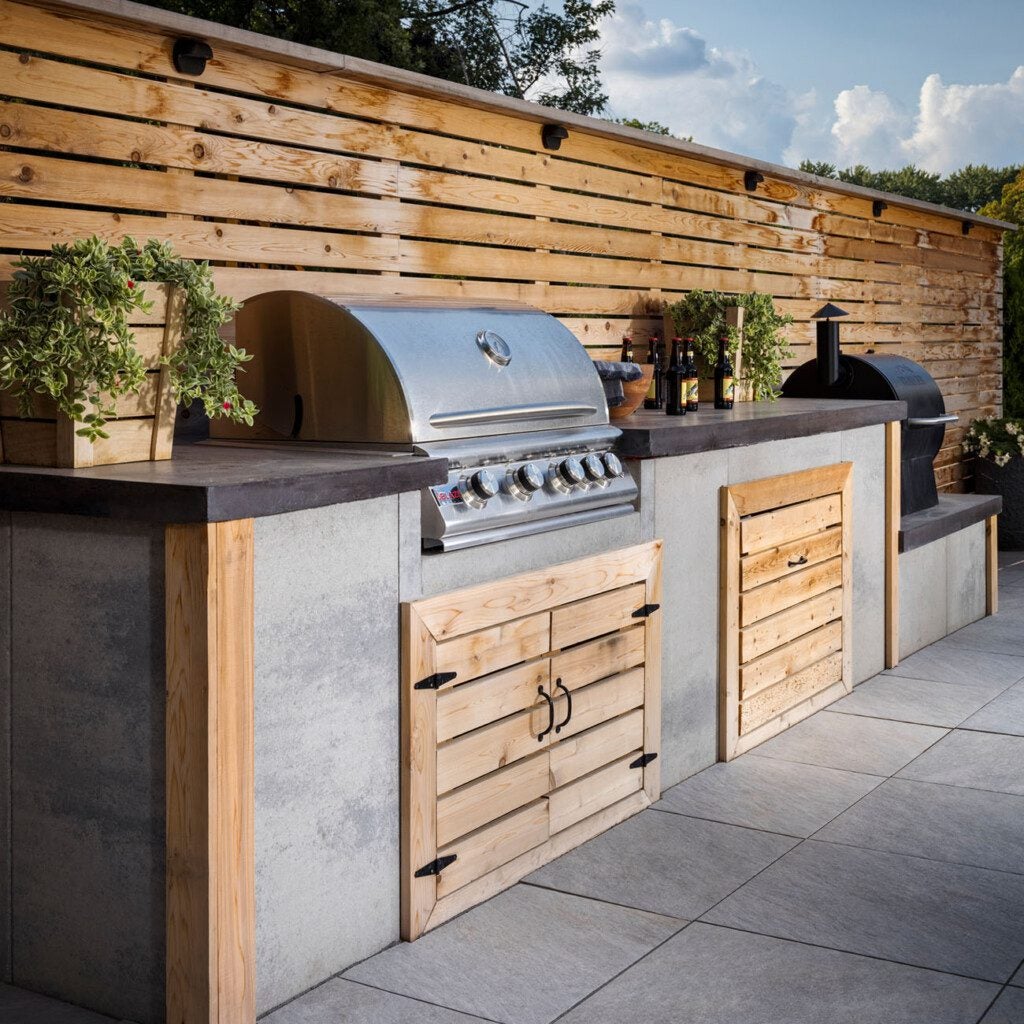 Looking for easy kitchen design builds? Artforms is our revolutionary system that utilizes large-format modular panels to create infinite design possibilities with ease. The high-strength concrete is mechanically fastened with stainless steel hardware creating little-to-no mess or disruption. Use Artforms to create a variety of grill stations from a long size, to L-shaped, to a luxury kitchen with a bar-top counter. You can even use Artforms for gas fire pits and to create planters that serve to accent an outdoor kitchen with flowers or greenery. You can also use Artforms to create built-in bench seating to complete an eat-in outdoor kitchen design.

As you can see, Belgard makes growing your business easy by providing a multitude of products and services to help you expand your outdoor space repertoire. Almost everyone dreams of a friendly outdoor kitchen and cozy fireplace where they can entertain family and friends. Belgard is here as your partner to help find simpler ways you make your clients' outdoor kitchen dreams a reality.