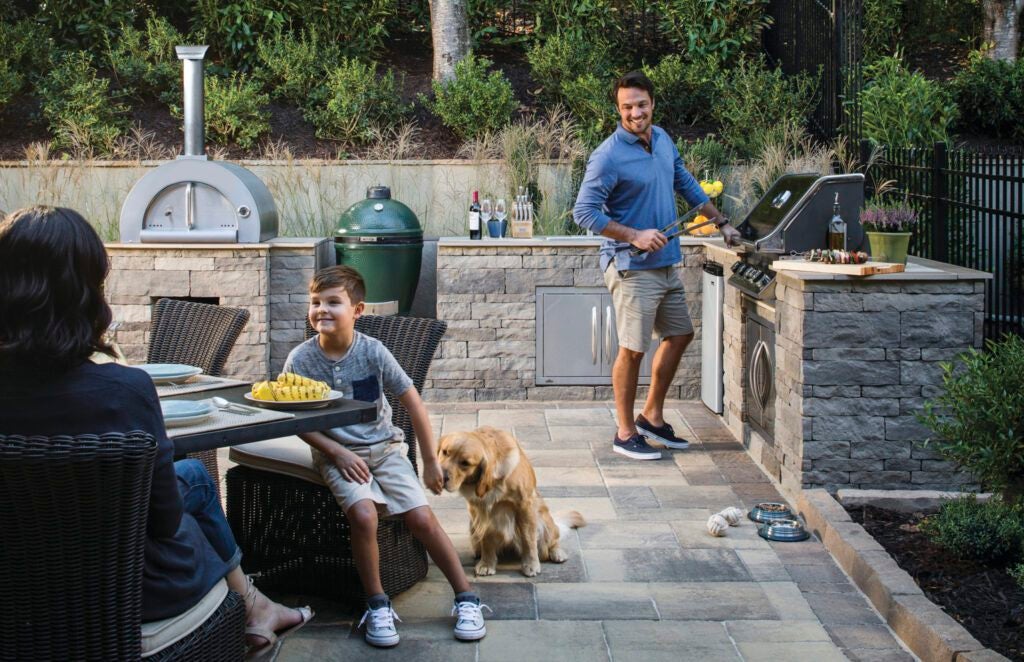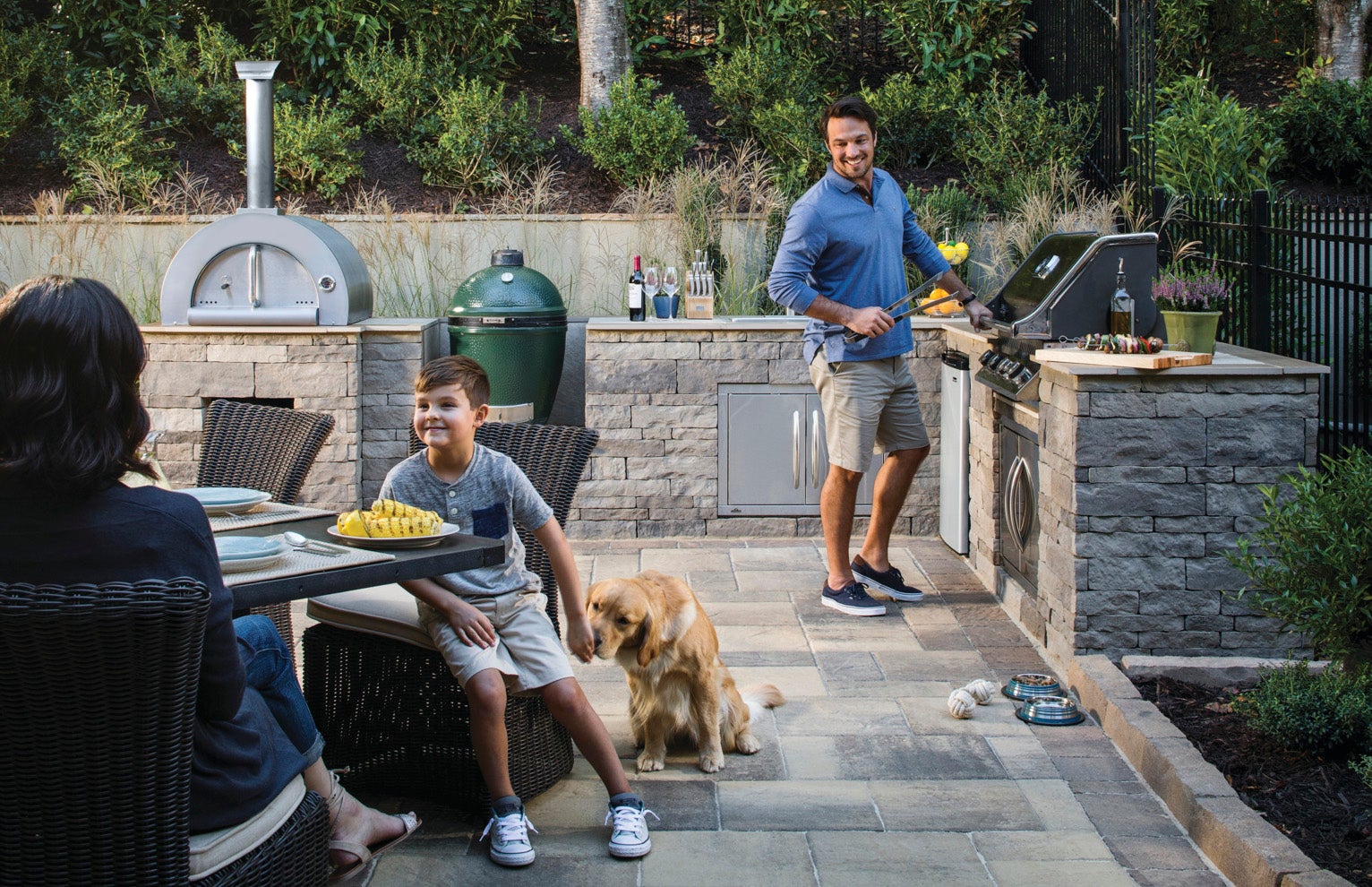 If there was ever a time to get started planning an outdoor kitchen, it's summer. Whether you're a hardcore DIYers or have a contractor on speed dial, here are some basics in outdoor kitchen planning to help you design the perfect summer kitchen. Remember, with Belgard, the options are nearly endless.
What Should I Put In An Outdoor Kitchen?
To know a grill space, you must know the griller. While this statement sounds like an ancient mantra handed down from the hunting tribes of the first men, it's actually more about taking the time to be strategic and carefully plan a backyard bar and grill based on wants, needs, cooking practices, and entertainment habits.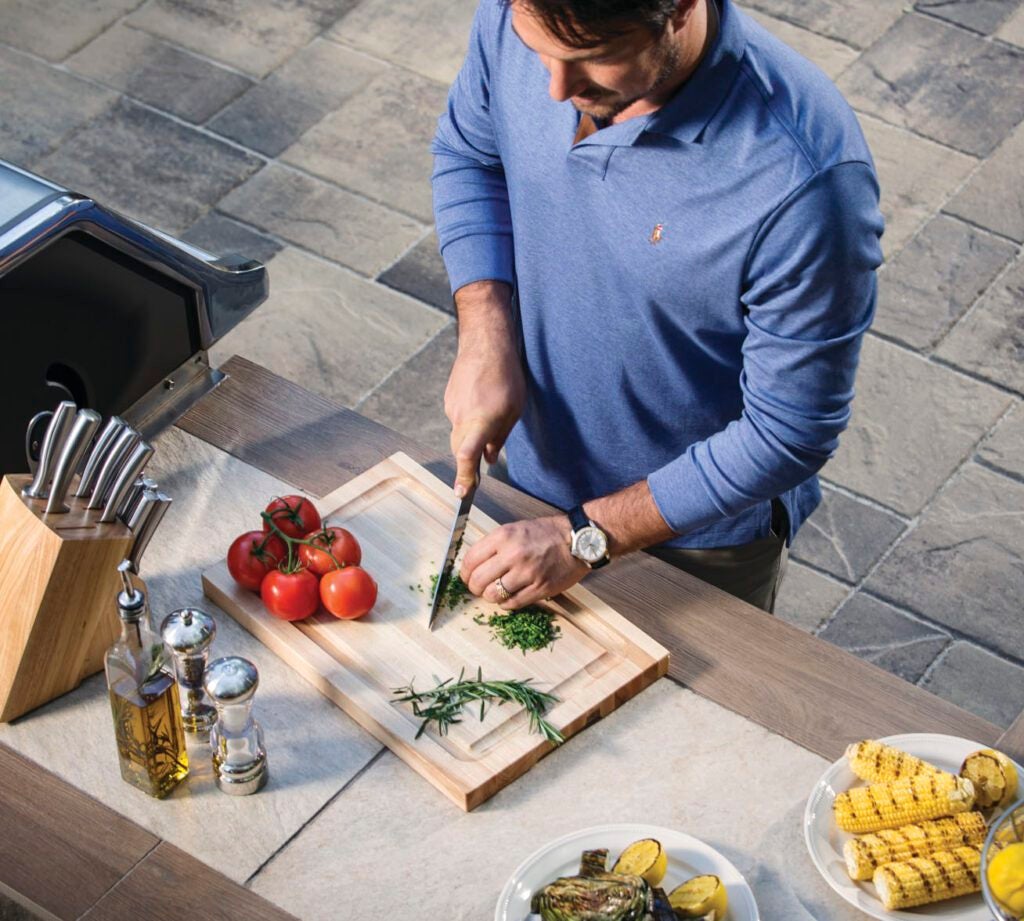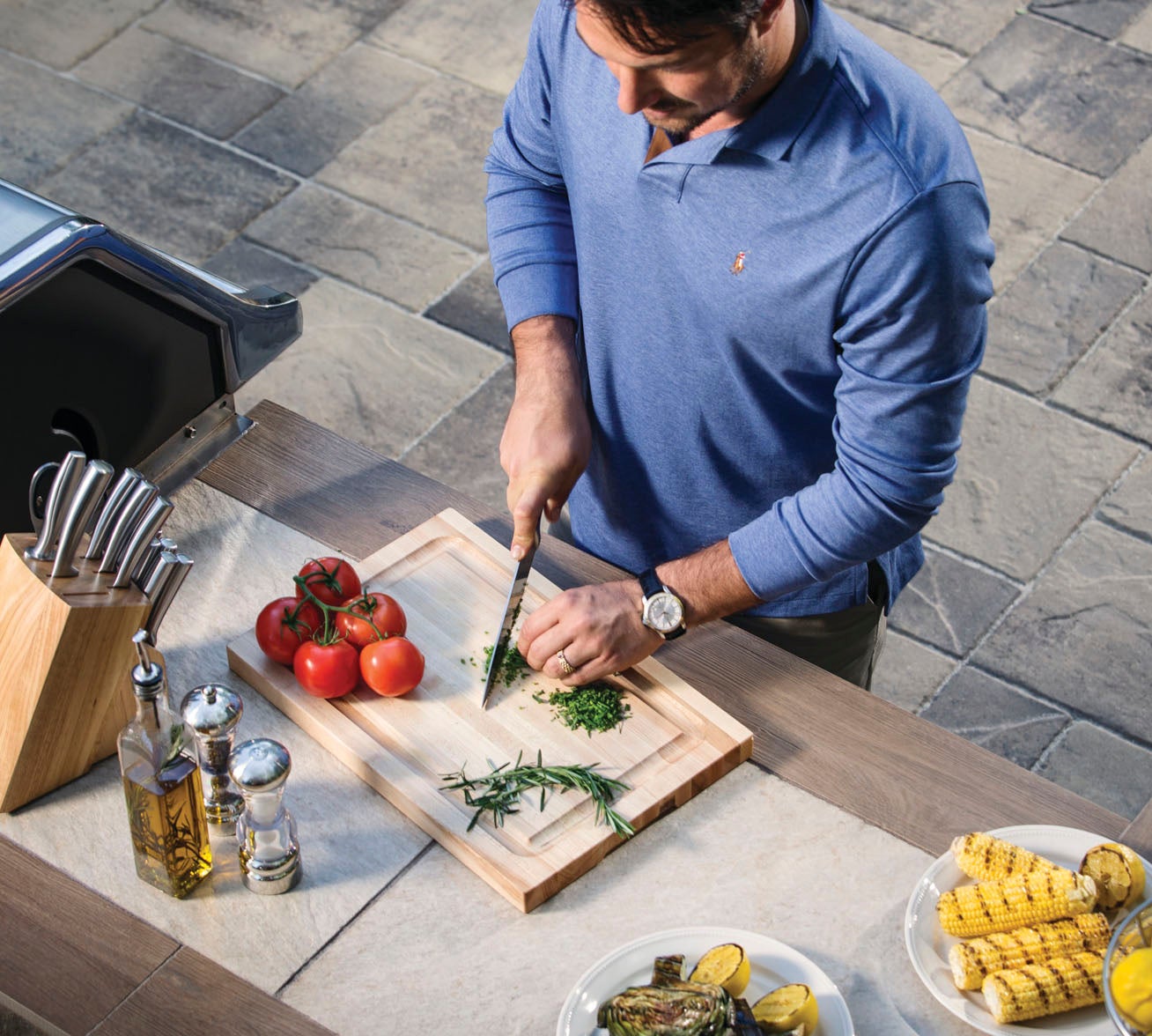 Things to Consider Before Building an Outdoor Kitchen
Budgeting is key when beginning any outdoor living project.
Similar to when building a home, it is best to work with a budget and adjust from there. Add-ons can add up, so setting some spending parameters can help guide decision-making.
Weather plays a factor in planning a patio project.
The weather plays an even more important role in outdoor kitchen design than an empty patio since grills, furniture, tables, appliances, etc. are all exposed to the elements in various degrees. Depending upon your locale, using materials that can better resist northern freezes, southern rains and heat, coastal salt and corrosion all must be considered. Wind direction should also be taken into consideration when designing a space and positioning cooking equipment.
Considering utility access and installation for an outdoor space.
Outdoor kitchens are going to need utilities such as electrical, water and gas lines. Building adjacent to a house makes for an easier connection, while locating a patio kitchen away from the house means running utilities to reach the new space. That's an especially important consideration if the outdoor kitchen is in a future phase. Running utilities BEFORE a patio is installed will save a ton of headaches when it's time to install the kitchen. Keep in mind there's a potential need to have access to these utilities for maintenance needs after the kitchen is built. Plan to have access doors to easily reach these connections for maintenance needs.
Deciding on ideal outdoor kitchen functionality.
Just like its indoor counterpart, an outdoor kitchen and grill area needs to be segmented into functional zones. You should begin with the hot zone where cooking appliances will reside, then choose a designated cold area for refrigeration and ice makers. A wet area includes a sink and drink/bartending station. Don't forget those access doors. Finally, you'll need a dry area for meal prep and counter space to set out delectable creations.
A final word on outdoor kitchen safety.
Keeping safety at the forefront of your design is the best approach when developing and constructing an outdoor kitchen. A few things to consider. Proper ventilation of grill areas, cabinets and drawers is essential. Gas grills that use propane and burners that run off of natural gas can leak or be left on, pooling gasses in places with poor air flow. A simple spark or flame can set these off creating a very dangerous situation. A few strategically located vents can alleviate this potential hazard. If you are planning on tackling any of the installation yourself, be sure to follow local building codes in your area. Better yet, consider using the proper professional for installing and running gas lines and electricity. Finally, be sure to review and follow the manuals on the installation of any grills, fire pit, sinks or refrigeration. Keeping safety in mind and doing it right the first time enhances the performance of an outdoor kitchen and keeps everyone safe to can enjoy the space for years to come.

Choosing Outdoor Kitchen Grills, Storage and Accessories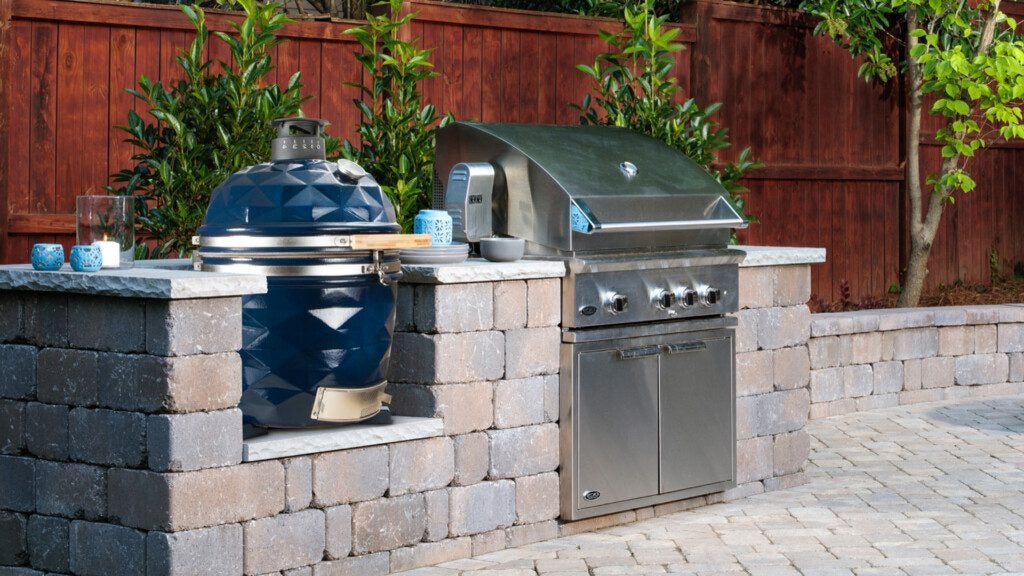 Our Belgard Elements™ line of outdoor kitchen essentials offers the perfect way to customize an outdoor space. For the charcoal purist, our versatile Blue Diamond Kamado allows the griller to grill, roast, smoke or bake. For those who prefer the ease of cooking with gas, our built-in grills are a great option. A side burner next to the grill station allows the outdoor chef to warm sauces or cook sides like beans, corn or potatoes, while built-in outdoor pizza ovens are always ready for homemade pizza night plus other baking needs.
Storage is also important, so planning ahead in the placement of outdoor kitchen cabinets and outdoor kitchen drawers is key. A drawer next to the grill area is a must to keep cooking accessories like tongs, spatulas and pizza cutters within reach. Fall back to your original zone planning to determine where sink or wet bar and refrigerator should be placed.
The Elements line of outdoor kitchen grills and accessories fit seamlessly in any outdoor kitchen, seen here in the kitchen for Lauren Beavers of @Handmakeshome.

The Elements Stainless Steel Farmhouse Sink featured in Lauren's outdoor kitchen project

The Elements Built-in Gas Grill and storage in Lauren's kitchen enhances functionality.

The Elements refrigerator featured in Lauren's outdoor kitchen

Elements Built-in Gas Grill in Lauren's Texas kitchen
Are Pavers a Good Option for an Outdoor Kitchen?
From a practical standpoint, using a material like pavers is safer than choosing wood. When cooking on a gas or kamado-style grill, flare-ups, backdrafts and popping charcoal will inevitably occur. Since pavers are non-combustible, there is no risk for fire if sparks or a stray piece of charcoal finds its way from grill to ground. While a simple concrete slab is always an option for an outdoor kitchen, Belgard Pavers can take an outdoor space to another level. Pavers are not only durable and stylish, but also offer an incredible range of patterns and textures to enhance any patio area. From rustic with old world charm to contemporary porcelain chic, pavers can provide the "wow factor" that just can't be achieve with a plain concrete slab.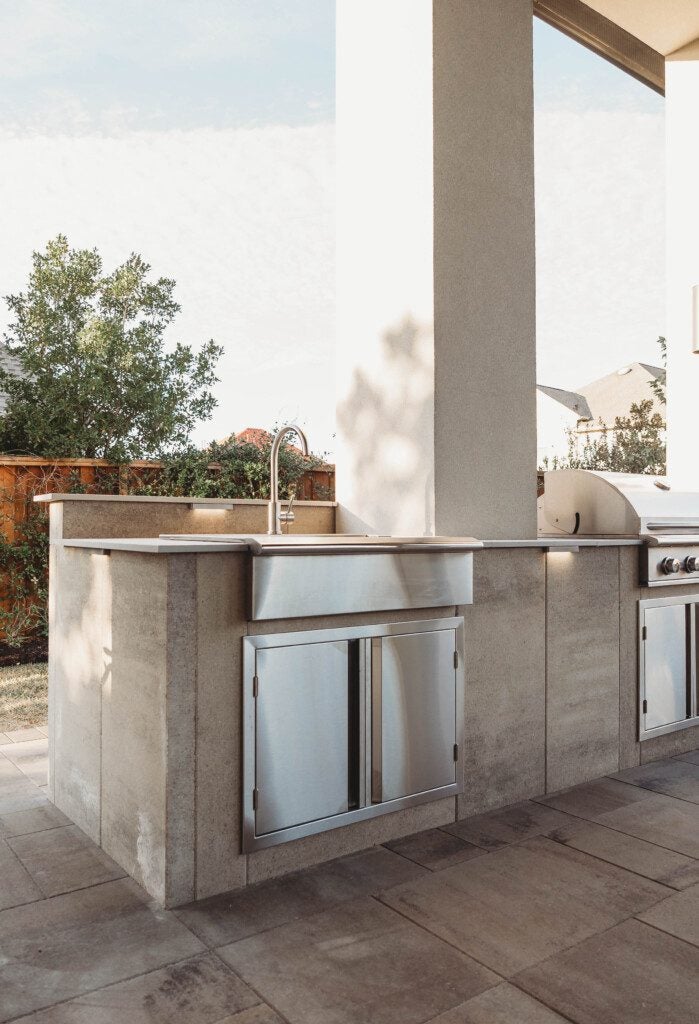 While planning and designing an outdoor kitchen can seem overwhelming, Belgard offers a number of resources such as design guides, planning tools, and even an inspiration gallery. As society further embraces living spaces outside the home, outdoor kitchens play a vital role as a place to gather with friends and family and spend time relaxing with good food as the center piece. For that reason, the outdoor kitchen is quickly becoming a staple in home design.