As people continuously look to incorporate nature into their lives, the hardscape industry has experienced a significant shift in consumer mindset. There is a growing demand for sustainable products and green building, including the creation of environmentally friendly outdoor living spaces. Building with sustainable products not only helps mitigate negative environmental impact, but it helps promote the health and well-being of the individuals who enjoy the space. 
Hardscape Elements for Sustainable Design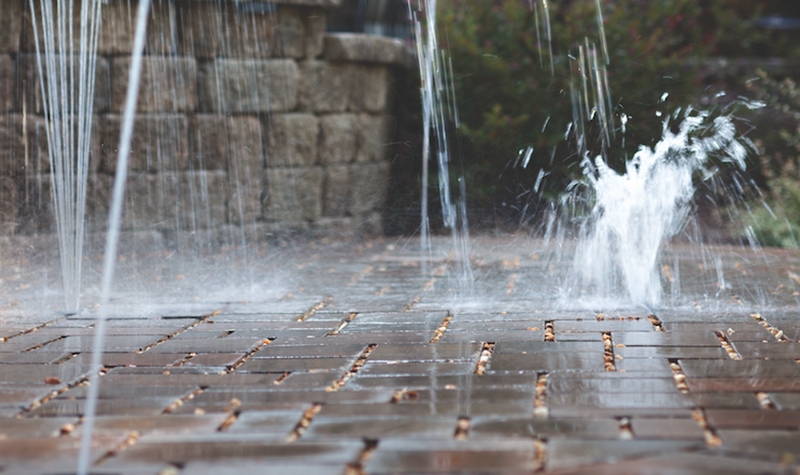 The Belgard Environmental Collection includes permeable pavers that allow rainwater to filter back into the ground. The benefits of permeable pavers are endless. However, when looking at sustainability as a whole, there are a few advantages that really stand out.
Benefits of Permeable Pavers for Sustainable Design
Permeable pavers have a lifespan of 60-80+ years.
Materials and harmful toxins are filtered by the aggregate below before the water goes back into the ground.
With proper design, permeable paver systems can be installed to harness and recycle rainwater. 
When exploring the elements of a sustainable design, it is important to understand how sourcing raw and organic materials plays a huge role in reducing the carbon footprint of an outdoor living space.
How to Determine if a Product is Sustainable?
With hundreds of products on the market, there are several things to consider to determine the sustainability of products and their intended use.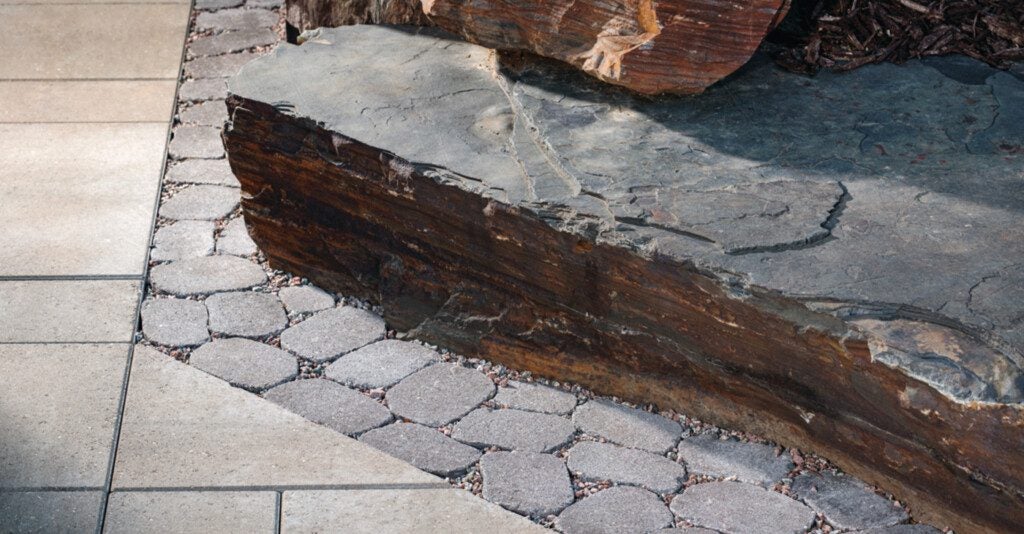 Use of sustainable materials: The use of recycled or locally sourced materials helps reduce the environmental impact of the product.
Energy efficient design: Before breaking ground, consider ways to design an outdoor living space that cohesviely focuses on sustainability. For example, use energy-efficient outdoor lighting that reduces energy consumption and costs.
Durability and longevity: With the standard wood deck only having a lifespan of about 20 years, keep in mind that the average lifespan of pavers is 60-80+ years. Using pavers offers a long-lasting outdoor space that requires less maintenance.
What is LEED Certification?
The LEED (Leadership in Energy and Environmental Design) certification is a rating system developed by the U.S. Green Building Council(USGBC) to evaluate the performance of building materials. Materials are evaluated on energy efficiency, water efficiency, resources, and innovation and design.
Belgard achieved LEED Certification due to its commitment and dedication to a more sustainable hardscape industry. Belgard will continue to pilot environmentally responsible construction in the hardscape industry.
Guiding Your Homeowner's Project with Sustainability in Mind
As a contractor, you've likely heard a homeowner say something like, "What do other people do?" This is a great opportunity to educate your customers on some of the most sought-after products in the hardscape industry to meet their outdoor living goals.
With the versatility and efficiency of permeable pavers, the natural elements of biophilic design, and the modularity of raised beds and vertical gardens, incorporating sustainable elements into an outdoor living space is easier and more readily available than ever before. Accents like lighting and plants also can help foster sustainable design. Clients love Tru-Scapes lighting, as it offers energy-efficient customizations and outdoor lighting solutions that don't sacrifice style for high energy consumption. Native plants are an ideal choice for gardens and beds, as they are accustomed to local conditions, easy to maintain, and offer benefits to the local wildlife and ecosystem while absorbing carbon dioxide.
Raised gardens help promote sustainability by attracting pollinators

Patio pavers and a retaining wall emphasize this raised garden.

A retaining wall created with sustainable pavers creates a beautiful vertical garden

This mix of pavers and grass is a perfect example if biophilic design

Lighting from TruScapes highlights both the hardscapes and landscaping around this walkway
The Belgard and Oldcastle APG Commitment
Belgard and Oldcastle APG consider the environmental impact of their products throughout their lifecycle, from manufacturing to installation and beyond. Both companies take LEED accreditation seriously and have been able to reduce their environmental impact by limiting the use of non-renewable resources and reducing waste. Through energy-efficient design, Belgard and Oldcastle APG products are industry standards in creating and developing products that reduce the need for additional draining infrastructure. All products are designed to be durable, long-lasting, and low maintenance, reducing the need for frequent replacement and minimizing waste. Both Belgard and Oldcastle APG help achieve LEED certification, demonstrating their commitment to sustainability and environmental stewardship.