Homeowners often struggle to make the choice between concrete pavers and patio tiles when it comes to their next project. Many people think they are similar – but they are vastly different. As homeowners plan for spring and summer projects, providing accurate information is critical to set them up for success.
Customers want three things from their products: style, strength, and longevity. Pavers consistently surpass patio tiles in these top three categories – here's how.
Concrete Pavers
Concrete pavers come in numerous colors, shapes, sizes, and textures. The procedure for creating pavers is the same aside from the mold, color, and finishing. Concrete pavers are made to specific US building standards (like ASTM C936). This ensures they are equipped for load-bearing weight, seasonal outdoor elements, flexibility with ground movement, and absorbing minimal amounts of water. The computer-controlled manufacturing process makes it so that pavers can withstand at least 8,000 pounds of pressure per square inch. Along with robust quality, the various colors and textures of pavers provide unlimited design options from traditional to contemporary.
Patio Tiles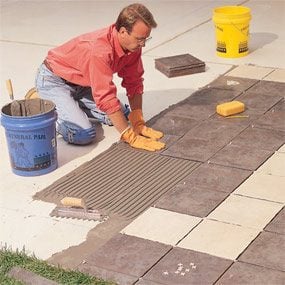 Unlike pavers, patio tiles can be risky to work with. The sleek design and ease of use may be appealing, but they are no match to paver strength and longevity. Patio tiles are made from ceramic and installed on a concrete slab with mortar. Fluctuating moisture and temperature changes can cause the base mortar to flex, retain moisture, loosen, or even crack the tiles. Patio tiles sometimes are made from low-strength concrete and brick, but typically are not built to specific building standards. The lack of building standards means they do not need to meet a load-bearing weight or a moisture requirement.
Concrete Pavers vs. Tiles: A Story from 2021
Let's look at a project case study from summer 2021. The client was advised not to use patio tiles on the sidewalk, but they chose to for aesthetic reasons. Although the finished product looked great with the contrasting materials, as soon as winter came, the tiles started to come loose, crack, and chip. When a concrete paver cracks, it is very easy to replace. With patio tiles, you must chip out the remainder of the tile, chip out the mortar and grout, re-mortar, and re-grout – a process that is inefficient and costly. When this happens, multiple patio tiles break at once and the need for replacement dramatically increases.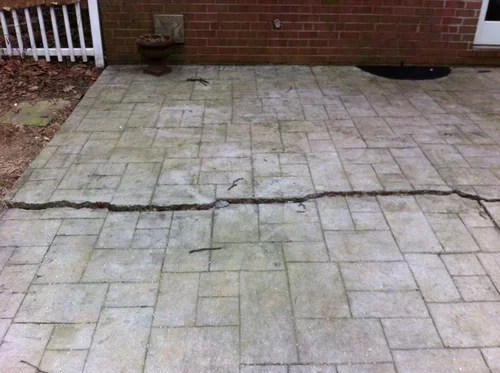 Lifespan: Concrete Pavers vs. Patio Tiles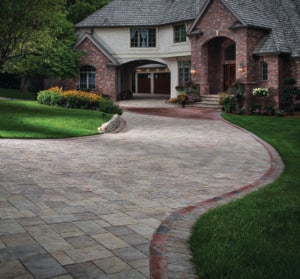 Another key differentiator between these two products is lifespan. Concrete pavers have a lifespan of 30 to 100 years (or more) without losing strength. Their ability to shed water and flex during seasonal ground movements (without losing load-spreading capabilities) attributes to their lifespan. Patio tiles, on the other hand, do not have the ability to flex and drain water. This leaves them with a lifespan of as little as one year or less.
Since pavers are thicker and have specific building standards, they provide strong interlock between pavers that helps disperse weight. Patio tiles and patio stones do not have an interlocking system. They act independently when bearing weight, making them more likely to crack and break.
The Verdict
Over the last 30 years at Segmental Systems, we have encountered nearly every installation scenario. We know your outdoor space is an investment. That is why for every client, no matter the location, we recommend using Belgard concrete pavers. Belgard is at the forefront of advancing technologies in the hardscape industry. They have a paver that is right for any project, any size, and any location. Their leading industry experience allows them to have a lifetime limited warranty on every product they sell.