Outdoor spaces are a favorite spot to frequent when the weather is warm but falling leaves and falling temperatures usually signal the end of the beloved "patio season." However, this doesn't have to be the case. The right design elements can winterize your outdoor space and easily extend usage from seasonal to year-round! 
Enhance Your Space with Trending Fire Features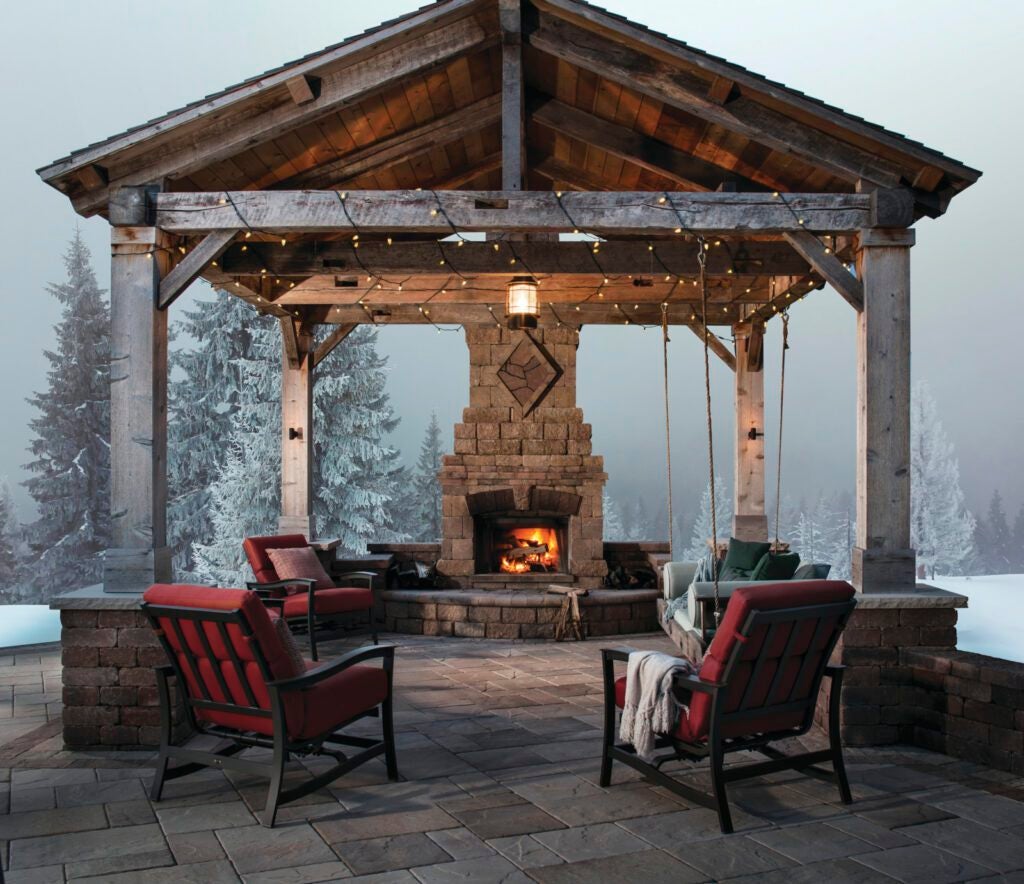 Fire pits and outdoor fireplaces are in high demand and are staples in year-round outdoor design. As sources of heat and light, they are an excellent choice for keeping the cold and dark at bay. Fire features also provide a comfortable gathering spot for guests and a visual focal point for your design. 
Fireplaces are perfect for small gatherings and provide warmth plus protection from wind while also pulling smoke away from guests. However, a fireplace can obstruct views and dominate a design. In certain instances, that can be an additional benefit, like if you'd like some additional privacy from a nearby neighbor. However, the size be a downfall if you have a spectacular view that you don't want obstructed. In those cases, you need to either alter placement or choose a smaller feature.
If you're planning on entertaining larger groups, fire pits are best for seating people all the way around. They also have more design variety, ranging from the classic round paver look to the modern elevated look of a linear fire table. Check out Belgard's extensive line of fire pit kits to easily add warmth and beauty to your outdoor gathering space.
Improve Ambiance and Functionality with Outdoor Lighting
Outdoor lighting is essential for any outdoor living space. Not only does it provide the design with ambiance, but it is also a source of safety and security. However, you don't want to use the wrong kind of light in the wrong space. 
Use soft, ambient light sources such as string lights, pendant lighting, and floor and table lamps for entertaining spaces. Consider using hardscape lights for steps, walls and pathways to safely light the way ahead. Don't forget to consider light temperature as well. Warm bulbs lean towards more yellowish tones and provide a softer, cozier look. Cool bulbs, which are bluer in color, are much brighter and cast sharp shadows. Use them for spotlights and security lighting.
Add Warmth with Outdoor Heaters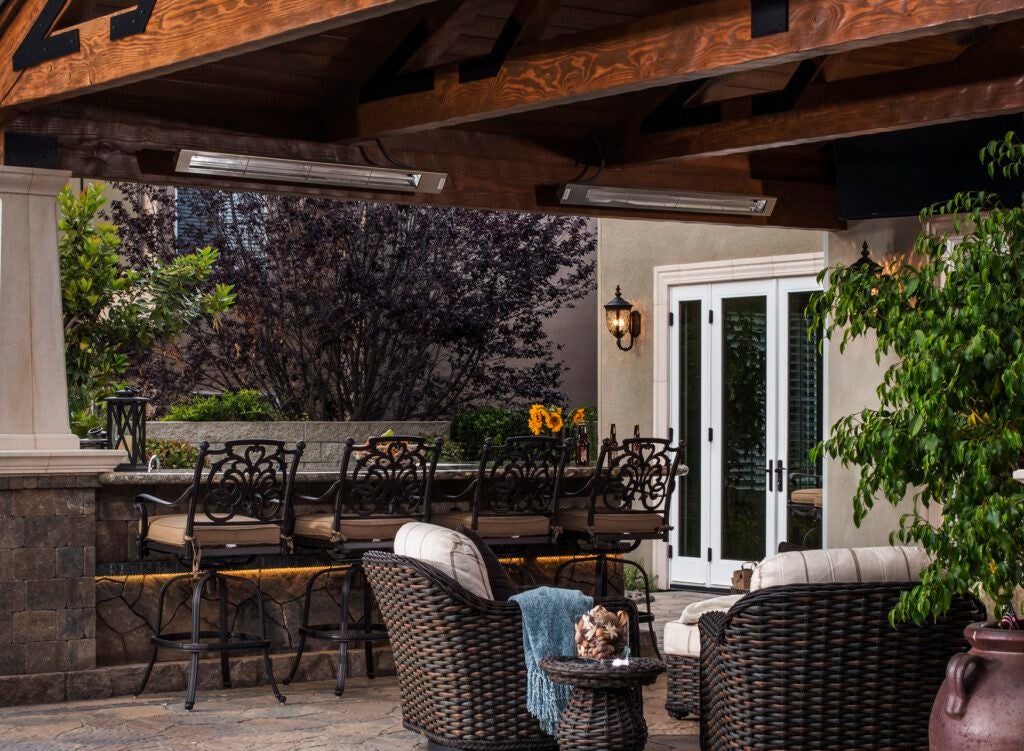 If you want an alternative to a fire feature in your outdoor design, you can keep things cozy by adding a heating element. Depending on your space and lifestyle, there are several types to choose from. 
Electric heaters are the safest option for pets and children and only need access to an outlet. Some models can be mounted to the wall or ceiling for added safety and space. Natural gas heaters are a convenient option for homes that already use gas. These units put out more heat than electric units but require good ventilation and access to a gas line. For a more portable option, use a standing propane heater. The fuel source is housed within the unit, allowing you to place it almost anywhere for a fair amount of heat. As with gas heaters, they require ventilation for safety purposes.
Create a Windbreak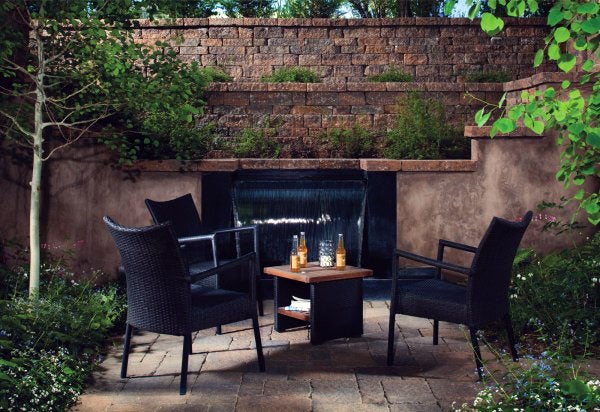 The wind is another element to consider when winterizing your space. The same breeze that brings relief in the summer is not so welcoming when it's nearly freezing. Cut through the winter chill using landscaping or outdoor structures to create windbreaks.
Use hedges or rows of large evergreen shrubs in your yard to create some natural wind protection. If you have hardscaping, strategically placed built-in planters filled with taller plants can also work. For covered porches or pergolas, hang floor-length outdoor curtains to create privacy and a place to escape the chill. 
Accessorize with Textiles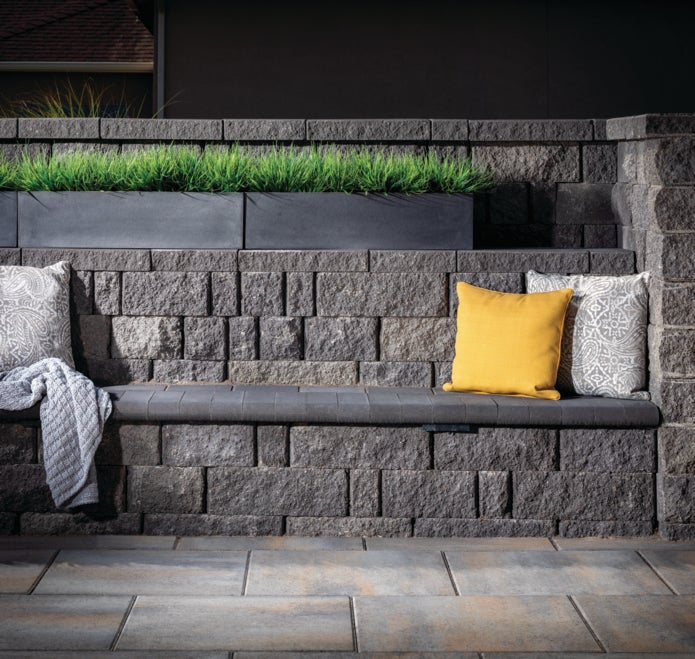 The right décor can bring warmth to your space – in this case, literally. Arrange a selection of pillows, blankets and throws to create the perfect place to snuggle up on a cold winter's night. Bring in a few coordinating area rugs for added softness and to create a barrier between you and the cold floor.
Each season has a unique beauty to enjoy, and you can experience them all from the comfort of your outdoor space with a few smart design choices.