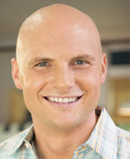 ABOUT GUEST BLOGGER CHIP WADE: Chip is a master carpenter and the Emmy-winning host of several popular television shows, including Curb Appeal, Designed to Sell, and Elbow Room. Together, Chip and his wife Pauli of Wade Works Creative are design professionals and lifestyle experts.
---
Pauli and I are excited to share our latest project – the design and construction of a modern mountain escape in the breathtaking North Georgia Mountains. Located on a beautiful 10-acre piece of property, the home sits atop Fort Mountain and is surrounded by over 50,000 acres of lush national forest. We've named the home Pinhoti Peak – a Native American word meaning "turkey hill" – because it sits directly on the Pinhoti Trail, a 335-mile hiking trail along the Southern Appalachian Mountain trail.
Our vision for this project was a secluded yet modern retreat where families can truly relax and unwind. We're using the latest in construction methods and techniques, as well as top-of-the-line building products, to construct a home that will stand the test of time. Because this home is off the beaten path (30 minutes from the nearest gas station!), we're building it with low maintenance in mind.
Belgard Design Studio Project Renderings
Project Overview
When selecting the best products for the outdoor living spaces, Belgard was the clear choice for me. I have been installing Belgard products for over 17 years and trust the aesthetic to be great and durability to last. For the Pinhoti project, we are using Belgard hardscapes, retaining walls, and – one of my favorites – their revolutionary Artforms™ Modular Panel System. Check out the videos below for some behind-the-scenes commentary during the construction of the outdoor spaces.
Why Hardscapes?
One key to creating a low-maintenance getaway destination is the use of high-quality hardscapes. Hardscapes are less flammable than many other building materials, which brings peace of mind when staying in a secluded, remote location. The quality and aesthetic of Belgard hardscapes are unmatched, and the color palettes complement the entire project. For hardscapes, I selected the dark, river stone texture of Basalt to pair with large format 2-foot by 3-foot Dimensions pavers – a true statement piece that connects the patio to the shipping container pool overlooking the picturesque North Georgia Mountains. Check out the work in progress and the amazing view!
Managing Slope & Planning Retaining Walls
Most projects have some sort of elevation change. For this project, we are working with an 11-foot grade change between the basement level and the main floor. To ensure proper access and land retention, we selected prefabricated, easy-to-install landing steps by Belgard – they're absolutely dynamite! This next video shows how we're managing the slope. On the rough grade, we're using three different Diamond® Pro Smooth Face retaining wall structures. This product features a smooth-faced block for a sleek, modern finish. These retaining walls are crucial for maintaining the longevity of the structure and landscape design. With the downlighting we've already installed along the retaining walls, the outdoor spaces will remain functional and beautiful at all hours of the day and night.
We're also using Landings™ Steps for the grade change along the back of the house. This product installs easily and has a granite look that pairs well with the mountainside landscape. Check it out how the project is coming along.
The Versatility of the Artforms™ Modular Panel System
One of my favorite things about Belgard is that they're continually coming to market with new, innovative products that are versatile and customizable for designers, installers, and homeowners. Look no further than the Artforms Modular Panel System to see this in action. This system utilizes a large-format modular panel system to create infinite design possibilities.
At Pinhoti Peak, we're using Artforms primarily for the fireplace feature but also to construct the driveway entry gate. I love that Artforms is versatile enough to go anywhere from an outdoor kitchen to a specialty custom bench – and with the Belgard Design Studio and 3D project renderings, you can ensure the best quality results before you even place an order. Get a sneak peek in this next video.
Follow Along
As you can see, this project is a fun work in progress. I can't wait to see these amazing Belgard products in use at Pinhoti Peak. If you'd like to follow along, visit our project website for blog and video updates as we complete this one-of-a-kind modern mountain retreat. And when it's done, we hope you'll plan your next secluded family getaway at beautiful Pinhoti Peak!