Belgard Hardscapes was again proud to sponsor and provide materials and installation for the HGTV® Dream Home 2022. While the design, production and lead up is certainly eventful, nothing can beat the sheer excitement and joy of watching the actual announcement of the winner.
And the winner is…
This year's winner is Karey Wolstenholm of Overland Park, Kansas, who won the complete sweepstakes valued at over $2.4 million dollars, which includes the gorgeous, fully furnished mountain retreat, all-new 2022 Grand Wagoneer and $250,000 cash from Rocket Mortgage®. Karey, a mom and co-owner of a print and promotional product company with her husband Rick, is also an admitted HGTV super fan and home design enthusiast. She has tried her luck at HGTV home giveaways for years and said she entered twice each day for a chance to win the HGTV® Dream Home 2022.
The Reveal
Karey's crafty sisters gathered the family for lunch at their favorite local restaurant, claiming a film crew was there to shoot a food show. They all agreed to do an on-camera interview for the show with designer Brian Patrick Flynn who posed as the host. Almost immediately into the interview, Brian revealed his true identity and that Karey was the winner of HGTV® Dream Home 2022. The amazing home is a Scandinavian-inspired mountain retreat located in Warren, VT, an idyllic town in the heart of the Mad River Valley known for its stunning views, top-notch ski resorts and more. With trendsetting interior design by Flynn, the luxe modern cabin was crafted with nature in mind, featuring paint colors and furnishings that evoke a sophisticated mountain vibe. The home was designed by Dylan Eastman and constructed by Big Country Built.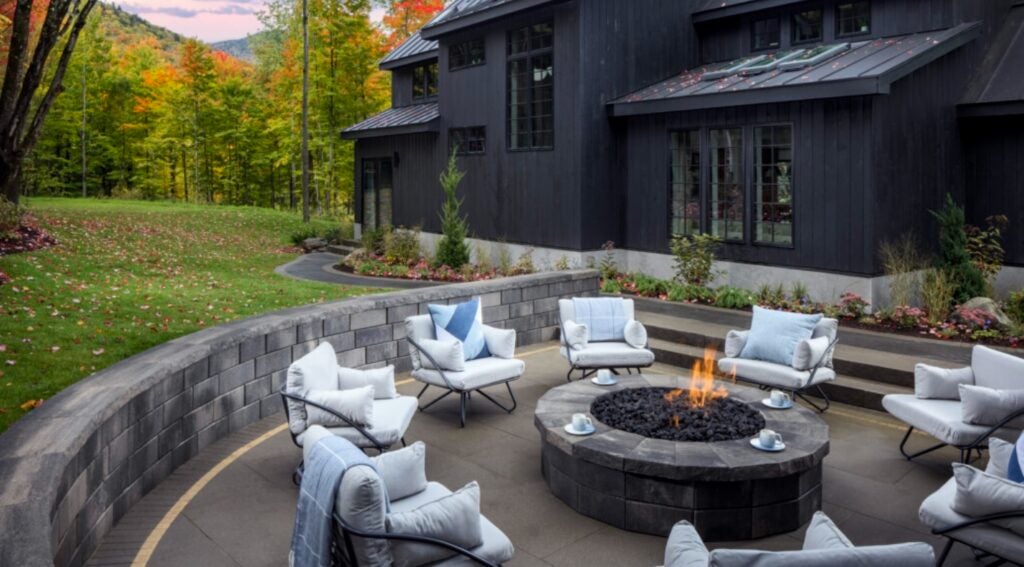 The Belgard Touch
Belgard was thrilled to learn that one of Karey's favorite things about the home was the outdoor spaces. "I love the outdoors, and spending time eating outdoors makes it even better," she said. "I love the design of each space feeling like it's its own area but yet all together with the clean lines of the pavers and different levels. The whole ambiance of the outdoor living space is so special and beautiful. Now we have to just decide where to eat with all the choices."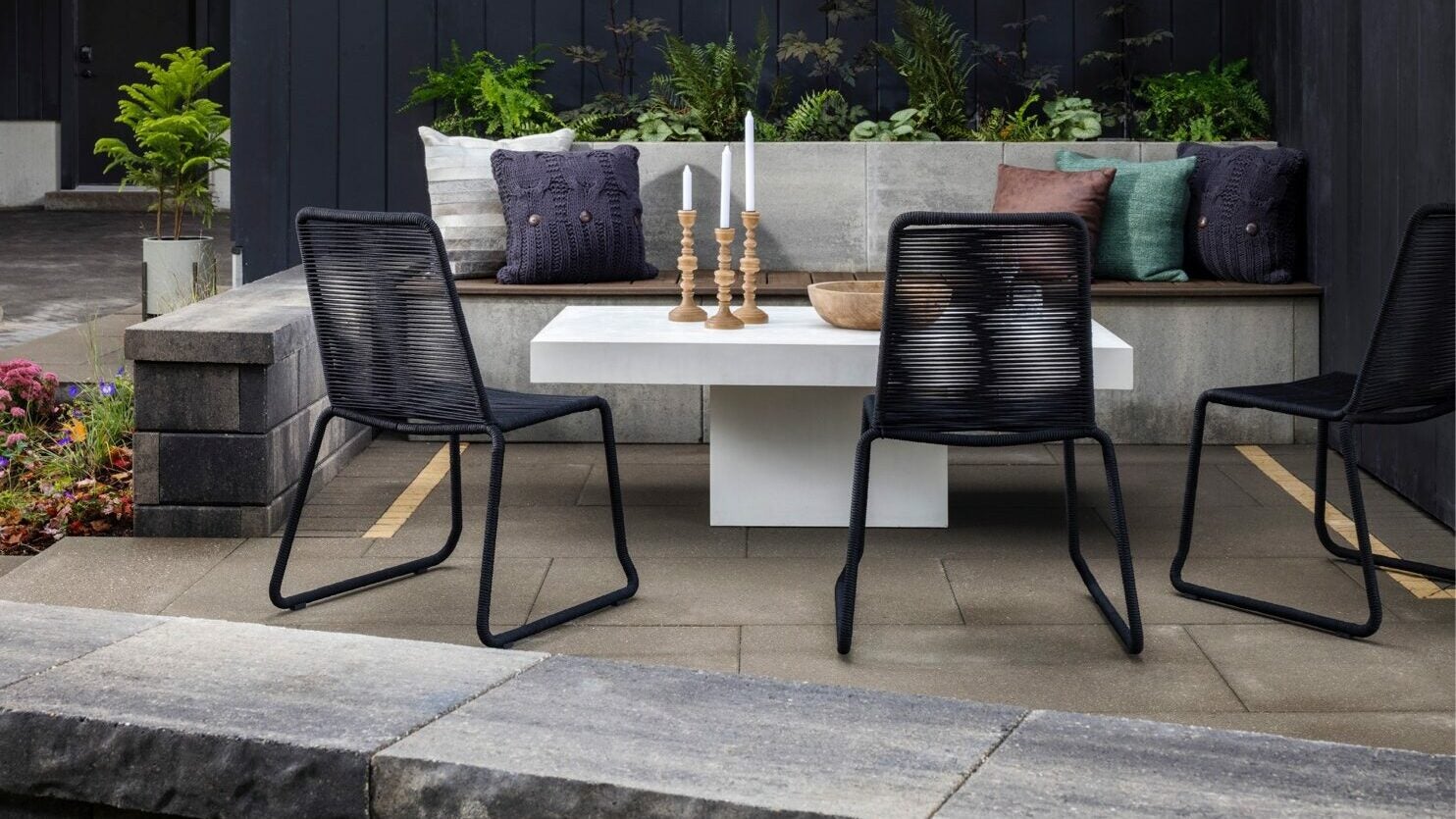 Belgard helped complete two fire pit living rooms with dramatic views and a faux paver rug design. The poolside outdoor living room includes a built-in seat wall to make sure there's room for everyone around the fire pit. "There is nothing better than gathering around a fire pit with family and friends to tell stories and create more memories," said Karey. "The area behind the garage looks so relaxing and comfy, and the one near the pool will be excellent to warm up after a dip in the pool or hot tub in the evenings."
There are also intimate alfresco dining rooms that add two distinct entertainment zones, one for relaxed conversations and one for family-style dining. A raised planter wall with a built-in seating bench provides another dining area with the ultimate backdrop for cozy conversations. The ultra-contemporary outdoor kitchen features a luxurious stainless-steel grill and a full-sized farmhouse sink from Belgard Elements™ that add to the look and functionality.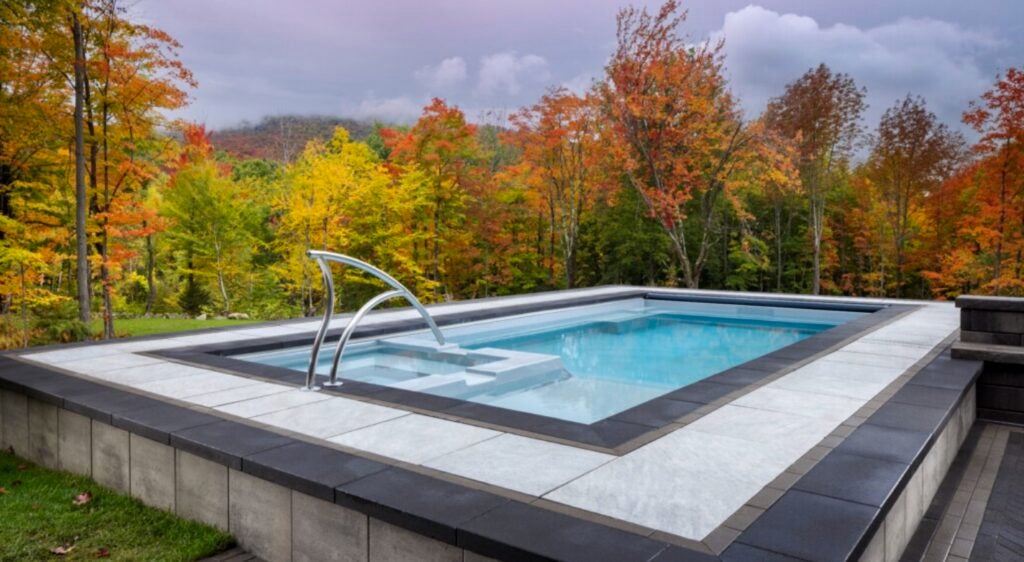 Belgard included a new installation of our Artforms™ panel system, that raises the pool deck and offers amazing views of the surrounding landscape. "The kiddos—I say that but they are all adults now—are looking forward to the pool area the most," said Karey. "My nieces and nephew are pumped too! I love that I can feel relaxed on the patio while watching them as well as with friends enjoying this unbelievable beautiful space."
In the driveway, Onyx colored pavers are laid in a classic herringbone design and trimmed with a striking inlay border to create a dramatic entrance. For a closer look at Belgard's contributions to the home, visit our website or take a look behind the build on the HGTV Dream Home 2022 with installers and Belgard Master Craftsman CG Hardscapes.
Belgard congratulates Karey and hopes that she and her family enjoy the home and make many wonderful memories in the years to come!
. . .
HGTV, HGTV Dream Home, HGTV Dream Home Giveaway and their associated logos are trademarks of Discovery or its subsidiaries and affiliates. All rights reserved. Photos © 2021 Discovery or its subsidiaries and affiliates. All rights reserved.