It's warming up, which means business will continue to pick up as more and more homeowners look to build or renovate outdoor living areas. With a wide range of pavers, landscape wall products and modular design elements Belgard provides everything your clients need to create the perfect outdoor space. In addition, here are a few technology tips and tools you can use to offer enhanced value to your customers.
Outdoor Living Technology
Homeowners want an outdoor living space that extends their entertainment options and are looking to mimic many of the technology features they use inside their homes. Here are a few to consider.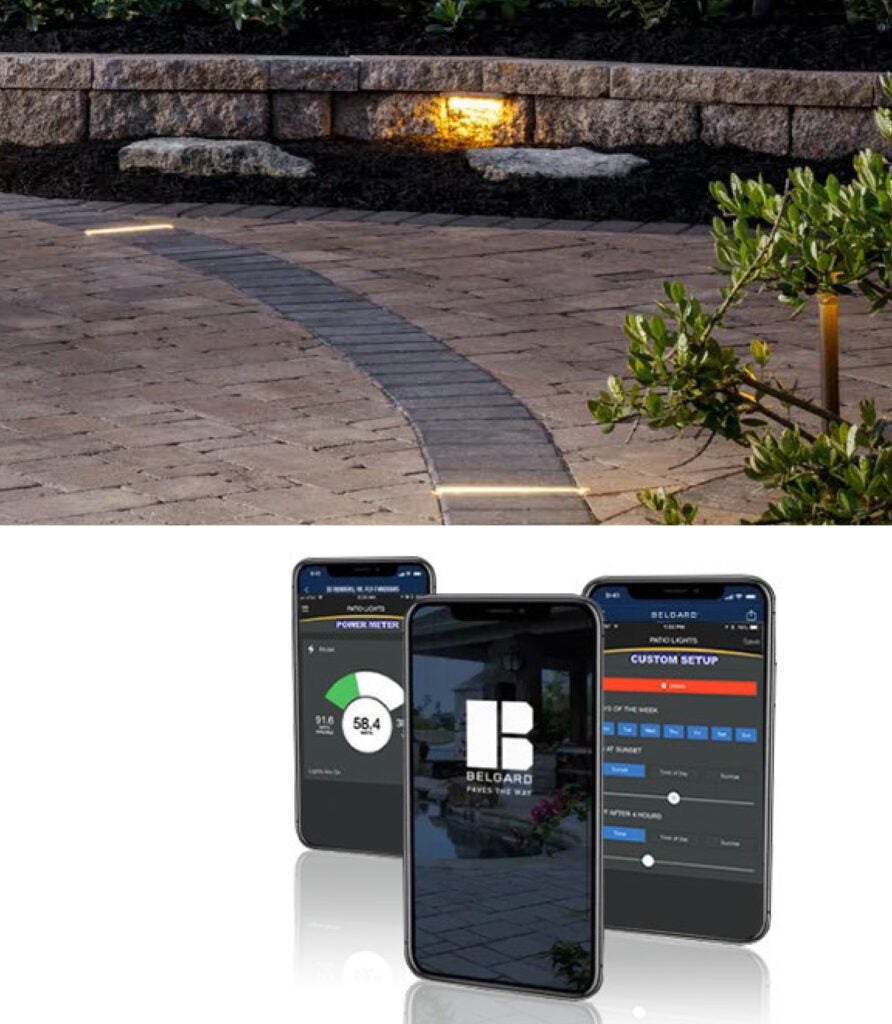 Smart Lighting
Lighting the outdoor living space and the landscape surrounding it is an important aspect for most homeowners. Being able to control lighting — more light when cooking, more ambient lighting for evening entertainment — is a common goal. Today, incorporating smart lighting adds another level of convenience, decoration and safety to a space. Just like indoors, there are apps that allow homeowners to control lighting by changing colors, creating timers or setting zones on the patio, walkways and throughout the landscaping all from a smartphone or tablet. Belgard's official lighting solutions partner Tru-Scapes has a variety of lighting options along with a lighting control app.
. . .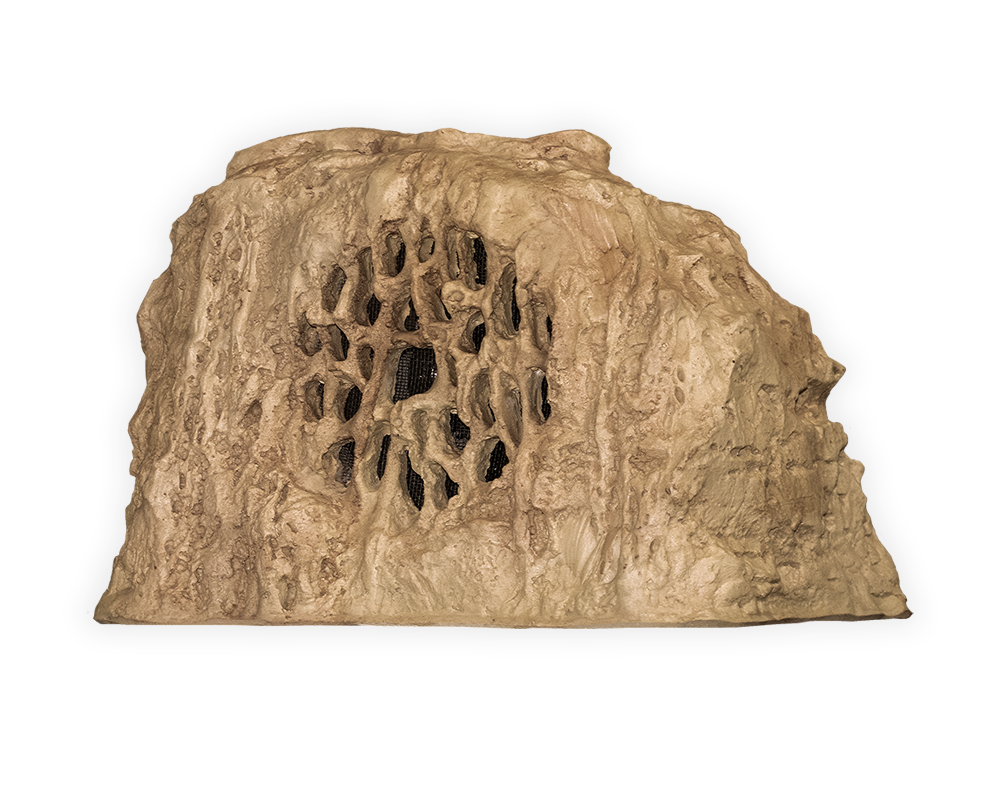 Landscape Speakers
A great sound system is a must for outdoor spaces these days and wiring for sound should be factored into the design. However, suggesting landscaping speakers to your client like these from Rockustics is an option. Many companies make these components that mimic real rocks and stones to complement and blend in with the landscaping. Most are weatherproof, fade-resistant, and stream high-fidelity sound evenly throughout the entire exterior living space from a favorite playlist or audio from an outdoor TV. It's a great idea to place multiple speakers throughout your outdoor living space and backyard with multiple-zone control. This allows you to play music only in selected areas (or everywhere at once) at controlled volumes that result happier neighbors.
. . .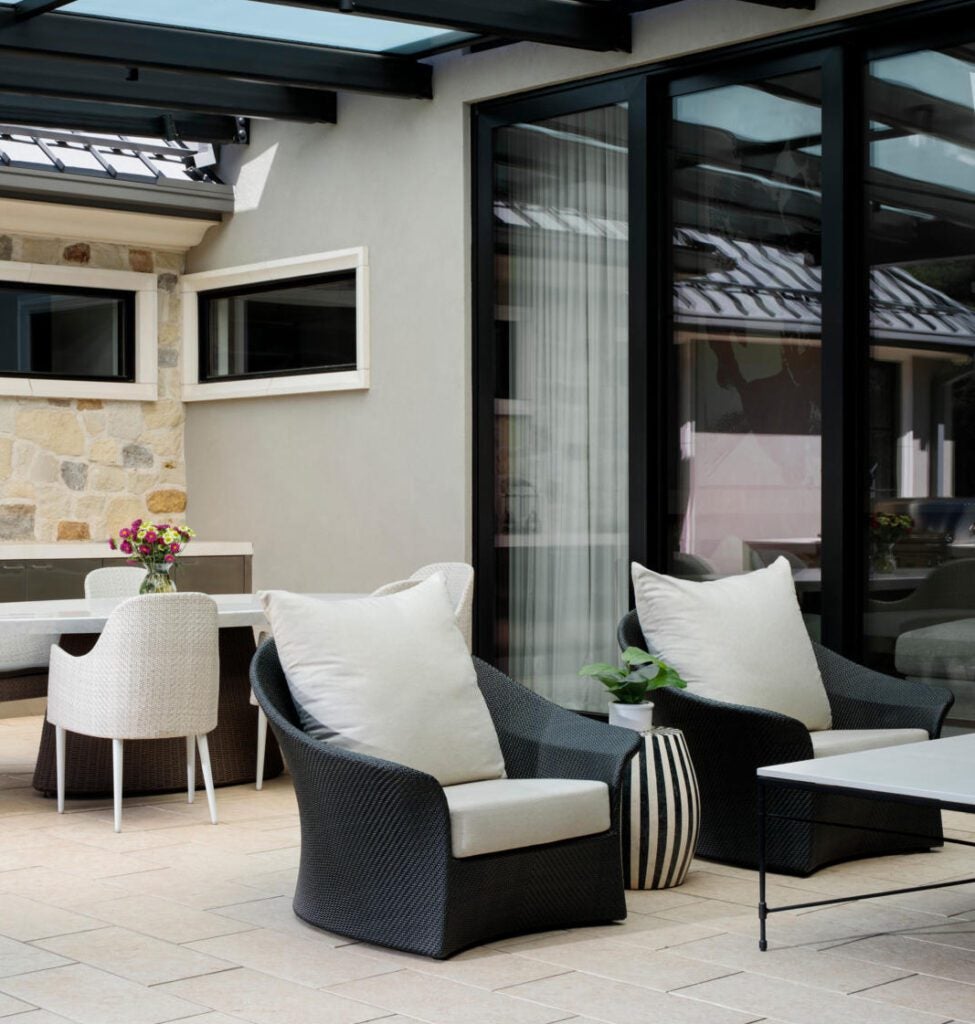 Custom Sliding Glass Doors
We're not talking about your grandparents' patio doors. Today's sliding glass doors are much more technologically advanced and offer your clients a showstopping feature that completely vanishes the border between their home's interior and exterior. For example, these sliding doors from Riviera Bronze are available in solid steel and thermally broken stainless steel with a number of finishes (Metalized, Galvanized, Powder Coat, Marine Grade Paint). One touch of a button on a smartphone and a full-length window or door slides into or out of concealing wall pockets.
. . .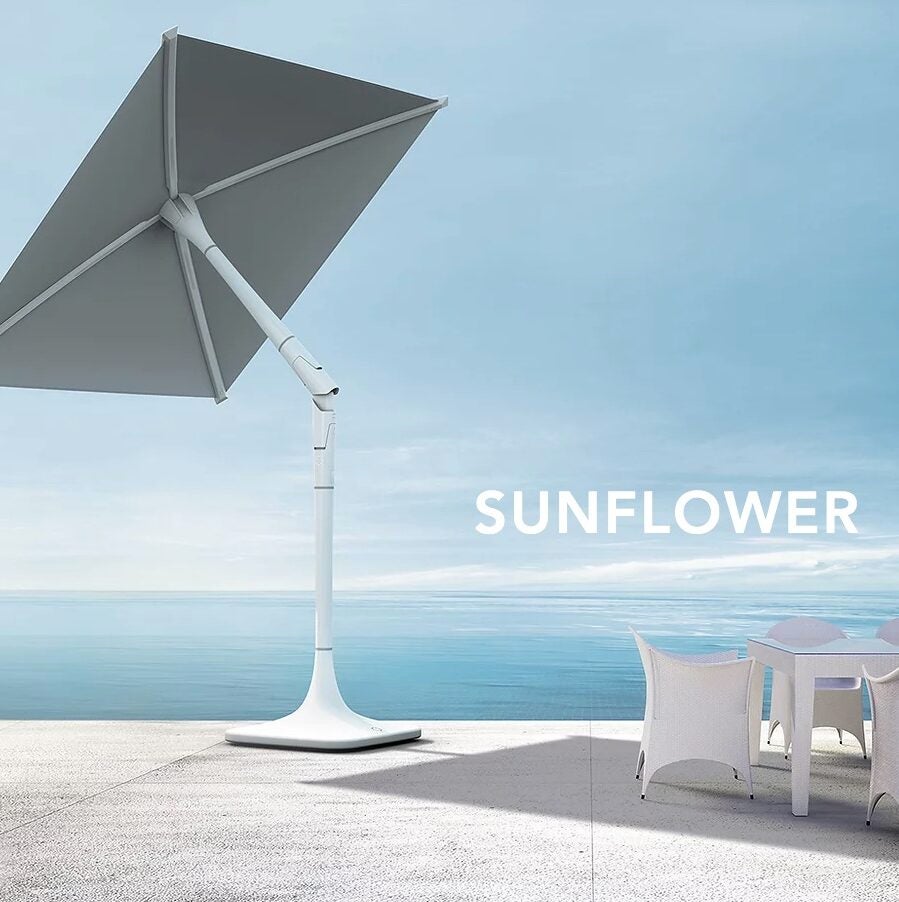 High Tech Shade Umbrellas
Another interesting component to offer clients is the Shadecraft Sunflower Umbrella, which automatically opens at daybreak and tracks the movement of the sun, providing a full day's worth of protection then closes at sunset. If that wasn't enough, this solar-powered umbrella also features Bluetooth, wi-fi and cellular capabilities, an HD camera for security and social purposes, speakers and a hands-free voice control system.
. . .
Design and Planning Technology
Belgard and our family of companies continues to innovate offering our contractors technology to help make jobs easier from design and planning to installation.
Concrete Calculations App

If you spend additional time calculating concrete pours on irregular spaces, we can help you streamline your process. With the Sakrete App, just scan a project site with your smartphone's camera lens and through the science of augmented-reality spatial computing, the app does the math and calculates how much concrete mix you need. There's even a "where to by" feature for added convenience.
. . .
Belgard Rooms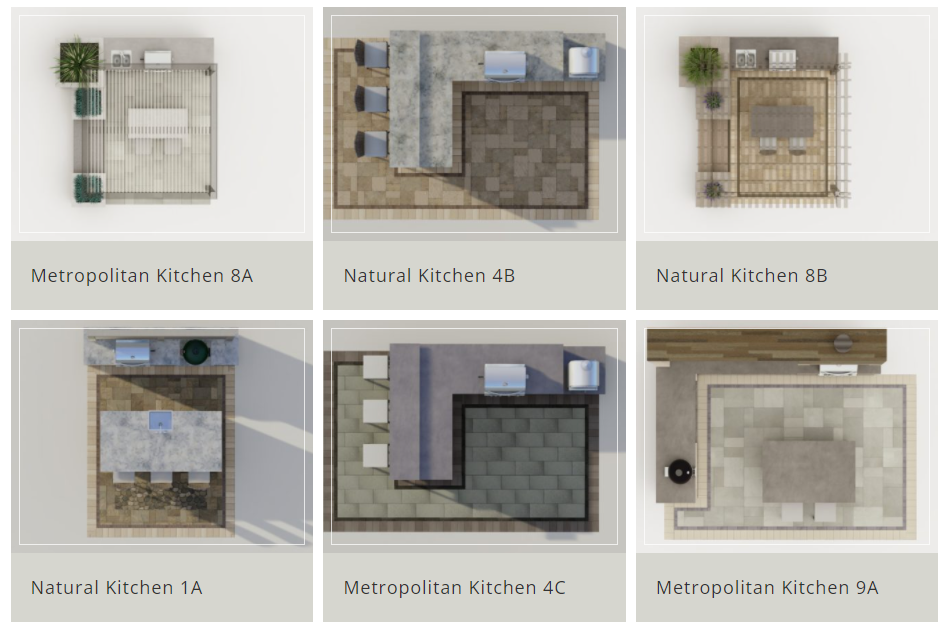 With the Belgard Rooms Planner, homeowners can curate their style with just a few clicks whether they're designing an outdoor kitchen, dining room or living space. This feature can be an amazing time saver for contractors. While it's still the norm to go out for an on-site consultation, with Belgard Rooms, you can schedule a short phone conversation and spend some time upfront looking at 10 rooms or so to narrow down some of the designs and features they like. This can help to determine a mutual agreement on price and decide on how to proceed ultimately setting up an on-site meeting. Coming soon, contractors can then use our Augmented Reality to bring design and planning to the next level. The latest AR technology can be launched directly from Belgard's website allowing you to click a link that automatically downloads a specific Room design, then use the camera on your phone or tablet to superimpose that design into the existing space. Users can scale and adjust the plan, then actually walk through the space viewing designs and features such as outdoor kitchens, fire pits, and plants and landscaping.
As Belgard continues to innovate, we have the ability now to provide our contractors the ability to start with a plan and then build out from the ground up with pavers, pre-built modular fire places, outdoor kitchens and water features, and then add accessories from our Elements line such as grills, burners, sinks and more—all to customize your clients' outdoor living space.