Looking for a good menu for your game time get-together (or any gathering)? We've got you covered.
Wouldn't you know it! Your tickets to Sundays Big Game got lost in the mail yet again and like a bazillion other folks around the world, you'll be stuck watching the game at home. But hey, why not make the most of it and host a Super Homegating event with your friends and family and watch the game in style? If the weather's nice and you've got space, outdoors is the way to go. There are even ways to heat your outdoor spaces if it's a bit chilly. But gathering around the tube in the comfort of a temperature-controlled environment works, too. Here are a few ideas on how to put a theme together based on good food that can feed a large group and features a little inspiration from the teams competing. Even if you're not a football fan and don't plan to watch the game, this trio of foods make a fantastic homegating menu for sports events throughout the spring, March Madness, MLB opening day and any non-sports-related gathering in the future.
First, you need a game-winning staple to serve as your main course and since this is a day to celebrate the pigskin, what's a better dish than hearty pulled pork. In a nod to the team from Los Angles, we'll go with a chili-based rub to showcase the city's Latino roots and substitute tortillas for buns. An 8 lb. pork shoulder will feed about 25-30 people, so buy accordingly. You can cook the pulled pork in a variety of ways: slow cooker, oven, or on the grill. The good thing with this pork is that you can cook it well ahead of time, refrigerate it and reheat on Sunday.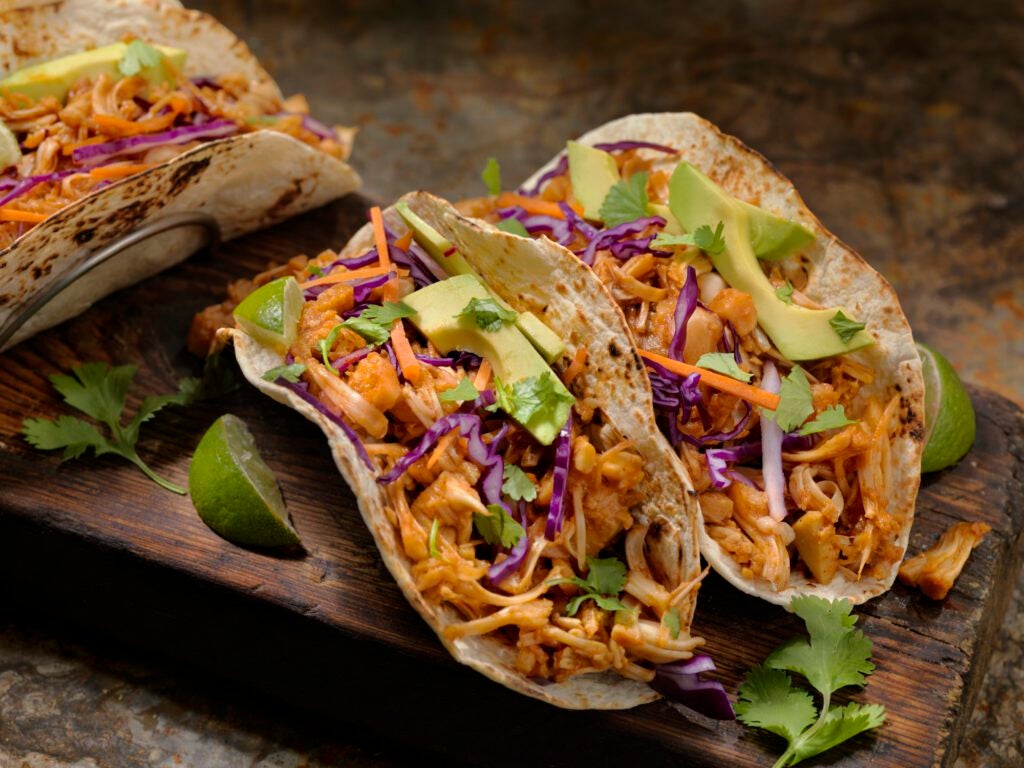 The Main Dish: Pulled Pork Tacos
First, here's the Rub:
½ cup sugar (don't use brown sugar, it will be too sweet)
½ cup salt
Garlic salt or powder to taste
¼ cup ancho chili powder
1 tsp of chipotle chili powder or cayenne (cayenne will be a little spicier)
1 tsp of coriander
1 tsp of cumin
1 tsp of black pepper
¼ cup of paprika (mostly for color…enough to turn the mix a reddish orange)
Taste some on your finger and add more of any of these ingredients to your taste
Reserve some of the rub on the side to add to the pork once it's cooked and shredded. Rinse the pork shoulder, pat dry with a paper towel and apply the rub generously. You can let it sit overnight or just go directly to cooking.
Slow Cooker
Pour enough vegetable oil into the bottom of a slow cooker to keep the pork from sticking. Place the pork roast into the slow cooker; pour in a cup of chicken broth, cover and cook on High 5-6 hours until the roast shreds easily with a fork. Remove the roast from the slow cooker, and shred the meat using two forks. Return the shredded pork to the slow cooker, add the reserved rub and stir the meat into the juices.
Oven

Preheat oven to 300 degrees F. Place roast in a Dutch oven pot. Pour in a cup of chicken broth. Cover pot with lid and cook for 3 hours. Remove lid and cook for an additional 1-2 hours, until pork is tender and easily pulls apart with a fork. Add additional rub to pork
Grill

Place the rubbed pork on the grill and set temperature for 225 degrees F. Cook slow and low for about 1.5 – 2 hours per pound (8 lb pork shoulder = 12-16 hours) until the meat reaches an internal temperature of 195. Yes, this takes longer but you'll get that "oh so delicious smoke flavor" that everyone loves. Remove the pork from the grill, shred and add additional rub.
Next, the accoutrements. Like both quarterbacks in the game who have an array of offensive weapons, it's good to give your guests a wide range of options to dress their tacos such as:
Finely chopped raw white onion or red onion, or go with pickled onions for something different
Thinly sliced jalapeno
Shredded purple cabbage
Fresh-chopped cilantro
Crumbled cotija or shredded jack cheese
Lime wedges to squeeze on top of your tacos for a citrusy zing
Thin avocado wedges or guacamole
Pico de Gallo or salsa
Mexican crema or sour cream
Place these items out in small bowls right next to your pork and warmed tortillas and let your guests build themselves one Super Taco.
Appetizer and Dessert: Buffalo Chicken Dip and Buckeyes

We've got recipes of two Ohio favorites for an appetizer and dessert. First, Ohioans love their Buffalo Chicken Dip, which finds itself at the forefront of many sporting events due to its easy preparation and absolute deliciousness. Here's the game plan.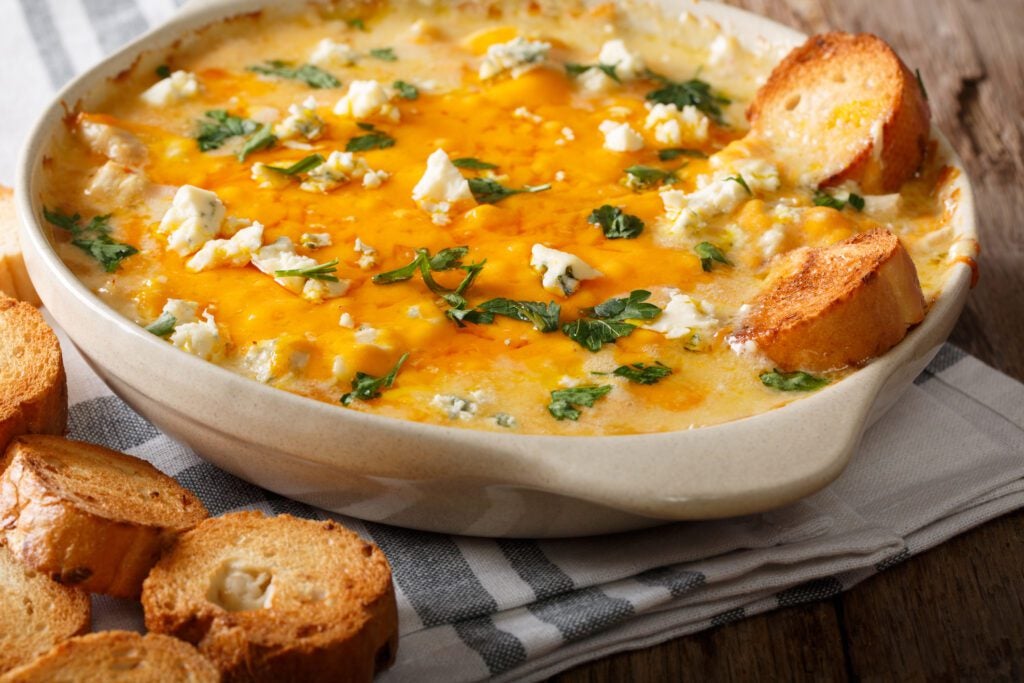 Buffalo Chicken Dip
35-40 oz. Of canned chicken
1 12-oz bottle Frank's Hot Wing Sauce (if Franks is not available, use another wing sauce, but don't use straight hot sauce like Tabasco—it'll be too hot)
8 ounces cream cheese, softened
8 ounces (half a bottle) Ranch dressing
4 ounces shredded sharp cheddar cheese
Preheat oven to 375.
In a nine inch casserole dish, spread out the chicken and pour the wing sauce over. Mix well and spread out, covering the entire bottom of the dish.
In a medium sized saucepot, combine the cream cheese and ranch dressing. Whisk while heating until smooth. Don't get penalize for clumpy cream cheese!
Pour the cream cheese mixture over the chicken and spread out. Bake for fifteen minutes.
After fifteen minutes, sprinkle the cheddar cheese on top and continue baking for another ten to fifteen minutes, or until the cheese has melted and is bubbling. Remove from oven and let sit for ten minutes. Stir well and serve with chips or crackers or feel better about yourself and use carrot sticks or celery sticks.
Buckeyes Dessert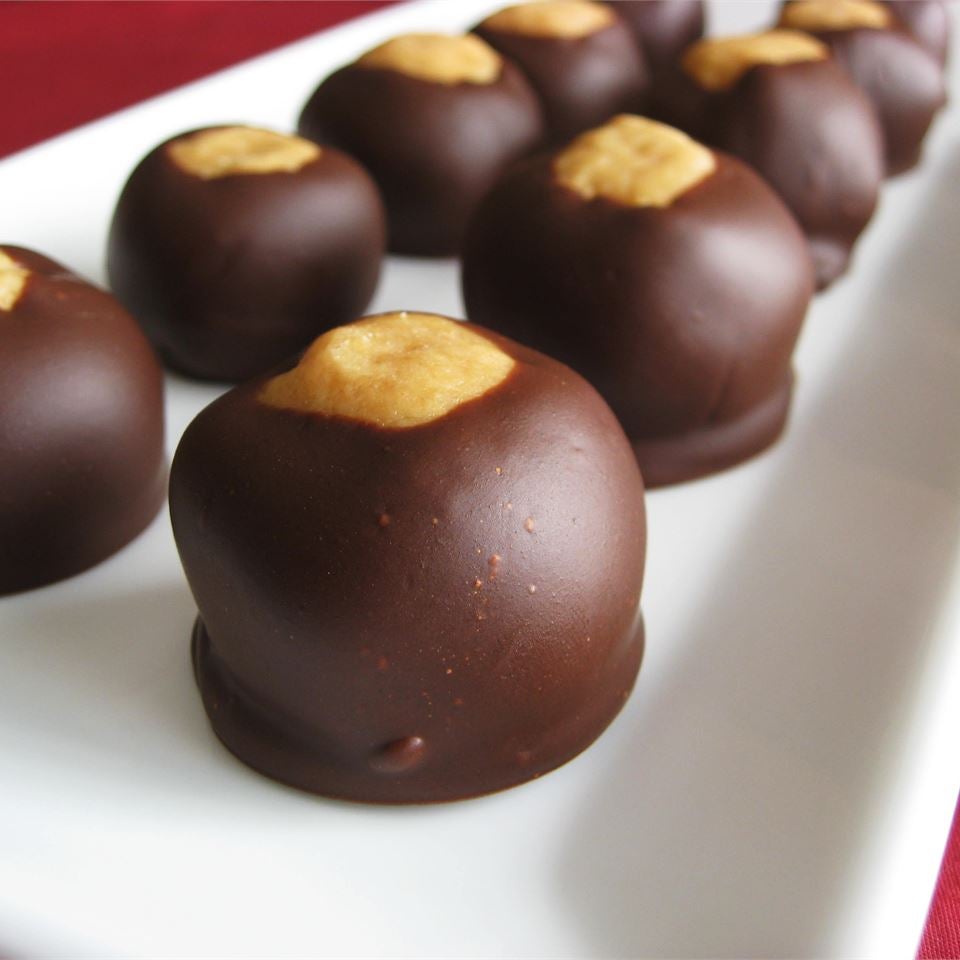 While a buckeye is actually the state tree of Ohio, which produces a non-edible nut, this dessert is made to look like a buckeye nut and tastes absolutely delicious. One look at the recipe and you'll understand you can't quite go wrong with peanut butter, butter and chocolate. Warning, these mouth-sized treats tend to go really fast, especially if there are kids attending your party.
1 ½ cups peanut butter
1 cup butter, softened
½ teaspoon vanilla extract
6 cups confectioners' sugar
4 cups semisweet chocolate chips
In a large bowl, mix together the peanut butter, butter, vanilla and confectioners' sugar. The dough will look dry. Roll into 1 inch balls and place on a waxed paper-lined cookie sheet. Press a toothpick into the top of each ball (to be used later as the handle for dipping) and chill in freezer until firm, about 30 minutes.
Melt chocolate chips in a double boiler or in a bowl set over a pan of barely simmering water. Stir frequently until smooth.
Dip frozen peanut butter balls in chocolate holding onto the toothpick. Leave a small portion of peanut butter showing at the top to make them look like Buckeyes. Put back on the cookie sheet and refrigerate until serving.
There you have it: a main dish, appetizer and dessert representing the two teams preparing to battle it out this Sunday. Here's to a great game and an even better Homegate from your friends at Belgard.