Regularly cleaning and sealing pavers is crucial to extending their life and protecting them from stains and other corrosion. To show you how simple yet transformative the sealing process is, we invited Aaron Phifer of Techniseal® to give us a demonstration using their Color Boost and Paver Prep HD products.

Over the two-day demo, Aaron walked us through the simple process for applying the Techniseal products, with the end goal of giving the homeowner's patio a wet look while also sealing it with Color Boost.
Day 1: Cleaning and Prepping Pavers
We arrived on a dewy morning to find the patio cleared of all furniture, something the homeowners had done the previous day. Aaron walked the patio, checking for specialty stains and efflorescence. While efflorescence can be removed with Paver Prep HD, specialty stains like grease, oil or food must be removed using a Techniseal cleaner specialized for each type of stain. (see All Paver Stains Are Not Equal blog)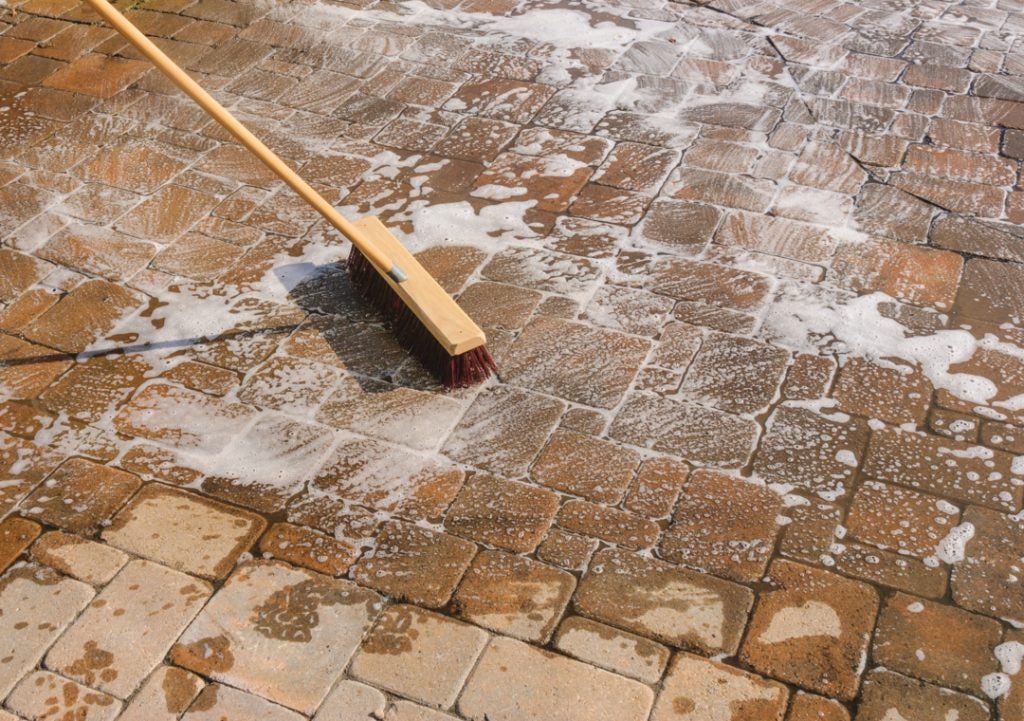 After inspecting the patio, we got to work. The first step was to soak it with a hose. Aaron then diluted the Paver Prep HD using a 4-to-1 ratio. It was mixed in a large bucket, then poured on using the lid with a few holes drilled into it. We worked in quarters, applying the Paver Prep HD to one area at a time and using a deck brush to scrub it in.

"Water is your friend," Aaron says. "Make sure to really rinse the patio off thoroughly."

Once we cleaned the entire patio, we rinsed it off again and called it a day. After applying Paver Prep HD, you need to let the patio dry for at least 24 hours before sealing.
Day 2: Applying Paver Sealant
You should apply a sealant like Techniseal® Color Boost after 24 hours of dry weather. Color Boost was chosen for this project for several reasons. First, it offers a "just rained on" look without becoming glossy. Second, it is not a film-forming sealer, which means that it is breathable and brings out all the intricate colors of pavers. Many film-forming sealers can lock in damaging efflorescence and wear unevenly.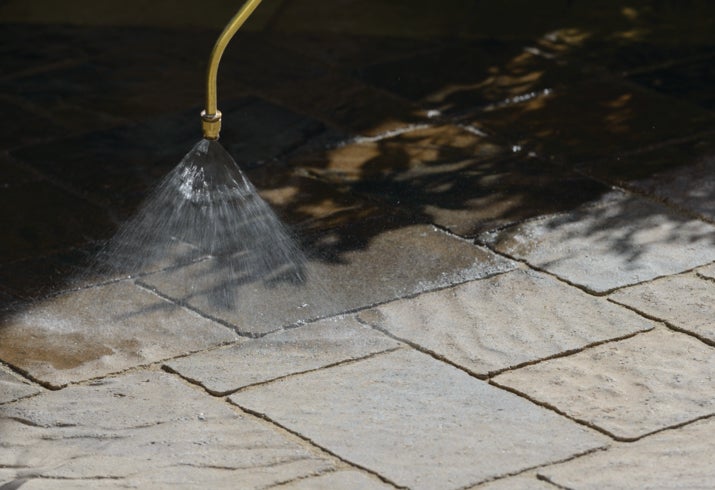 To apply the sealer, you'll need a sprayer, a paint roller and a couple of roller brushes. Aaron explained that you want to spray the sealer again in quarters around the patio, almost to the point of puddling. After applying the sealer to an area, back roll it with the paint roller to create an even coating.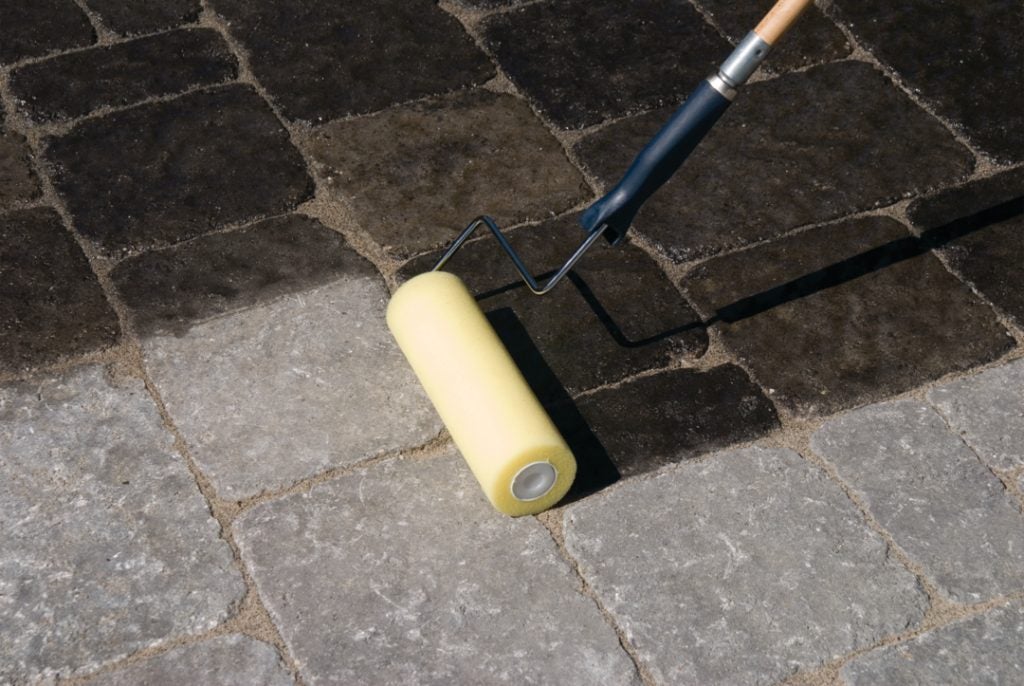 "We recommend doing two coats. You'll want to do a wet-on-wet coat for the second coating, so time is kind of critical. However, the sealers are so easy to apply, it's something homeowners should be able to do themselves," says Phifer.

After two days, the patio was left with a brighter color and a protective coating that will last three to five years.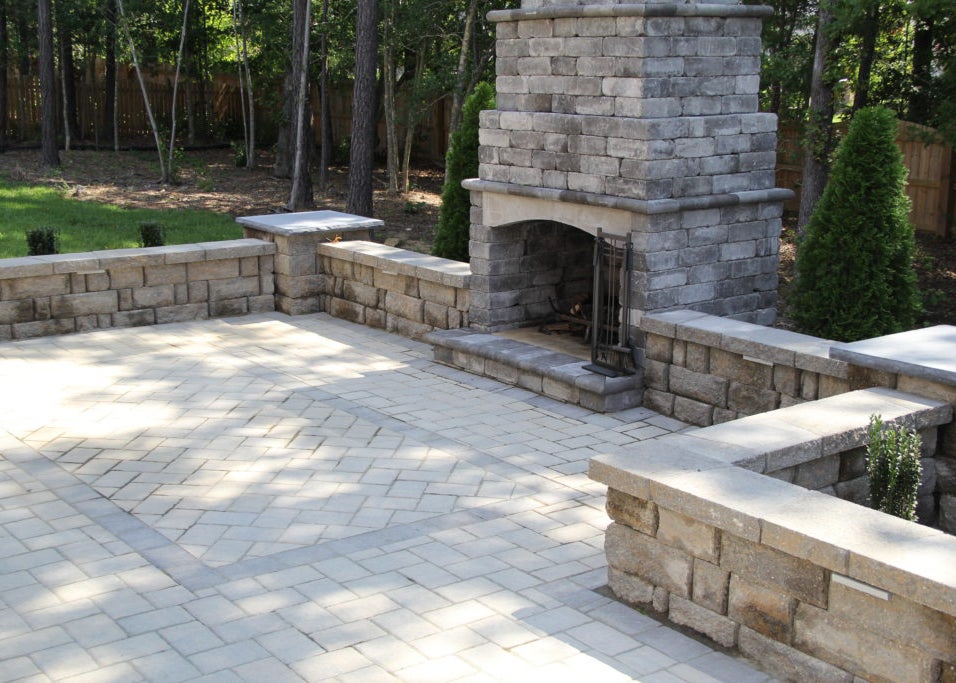 . . .
"Sealing any patio is a great idea. It brings out the color in the pavers and protects them from the elements. Plus, you don't have to worry about spills like wine or food. It's a great way to enhance and protect your investment." explains Phifer.