Located just outside Nashville and only minutes from historic Franklin lies the small unincorporated community of College Grove, Tennessee. There, the private club community of The Grove was chosen by the Home Builders Association of Middle Tennessee (HBAMT) to host the 2019 James Hardie Parade of Homes™. A 1,100-acre gated community with homes ranging from the $900,000s to over $9 million, The Grove boasts a distinctive club lifestyle, complete with a Greg Norman Signature Golf Course and the most comprehensive amenity and recreation package of any community in the region. The development features artisan-built, estate homes created from a thoughtful palette of classic architectural styles. Each possesses signature characteristics and is set into a lush landscape dotted with streams and rolling, wooded hills.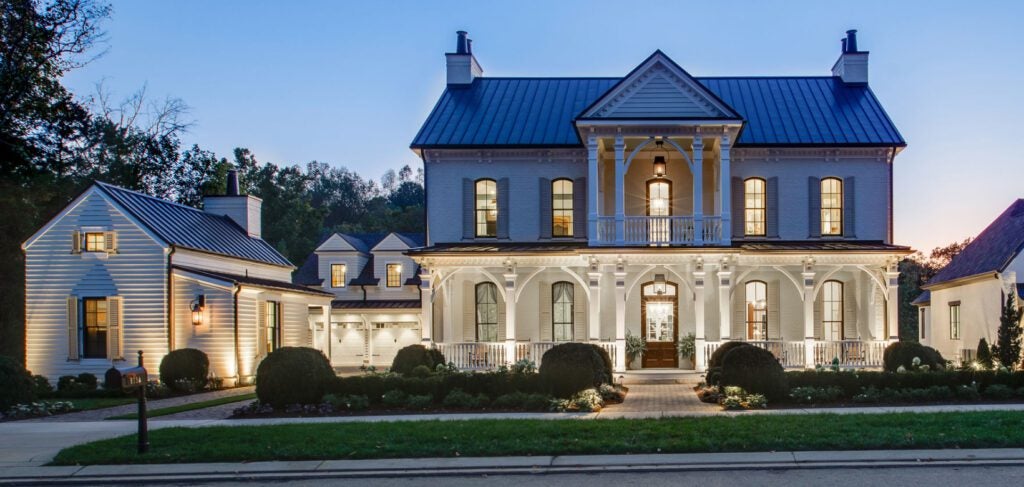 Winner of the Best Craftsmanship and Best Landscaping awards from the Parade of Homes, the Southern Living Showcase Home is a re-imagined design of the famous Croft House (built circa 1810) at the Grassmere Estate in Nashville, currently the site of the city's zoo. The overall design goal was to capture the classic Southern character of the home, but in a fresh and modern way. According to Southern Living magazine, much of the detailing looked so authentic, the curator of Grassmere teared up when touring the house.
To complement the Federalist architecture of the home's front elevation, Holland Stone pavers were selected for the entrance walkway and laid in a classic herringbone paver pattern. The Driftwood-Clarskville color blend adds a contemporary twist to the classic paver styling and mimics the color tones used on the home's exterior, shutters and porch — elegantly tying the overall look together. The Santa Barbara style turf-and-paver driveway intersects the main home and the guest house. The Old World Paver™ system was selected for the driveway and laid in a simple running bond paver pattern. Old World Paver offers a European cobbled appearance that pairs nicely with the multi-car garage, which features the look of an 19th century carriage house. Both part of Belgard's Legacy Collection, Holland Stone and Old World Paver complement one another and work together to enhance the classic architecture of the home.
The spacious backyard outdoor living spaces are a transitional combination of old meets new. The terraced paver patio continues the multi-tonal theme of the entrance walkway, also constructed with the Driftwood-Clarksville blend of Holland Stone but laid in an eye-catching basket weave paver pattern. Flanked by porches and inset gardens, the patio's paver pattern and color blend enhance the multidimensional design of the welcoming outdoor living space. The upper patio leads down to a lower arched patio that features an oversized natural stone fire pit with a lovely wooded backdrop.
Click below to take a video tour of the outdoor living spaces.