Based in Minneapolis, Mom's Design Build states that their company mission is to create outdoor living spaces that inspire the human spirit to live fully. That mission was wholeheartedly accomplished with a recent backyard transformation they titled, "Simple Splash." This backyard makeover project took a rarely used yard with a rocky, sloped terrain and converted it to a welcoming contemporary family oasis.
Project designer Heather Sweeney initially met with the family to discuss their goals for the space. The interior of their home has a modern design motif, and they felt the existing traditional paver patio was disconnected with the home's interior and too small for their needs. The family includes two small children, a 5-year-old girl and a 9-year-old boy. They knew they wanted a pool that would eventually include a pool house. They wanted the design to have a contemporary feel that would flow well with the home's interior design, but also wanted some traditional elements so that the space would be comfortable and approachable.
"A major challenge was how do we put a flat pool on this crazy hillside," Sweeney said, "especially when the city had rules that dictated retaining walls could only be a maximum of three feet tall."
Sweeney's answer to that challenge was to create a tiered poolscape that includes a sundeck on the upper area, a poolside bar on the lower level, and a cozy sitting area where Mom could relax and overlook the entire space.
"Kids can sit either on the outside or in the pool," Sweeney said of the dining bar. "Future plans include a pool house with a kitchen and a fireplace off of that area. This way, we could phase it out without making it look unplanned."

The project features a mix of materials that includes Nau 2.0 porcelain pavers (Fado color), poured concrete, natural Bluestone and weathered corten steel. The retaining walls and bar are poured concrete trimmed with corten steel. Bluestone was used for the coping, step treads, stepping-stone garden and wall caps. The pool decking areas are all durable Nau 2.0 porcelain pavers, which offer the look of natural woodgrain with the stain-resistance and frost-resistance of porcelain — ensuring lasting beauty despite the harsh Minnesota climate.
"This was my first time using Belgard porcelain pavers," Sweeney said. "I've been intrigued with the product. On this design, we were trying to find something that looks good that won't burn your feet. The wood look lends to the clean-line modern look and at the same time subtly softens the look."
For the sundeck area, the porcelain pavers were installed on a crushed stoned base like tradition pavers. Around the pool, Mom's Design Build used a concrete sub-slab with a mat base between the concrete and paver. "I was a little nervous at first because it was a new process, but the sand locked it into place," Sweeney said. "It looks great, and I've used it on additional projects since. For people who like that clean-line modern look, it works perfectly."
Adding to both the look and functionality of the design, Sweeney included a natural diving platform that also functions as a water feature. The feature includes an built-in light controlled with the pool controller. To add to both ambiance and safety, lighting was also installed throughout the design, including the step treads. Channels were carved under each step tread to hide LED rope lights that automatically come on at night with a photocell sensor.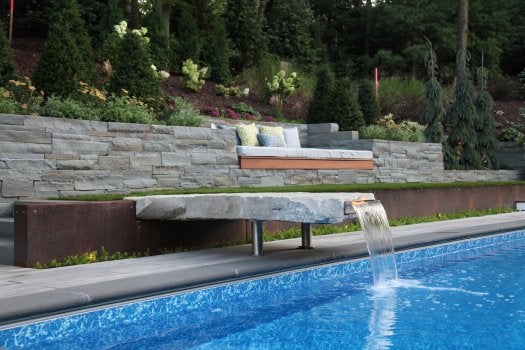 Centered on the pool is a custom built-in lounge seat surrounded by a tiered garden. The mother stays at home most of the time and wanted a place to relax and watch the kids without having to be in the pool or get splashed. Custom built from decking and 6″ foam, the result was an artistic piece that acts as a natural focal point. The overall look of the third tier was softened with a combination of low-maintenance landscaping, ground cover along the corten wall, and maintenance-free artificial turf that connects with the sundeck.
The family has future plans to extend out from the dining area to build a pool house with an outdoor kitchen, along with an outdoor living room with an outdoor fireplace. By discussing the overall plan during the design phase, Mom's Design Build was able to prep future phases on the front end, saving a lot of time and expense down the road. "All conduits have already been run the through concrete walls for future electrical, water and gas. Everything is setup so we don't have to redo anything," Sweeney said. "Footings are also in place for the kitchen and fireplace. We tiled on top of the footings and will remove those sections and build up from there when the time comes."
Sweeney reports that the homeowners love their new space and spend time outside on almost a daily basis, something they rarely did before the backyard makeover. "They didn't use their backyard at all before. They had a tiny patio. It was too shady, damp and hilly without a lot of functional space. The mom now spends a lot of time on her lounge reading, and her daughter likes to line up her Barbies along the edge of the pool to play. And they like to entertain large groups, and this space offers them lots of seating."
For more backyard makeover inspiration, visit Mom's Design Build on Facebook and Instagram. To find a qualified contractor in your neck of the woods, visit the Belgard contractor locator.