Whether you're wanting to improve your curb appeal or add functionality to your backyard, these planning tips can help you start your outdoor living makeover planning process, as well as help you avoid potential pitfalls.
TIP 1:  DO YOUR RESEARCH
Inspiration: Spend a significant amount of time looking through magazine websites. Check outdoor living Pinterest boards and the Belgard Inspiration Gallery to see which styles, textures and colors tend to grab your attention. Keep the architectural style of your home in mind to ensure your design works well with your home's color or architecture.
Budget: Check websites like HomeAdvisor to get a rough idea of what installation costs are for your type of project. The costs won't be exact until you get quotes, but it will help start the planning process. And as with any home improvement project, you should include some buffer room in the budget to cover any unforeseen contingencies, like a last minute design addition.
TIP 2:  FIND A GOOD CONTRACTOR

When planning for any outdoor living makeover project, a good rule of thumb is to get three quotes. Don't necessarily choose the lowest bid, but the contractor you feel has the best understanding of your vision and the necessary skills to bring it to life. Be sure to ask to see examples of their work and references. If you're planning to install patio pavers or landscape walls, Belgard is North America's leading manufacturer of hardscapes and provides an online contractor locator of pre-screened installers who are required to adhere to specific standards and are reviewed annually.
TIP 3:  PLAN FOR THE FUTURE

Phasing: If you have an overall vision for your property and know you can't do everything at once, you should still PLAN everything before breaking ground on the first project. Doing so can save you a lot of money and headaches down the road. For example, if you're installing a pool and plan to add a pavilion and outdoor kitchen later, put in column footings and pre-run needed electrical and gas lines under the pool deck. It will cost a little extra on the front end but will save significant money and time later. In addition, a contractor who understands the overall vision can help you plan the best way to phase everything out.
Design: Be sure to ask for design renderings so that everyone is on the same page. If your project involves Belgard pavers or walls, a Belgard Authorized Contractor can provide Virtual Reality Designs from the Belgard Design Studio free of charge. These designs offer an ultra-realistic 360-degree view of your future space including furniture, landscaping and images of your home.
TIP 4:  YOU WILL NEED MORE SPACE THAN YOU THINK

Driveways: Homeowners who choose to install a standard driveway (8 to 10 feet wide) often wish they had splurged and gone with 12 feet.

The additional width provides more room for wider vehicles, as well as walking space around the vehicle. This will keep your future guests from having to step off of the driveway into wet grass on a rainy day, or from accidentally missing a portion of a narrow driveway and leaving tire ruts in your yard.

Patios: Don't just think about furniture groupings, but also the walking and gathering space that will be needed around the furniture. If you like to entertain, you will want to plan enough space for multiple conversation zones. And if you're planning an outdoor kitchen, remember to plan for food prep and serving space.
TIP 5:  GET THE BELGARD PROJECT GUIDE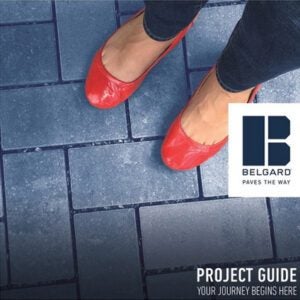 Our comprehensive Project Guide can be viewed online or downloaded for future reference. It offers a wealth of additional project planning information — including project considerations, planning timelines, design basics, budgeting tips, contractor selection tips, long term maintenance tips and more.