By guest blogger Katie Kuchta.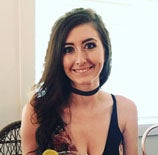 Katie Kuchta is a gardening guru, outdoor living expert, and self-proclaimed foodie. She can often be found cooking in the kitchen or on the hunt for the best tacos, follow her on Instagram @atxtacoqueen. Homeowners who have recently hardscaped with a newly built patio space will want to use it year round. Adding hardscaping to your outdoor space can help to lengthen your enjoyment outdoors all year long. Depending on your location, being able to use your outdoor patio can vary depending on weather conditions and seasons in your area. However, there are many different ways that you can get full use of your beautiful new patio with these easy tips:
Use The Grill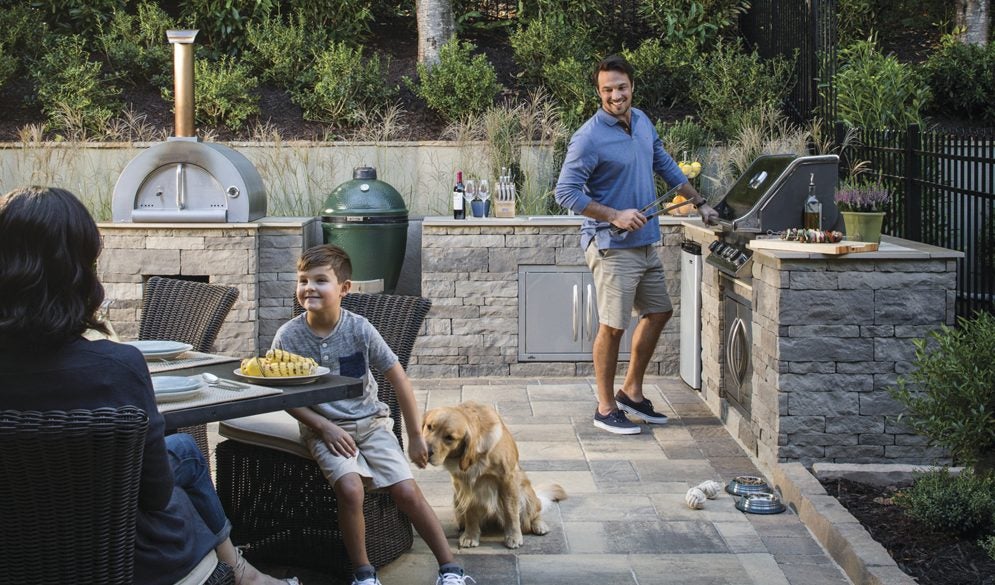 Seasons in some regions allow homeowners to use their patio space well into the winter compared to other areas of the country. Areas like Kansas City, Tucson, Atlanta and parts of Texas have been reported to be ranked in the top metro areas for backyard grilling so take advantage of the extended warmer climate by choosing to grill dinner out on the patio. Making this a habit will not only help keep the house cooler by not using the oven, but will also encourage you to spend time out on the patio with family and friends.
Shield from the Elements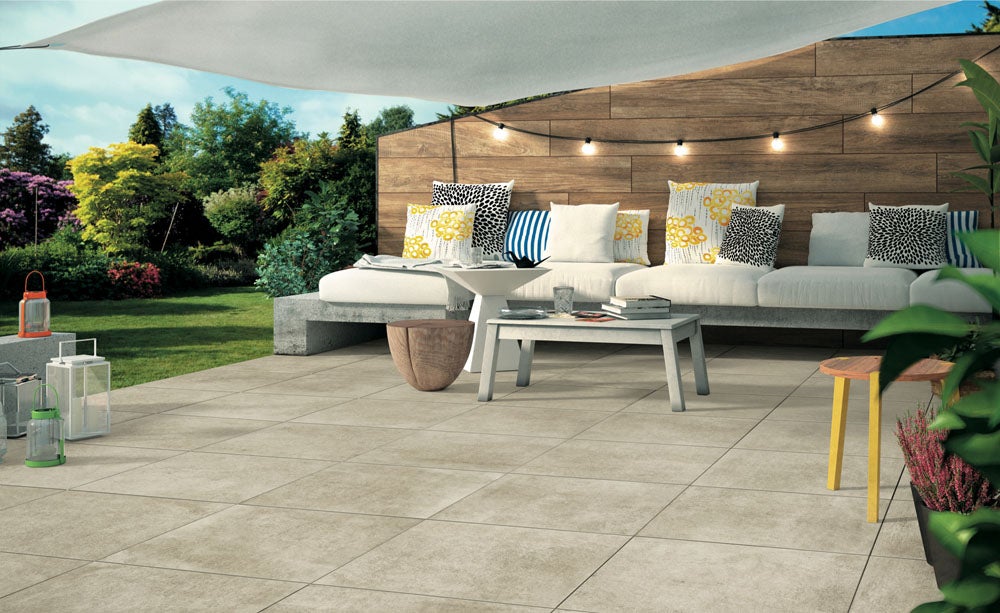 Using your patio means being outside but that doesn't mean that you have to bear all of the elements that outdoor living can bring. Consider adding a pergola or sun shade above your patio to help lengthen the amount of time that you can comfortably use the area. Shielding yourself from the hot summer sun will help to keep you comfortable and enjoy your outdoor space. If you live in a particularly windy area, consider adding side curtains or awnings that can help to protect you from gusts of wind as well.
Add a Drink Station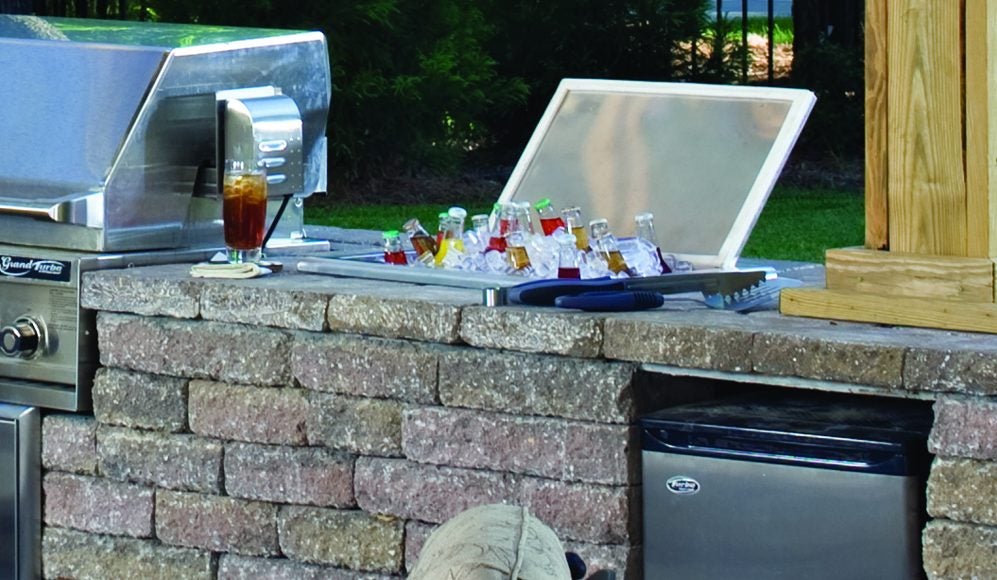 For warm days out on the patio, consider adding a drink station that is stocked with your favorite staples such as bottled water, soda, or spirits. Many products are now available that include well-hidden coolers that will add beauty to your outdoor area without the eyesore of a cooler. Another great idea is to have a large amount of ice cold tea or lemonade in easy to use carafes. Making it easy for visitors to grab a drink will cut down on time going indoors and extend the use of your patio area.
Heat It Up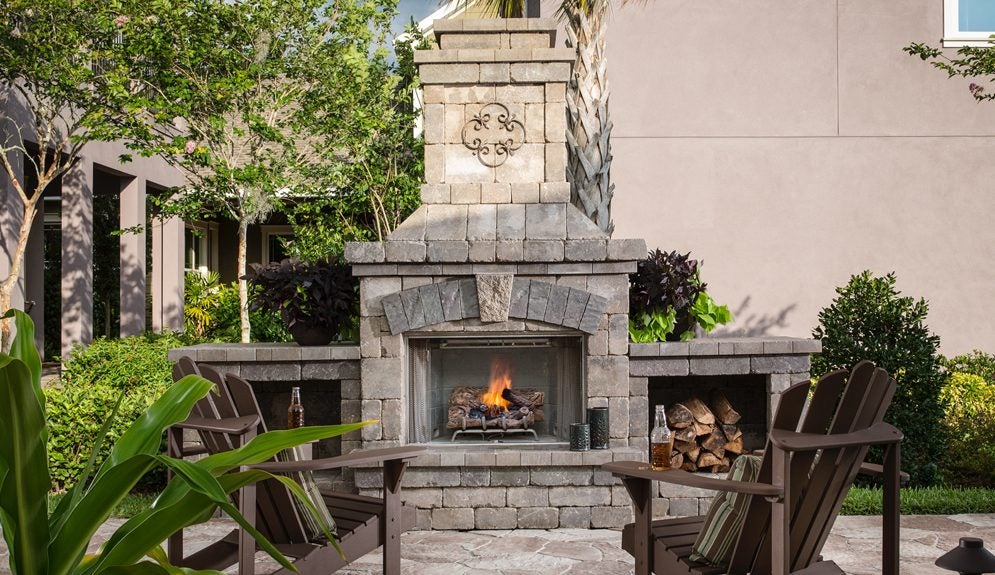 When in a colder area with cooler fall and winter temperatures, consider adding an outdoor heating element that will help to extend your time outdoors. Both small and large heaters can offer instant warmth to a cooler outdoor space. Incorporating a fire pit into your patio space is also a great way to add heat along with the ambience and welcoming scent of a crackling fire. Consider the Brighton Fireplace Series from Belgard that features an impressive fireplace that is flanked by beautiful stone. Sources of heat are a great way to lengthen your time outdoors to enjoy the sights and sounds of the changing seasons.
Provide Extra Seating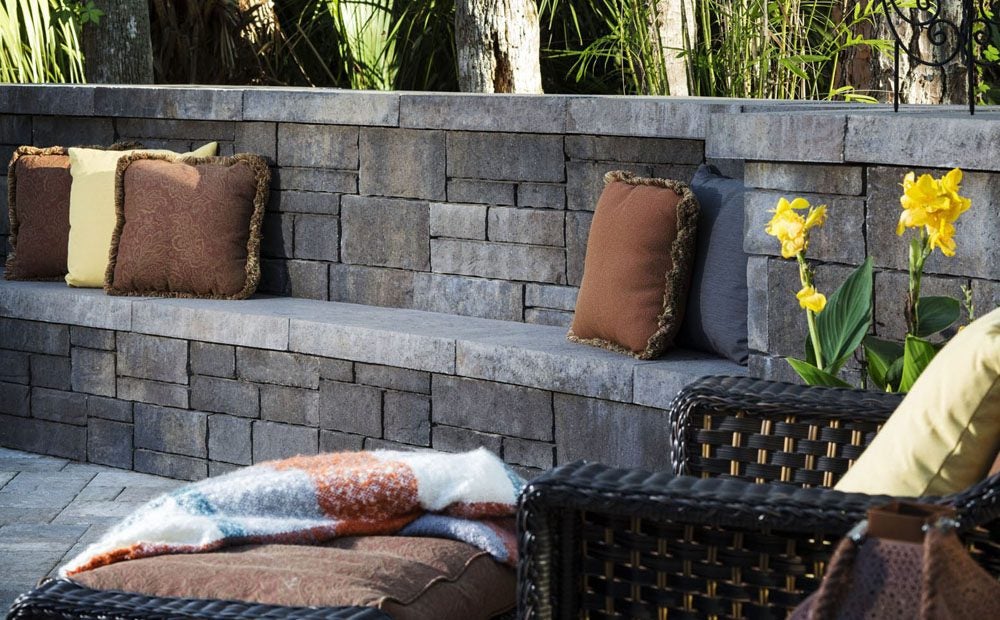 You'll want to share your new patio space with family and friends after finishing a patio project. Be sure to provide adequate seating for all of your guests by purchasing different pieces of outdoor furniture. Start with a main focal piece of furniture and then add in other easy types of seating like extra chairs or footstools that double as seats. Adding cut slabs of a fallen tree is another great way to add extra outdoor seating while also using natural elements. Using a retaining wall as extra seating is also a great way to easily add room for everyone. Having easy to use pieces of extra seating in an outdoor space will encourage gatherings and more time spent outdoors. There is absolutely no reason why beautiful patio spaces shouldn't be used year round. Consider adding extra seating and heating elements to help encourage friends and neighbors to join you outdoors. Cover your patio space from the elements and provide an easy to use drink station to enjoy your outdoor space. Follow these tips to creating a patio area that will be well used all year long.