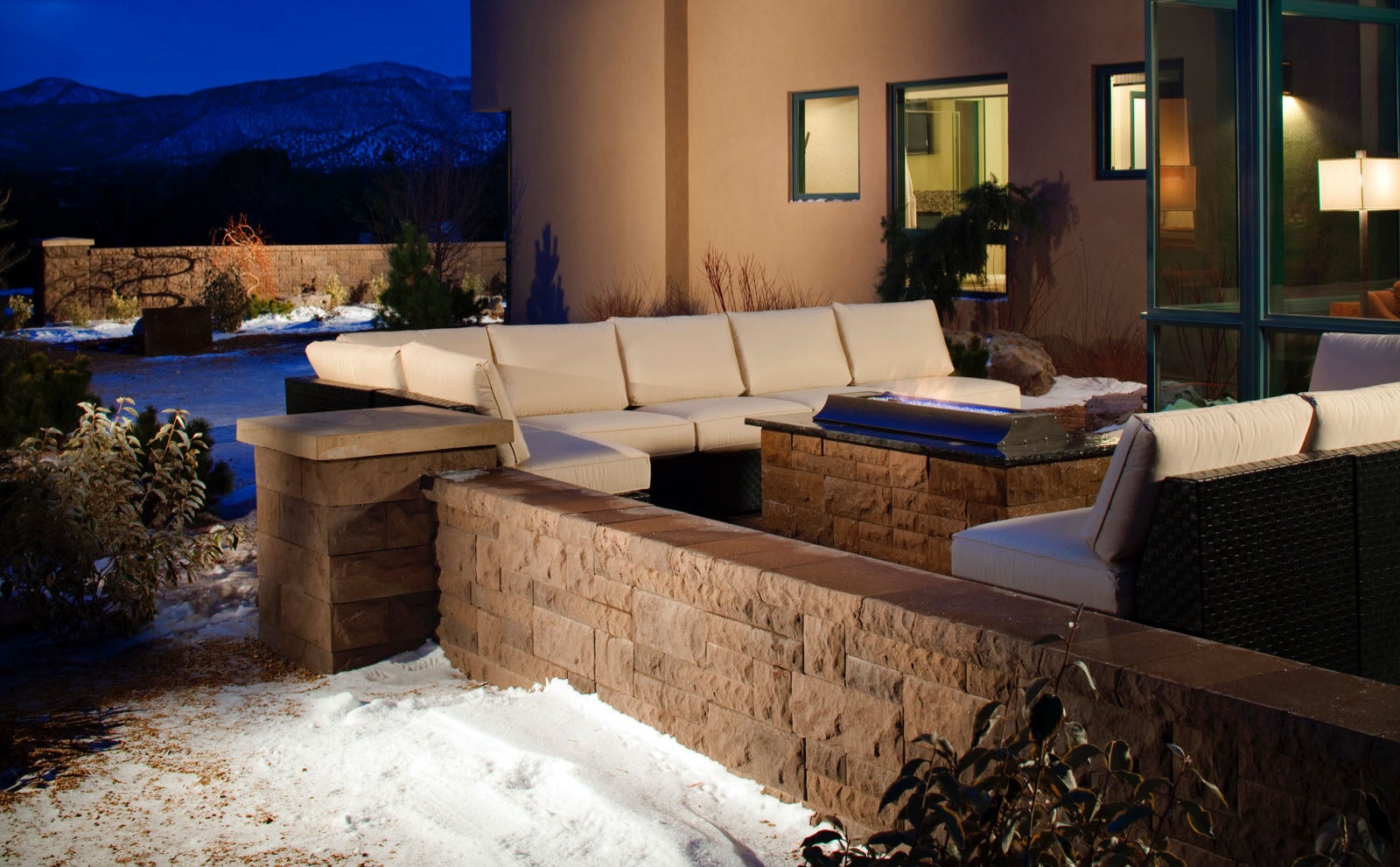 Extreme weather can sometimes take a toll on your outdoor living spaces. Keep your Belgard outdoor living area looking as beautiful as the day it was installed with these tips and tricks for protecting your investment in harsh climates.
Beware Rapid Temperature Fluctuations
Belgard hardscapes are constructed to withstand natural freeze/thaw cycles, and the refractory cement materials used to manufacture Belgard fireplaces, fire pits and brick ovens are designed to withstand very high temperatures. However, rapid shifts from one extreme to the other can still have an adverse effect, and there are simple ways to prevent damage.
Keep brick oven and fireplace doors closed to prevent snow and ice from building up inside the unit.
When not in use, cover grills and fire pit openings with covers to help prevent build-up and ensure proper working order.
If snow or ice does build up on a fireplace, fire pit or brick oven, be careful to remove any loose snow or ice and warm the unit up and thaw it slowly.
Protect Your Outdoor Kitchen
It's important to protect all of your pipes, appliances and equipment so that your outdoor kitchen is ready to use in the spring.
Shut off water to your outdoor kitchen and drain all water lines to outdoor sinks, ice makers, refrigerators and kegerators. Leave the drain valves open.
Turn off all of the power to appliances.
Clean the inside of appliances and cabinets and wipe everything down to remove residual moisture.
Do not cover outdoor refrigerators or ice makers, which could cause moisture to get trapped and cause electrical damage.
Cover any sinks to prevent debris from settling in the basin. You may want to consider removing the faucet and storing it indoors.
If counter tops are made of stone, consider applying a sealant to prevent leaf stains or cracks caused by freezing moisture.
Prevent Deicing Downfalls
Deicing agents can sometimes have a corrosive effect on paved surfaces. Although Belgard pavers are manufactured to be more resistant to salt absorption than asphalt or solid concrete surfaces, there are additional tips that can help ensure lasting beauty of your paver walkways, driveways and patios.
Mix salts with sand prior to application.
Don't over-salt.
Use salt for melting ice only, not snow removal.
Once loose, remove ice to avoid salt buildup.
Wash residue from pavers in the spring.
Reseal pavers with protective sealants, such as those offered by Techniseal, every three to five years.