Some Italian restaurants like Chicago's legendary Spiaggia have been cooking with wood for decades. Why? Because that's the way it's done in the old country. And if you want that authentic old-world taste, cooking with wood is the way to go. It infuses each dish with a flavor you just can't get any other way.
In more recent years, chefs across the country have embraced wood-fired cooking for anything from roasted root vegetables to grilled calamari. And brick oven pizza joints seem to be popping up all over town. You can smell the wood-fired ovens for blocks, drawing people in with the enticing aromas. With the continued trend of gourmet cooking at home, it was only a matter of time before wood-fired cooking would become the next outdoor living phenomenon. Enter the residential brick oven.
Several years ago, Belgard anticipated this trend and partnered with Chicago Brick Oven to create a line of brick ovens clad in Belgard hardscape products that would blend seamlessly with other Belgard product lines to create fabulous outdoor kitchens with the added option of a matching wood-fired brick oven.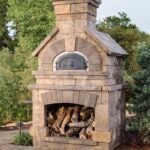 Bristol Brick Oven
Constructed with Weston Stone® wall block and accents of Urbana® Stone pavers, the Bristol Brick Oven makes a statement and adds major flair to wood-fired cooking. With a built-in wood box and large capacity oven, the Bristol oven is the outdoor chef's dream and coordinates with other pieces from the Belgard Elements Bristol Series, including a grill island, fireplace, and various modular outdoor bar and kitchen pieces. Color options include the warm tones of Gascony Tan (shown) and cool gray tones of Cotswold Mist.
. . .
Bordeaux Brick Oven
The Bordeaux Series of the Belgard Elements line offers a smaller footprint and is clad with the contemporary stacked-stone look of Lamina® Stone veneer. The Bordeaux Brick Oven also includes a built-in wood box and is trimmed with accents of polished Cordova Stone™, available in either the Midnight (shown) or Buff trim options. Other coordinating pieces from the Bordeaux Series include a grill island and a fireplace with optional matching wood boxes. Both the Bristol and Bordeaux ovens can include optional low-voltage hardscape lighting.
. . .
Counter Top and Mobile Ovens
With four versions to choose from, the counter top brick oven can easily turn any outdoor kitchen into a gourmet cooking space without the time and expense of a full custom installation. The counter top oven is available in copper or silver finish with either a dome (shown) or pyramid roof line. Durable steel carts are also available to convert the counter top model into a portable oven that can be re-positioned as needed around your outdoor living space. Hybrid models are also available that allow cooking with either gas, wood, or a combination of both heat sources simultaneously.
. . .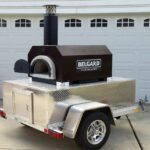 Tailgater Brick Oven
Take your passion for wood-fired cooking on the road with Belgard's towable Tailgater package, making it possible to take the unmatched experience of wood-fired cooking and entertaining to collegiate and professional football games, motorsport events, music concerts, festivals, and more. The Tailgater brick oven is available in both the wood-burning model and the hybrid gas/wood model .
• • •
For more information, contact a local dealer or installer or visit the brick oven page on Belgard.com.