There is no doubt about it, summer is here, particularly if you live in the south! As soon as the kids get out of school, the heat index climbs, and their need for stimulation increases. Well there's no better way to beat the heat than water play. Whether you have a pool or not, there are lots of fun games with water that will keep the whole family entertained throughout the summer.
WATER BALLOON GAMES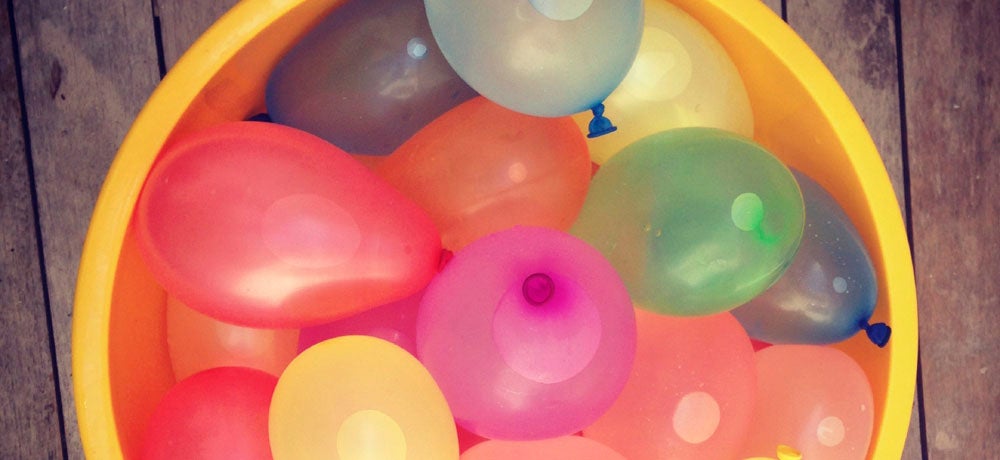 Who doesn't love water balloons? They are quick, easy, and available just about anywhere. Over the course of a couple of days, you can fill several Rubbermaid containers with water balloons. Be cool and keep it a secret so when you make the big reveal, you will be the big hit!
Balloon Toss: Start out with something simple like a water balloon toss. Remember the egg toss? Well, it's the same idea but its only water, so there's minimal clean-up. Partners start close together and with each toss, step back until the inevitable…someone's balloon explodes and everyone erupts into fits of laughter.
Balloon Volleyball: This can easily become your best sport. Each team consists of two to four people. Groups of two will each hold the end of a beach towel to launch, catch and volley the water balloon over the net. If you don't have a net, don't worry.  Set up a couple of chairs or simply use a broom to represent where the net would be. Be careful, though! If you launch the balloon straight up, it will likely explode on your own head.
Balloon Cornhole: Set two containers or bowls filled with water in the same way you would set up cornhole boards for tossing bean bags. Reward point amounts for getting the balloons into the containers.
Balloon Battle:  Depending on the ages of the children, you can close out the water balloon day with a good old-fashioned water balloon fight. The adults may even want to get in on this one!
WATER GUN GAMES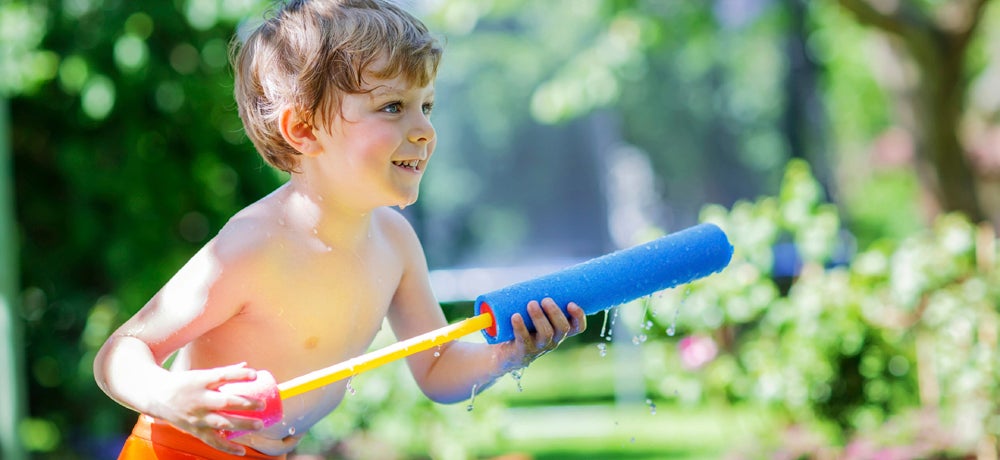 Water guns will always be a big hit with people of all ages. In addition to the fun of a free-for-all water gun fight, there are some fun organized games you can try.
Target Practice: Try setting up some ping pong balls on golf tees and engage everyone in a little target practice. Or you can set up jars and see who can get the most water in the jars, or make a pyramid of disposable cups and see who can knock the most off.
Water Tag: Set up an obstacle course and divide everyone into teams. First person to get hit is "out". Last man standing wins. If you want to make a really cool obstacle course, call a local appliance store and ask for some used boxes.
FUN WITH SPRINKLERS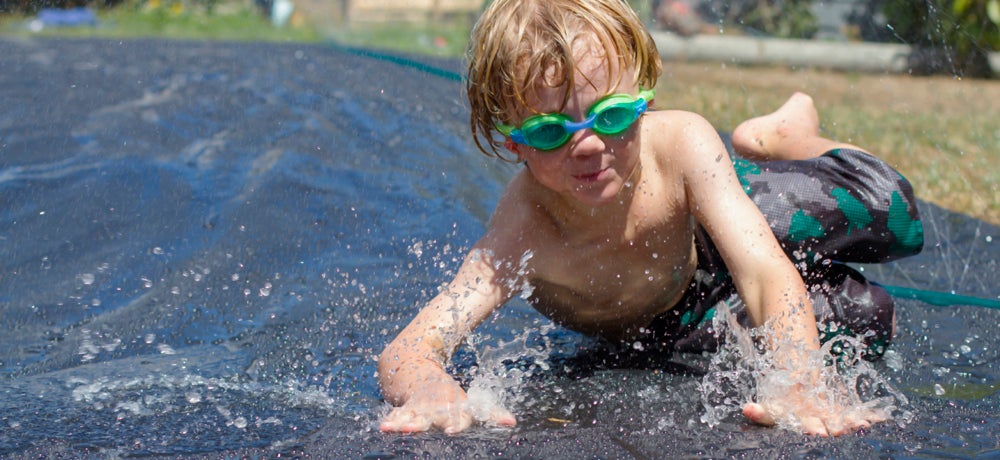 On a really hot day, there's nothing like a sprinkler to keep you cool. Here are a couple of ideas for organized sprinkler activities.
Obstacle Course:  For this one, you'll need multiple hoses and multiple sprinklers. Set the sprinklers at various locations and create an obstacle course where the kids have to try to run through without getting sprayed.
Homemade Slip and Slide: Get a roll of plastic sheeting from the hardware store. Roll it out and weigh it down with bean bags every few feet. You may also want to duct tape it to the grass for additional reinforcement. Drizzle a little liquid soap here and there, wet it down with a water hose, and you're ready to slip and slide. Keep the sheeting continuously wet with sprinklers or a water hose. Or do this on a rainy day, as long as there's no lightening.