An outdoor fireplace makes a stunning focal point and favorite gathering spot for any outdoor living room, however building a custom outdoor fireplace can be a time-consuming and disruptive project.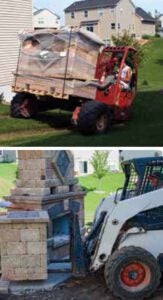 The Belgard Elements collection of outdoor fireplaces have simplified the process by moving the majority of the construction to a factory setting. Belgard factory-built fireplaces are shipped in sections and quickly installed with a bobcat in a matter of hours, as compared to the days or weeks it would take to build one from scratch on site. This efficient construction process not only greatly reduces the installation time, but reduces overall costs, as well. Each fireplace is available in wood-burning, natural gas, or liquid propane configurations, and each line in the Belgard Elements collection also includes coordinating pieces that can be used to create a cohesive outdoor living design, like outdoor kitchen units, wood boxes, and water features.
• • •
Bristol Fireplace
The Bristol Series is constructed with tumbled Weston® Stone walls with architectural accents of Arbel® and Urbana® Stone pavers. The rustic look of the Bristol line blends well in any landscape. Coordinating pieces include an arched hearth, wood boxes, brick oven, grill island, water features, and more.
• • •
Brighton Fireplace
For those who like the look of Bristol, but are looking for a more economical alternative, the Brighton Series is also constructed of Weston Stone, but offers simpler accents and features a smaller, built-in hearth. The Bristol fireplace is available with or without the chimney top and offers optional matching wood boxes.
• • •
Bordeaux Fireplace
The latest addition to the Elements line, the Bordeaux Series marries sleek contemporary styling with rustic charm by combining the stacked-stone appearance of Lamina® Stone with the limestone accents of Cordova Stone™.  Coordinating pieces include a grill island, wood boxes, and a brick oven.
For more information on Belgard Elements Fireplaces, click here to find a contractor or dealer near you.
•