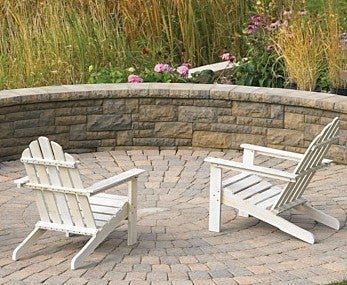 A beautiful backyard will naturally draw people to the outdoors. Yet, once they are there, if there is no place to sit and relax, they may turn around and head back inside. The remedy? Outdoor seating. Even the most appealing backyards are incomplete without seating. Creating an permanent seating area will invitingly draw your guests to a particular spot in the garden or to an enjoyable backyard feature, such as a fire pit, fire place, or swimming pool. Belgard's diverse range of wall products makes your hardscape seating options practically limitless.  For example, BelAir Wall™ is an ideal solution for residential and light commercial retaining and  free-standing wall construction where pleasing aesthetics are a key consideration. The attractive multi-piece design (= endless pattern options) and blended colors offer an alternative look. The design of this easy-to-use product allows for straight lines, sweeping curves and right angles. Matching caps provide ideal seating areas.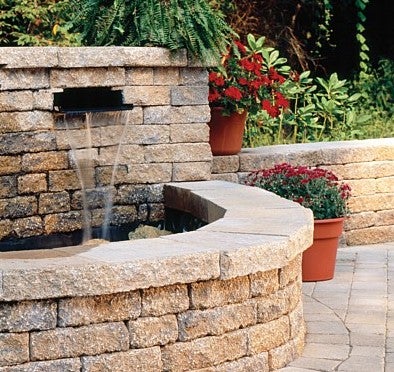 Another excellent option is Celtik Wall™. Belgard's twentieth-century interpretation of ancient wall stone, Celtik Wall offers timeless elegance combined with modern durability and  ease-of-maintenance. Celtik Wall's design flexibility makes it ideal for any number of uses — encircling greenery, partitioning property, accenting light posts, or simply creating accent walls with rugged, romantic appeal. Ideas for Seating
Retaining walls – build them to seating height. Belgard offers many cap toppers to create a matching, cohesive appearance.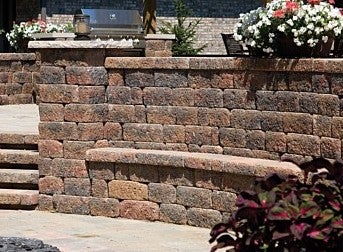 Around a feature – when adding a fire pit or water feature, use a topped wall to allow company to sit and enjoy the elements.
Create a new space – use a wall to divide spaces and create a gathering area. The wall can serve double duty by providing seating for both areas.
Garden borders – add a wall to border a garden, creating a relaxing seating area to enjoy the flowers.
Tall walls – create surface areas that project from higher walls to create additional seating.
More Than Hardscapes To create even more interest in your outdoor room, add a splash of color and texture by using pillows and cushions. There are many fabrics specially made for the outdoor elements. When selecting items, consider the color of both your hardscapes and surroundings. Bright colors and lively motifs create fun in a space. Blues and greens can be soothing and coordinate with a pool and nature. Earth tones add a serene feeling when they blend with the surrounding vista. Be sure to coordinate your outdoor colors to compliment those inside if they are being seen through glass doors and windows.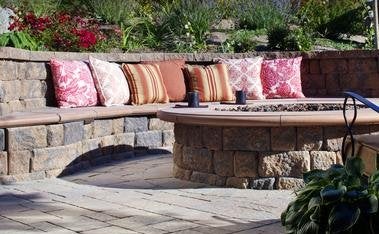 Although outdoor fabrics are durable, you will want to make sure they receive adequate drainage and drying after a rain. Take them in during the freezing of the winter, especially if there is moisture present. If you see stains or mold, remove and treat immediately. When you are purchasing fabrics, make sure they are fade-free, repel water, mold/mildew resistant, stain repelling, have full color threads (not a pattern printed on the fabric), and of course, soft. All photos use Belgard products. Belgard offers a variety of natural, smooth-step pavers and rough-hewn  textured wall systems that provide a time-honed appearance reminiscent  of the gardens of Old Europe. However, they're the product of thoroughly modern manufacturing, engineered with precise dimensional consistency  for easy installation. Visit our website for more ideas. www.belgard.com