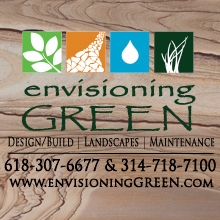 Envisioning Green
Envisioning Green is a local family owned landscape construction and maintenance company. We service the
Greater St. Louis area
, providing hardscape construction, outdoor rooms & kitchens, retaining walls, stunning landscape lighting, landscape design/install, lighting, water features and unmatched maintenance services including commercial snow management. We have the ability to manage budgets on projects ranging from a few thousand dollars to hundreds of thousands of dollars and have the experience and track record to back any project up. We are a fully authorized Belgard Contractor in Illinois & Missouri and we take pride in all our work. Contact us for a free design consultation or with any questions about your next landscaping project. Envisioning Green believes your home shouldn't end when you walk out the door. We can create an exciting and attractive design by using color, texture, and dimension to bring a one-of-a-kind beauty to your home or garden. Together we can construct a resort-like destination just a step out the back door. Visit our website at www.envisioningGREEN.com or call us at 618-307-6677!
ADDRESS
8550 Forest Blvd
Caseyville, IL 62232
Fill out the form below to contact Envisioning Green
SERVICES OFFERED:
Belgard Preferred Payment
Driveway
Fire Pit
Fireplace
Patio
Pool Deck
Retaining Walls
Walkway
SPECIALTIES:
Basketball Courts
Outdoor Living/Dining
Putting Greens
Outdoor Audio Visual
Natural Stone
Porcelain Paver
"
We appreciate all the ideas, energy and work you put into our project. From design through construction you were very professional, easy to work with, and committed to giving us what we wanted. We are very pleased with the result and in knowing we chose the right company to create our backyard experience.
"
"
Our designer was always very nice and engaged in our project. The project turned out well and I hope to do more in the spring.
"
"
The crew foreman did a fantastic job with all facets of the project. He hand his crew were professional, hard-working, and dedicated to out satisfaction. The finished project is beautiful!
"
"
Our designer was awesome to work with. I really appreciated the time to work with my budget and work out the projects I could afford. The crew foreman that did the landscaping was also awesome. Worked really hard to make certain it was done right.The crew was great too. Jumped out of the truck right to work.
"
"
We were very impressed with the foreman and his crew. The foreman is very personable and always addressed any concerns we had.
"
"
The crew was outstanding! I asked for tweaks here and there while they were trimming bushes and they were glad to accommodate. Attention to detail was superb! The office manager and my designer/project manager were patient and attentive with my questions and additional requests to the project. My designer/project manager was awesome! Super patient with me as the scope of my project grew and changed each time. I talked to him and he offered helpful ideas and insight during planning. I have more work pending quote….
"
"
The office manager is a great point person. Phone skills and attitude excellent for any company!! All of the workers spoke highly of the company. It's difficult to keep good workers with good work ethic. You as a company must be instilling ownership and pride of work – That is a credit to your leadership and an encouragement to continue and enhance what you are doing for the employees that reflect your company.
"
"
Envisioning Green has always met/exceeded my expectations. While I realize that learning curves exist with new crews, my project manager quickly made corrections/adjustments with his crews and solved the few minor issues I encountered early in the season. In fact, my project manager even responded to my emails while on vacation, reflecting an \\\\\\\"above and beyond\\\\\\\" attitude and excellent attention to detail and customer service. I have the nicest looking yard in the neighborhood and am consistently receive compliments from neighbors. I respond \\\\\\\"it\\\\\\\'s not me, it\\\\\\\'s Envisioning Green…call them!\\\\\\\"
"
"
My project manager and his team are top notch and love the professionalism, knowledge, and all that they do. Thank you!
"
PROJECT PORTFOLIO
Rock Ridge Oasis