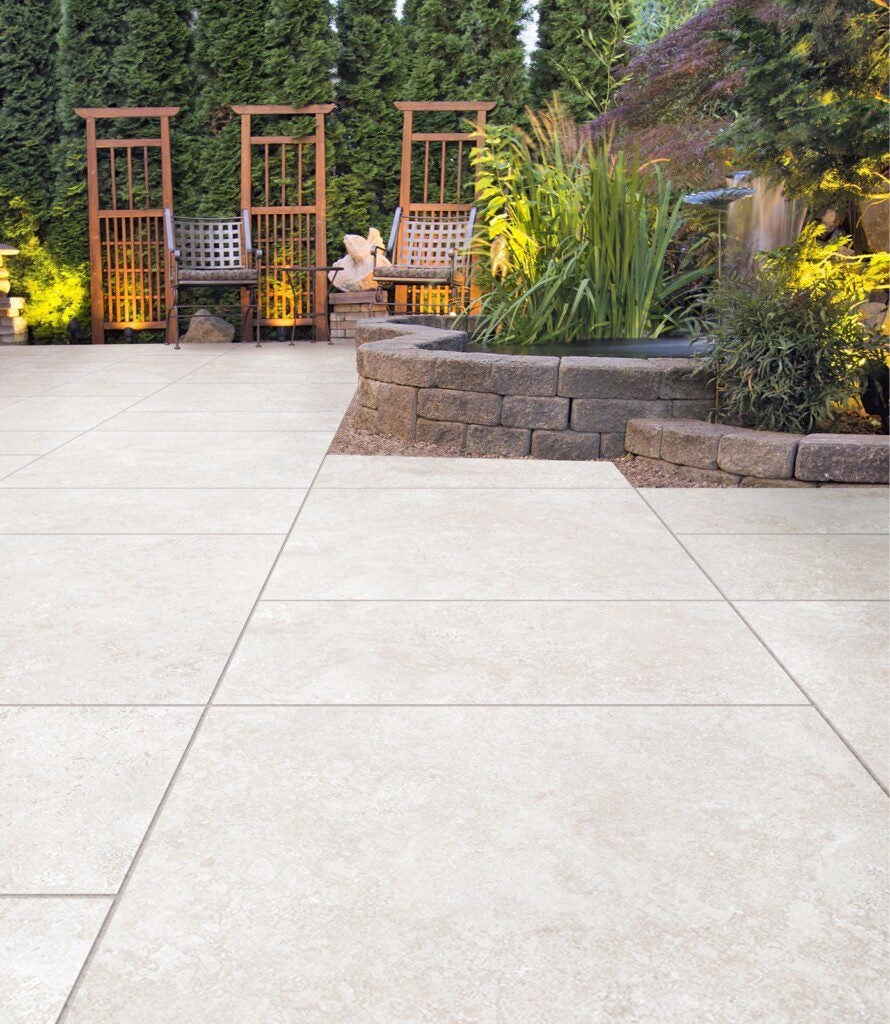 Since introducing the outdoor Porcelain Paver line in 2015, Belgard has seen an incredible response from the field regarding this contemporary product line that bridges the gap between natural stone and concrete pavers. Porcelain pavers can be installed over multiple surfaces and allow for outdoor applications that mirror the most current interior design trends. These low-maintenance pavers offer a great deal of design versatility and trend-forward aesthetics. This "Best Practices Guide" offers tips and considerations regarding design, maintenance, and the various installation methods.
Porcelain Pavers: Outdoor Design Considerations
With an upscale, contemporary look ideal for both residential and commercial applications, Belgard Porcelain Pavers are available in dozens of interpretations of stone, wood, metal, and concrete textures, as well as a variety of modular sizes. The most common sizes are:
24×24 porcelain pavers for stone and concrete looks
12×48 porcelain pavers plank for wood grain
Other sizes, such as 18×36, 8×48, and 24×48, are regionally available or can be ordered as needed.
Fabricated pieces can also be specially ordered for certain designs, including large slabs for steps and outdoor kitchen countertops.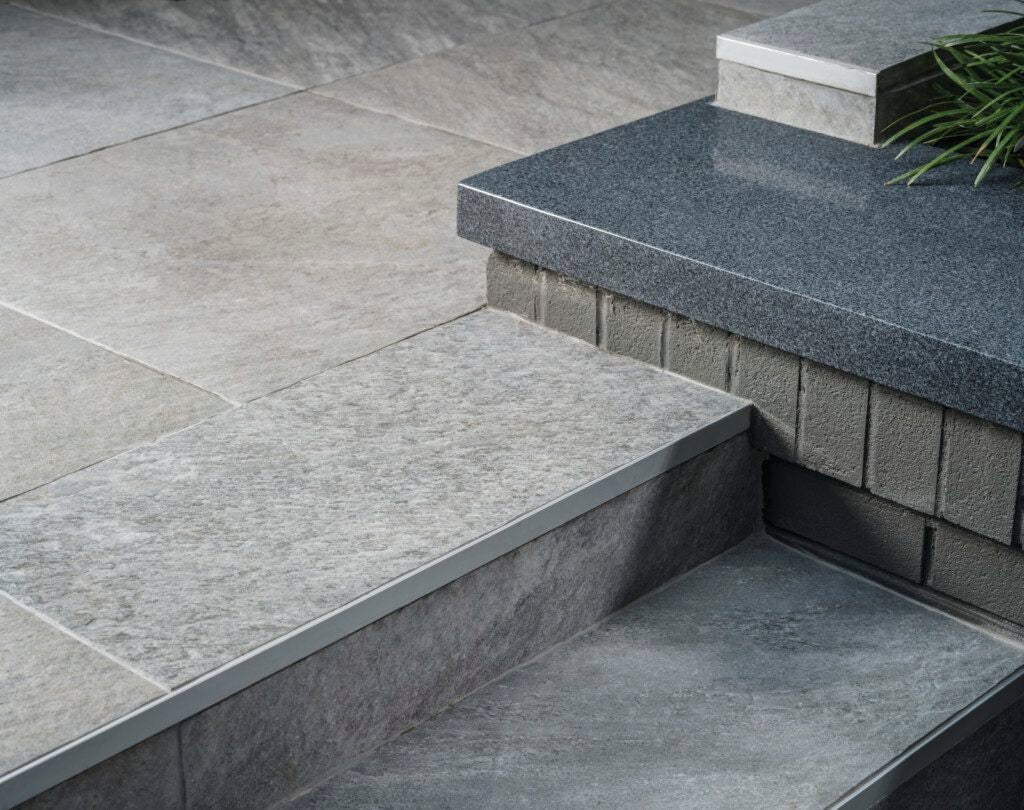 For 2024, a new and exciting size will be available in select markets – the 32×32 porcelain paver from your Belgard Authorized Dealer. This new offering is already becoming popular in the European market and responds to the design community's desire for large sizes while increasing the installer's productivity.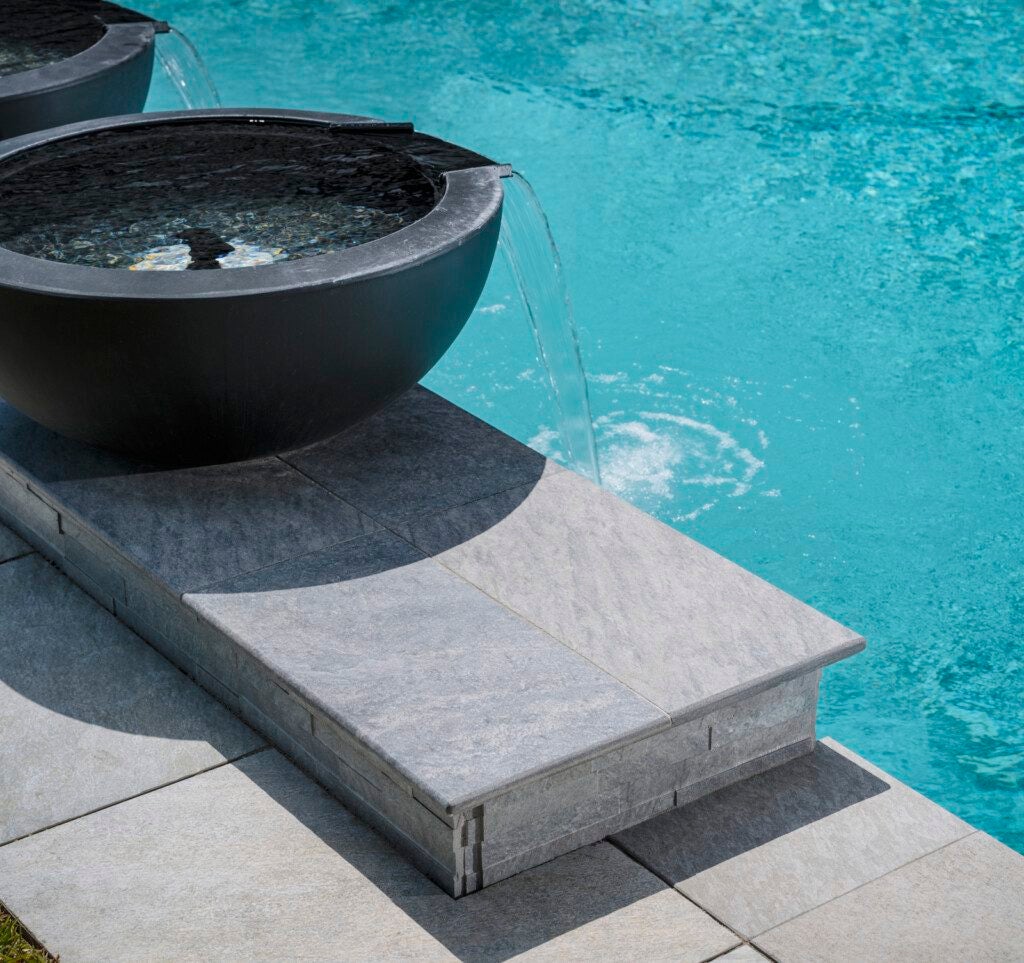 Another advantage of using porcelain – environmental benefits. Depending on color selection and use, projects using porcelain pavers can also earn LEED credits. Some colors have a solar reflectance index (SRI) of 60-80%, indicating low heat absorption and reduction of urban heat island effect. These lighter colors are recommended for poolscapes and areas with high levels of sun exposure. A number of accessory pieces are available for poolscapes, including trims, grates, and coping. The Unico unit is a trim piece that is square on one side and bullnose on the other, allowing it to be used both as pool coping and as step treads.
Product offering varies by region, so be sure to talk to your local dealer about options and availability.
Considerations for Porcelain Patio Pavers Installation
Porcelain pavers can be installed over dense base and sand, open aggregate base, concrete, or raised pedestals, depending on the application. Soil type, weather conditions, and job-specific circumstances must be considered when choosing the ideal method of installation.
Although considered pavers, porcelain pavers are installed more like a tile/slab because there is no true interlock between them, and only the base material can be compacted with a traditional vibratory plate, not the installed product. However, if possible, the use of a roller porcelain compactor is highly recommended to consolidate the final product, as well as the jointing material.
Handling: Proper handling of the product is key. Pallets of porcelain pavers are shipped with a heavy-duty plastic protective pallet cover, and the individual porcelain pavers are packaged in protective cardboard boxes. To prevent damage, do not remove the protective cardboard boxes until you are ready to install the pavers. Also, note that handling multiple loose pieces together creates the possibility of chipping. When handling the product, please consider that the average weight per square foot is 9 lbs. A vacuum lifter or vacuum lift system can help increase efficiency during the installation.
Grass Set: Installing directly over grass is an option for small patios, walkways, or stepping stones. Sand and/or base material should be added to help with leveling and to prevent future breakage. With either a sand or grass base, the installer should be cognizant of corners and ensure that they do not present a tripping hazard.
Standard Paver Base: The most common installation method for patios, walkways, and poolscapes follows a similar installation method for installing standard concrete pavers. Depending on the environment and soil conditions, excavate 6 to 8 inches, and then proceed to install and compact 4 to 6 inches of base material, then ¾ to 1 inch of concrete sand. The bedding sand course needs to be pre-compacted and then struck off with a screed. Do not compact dry sand, but ensure the sand has a 5 to 6% moisture content so that it will compact cohesively and allow for a smooth strike-off finish. A variety of edge restraints could be used, like low profile spiked edge, precast concrete pieces, natural stone, concrete pavers or a fiber-glass reinforced concrete edger.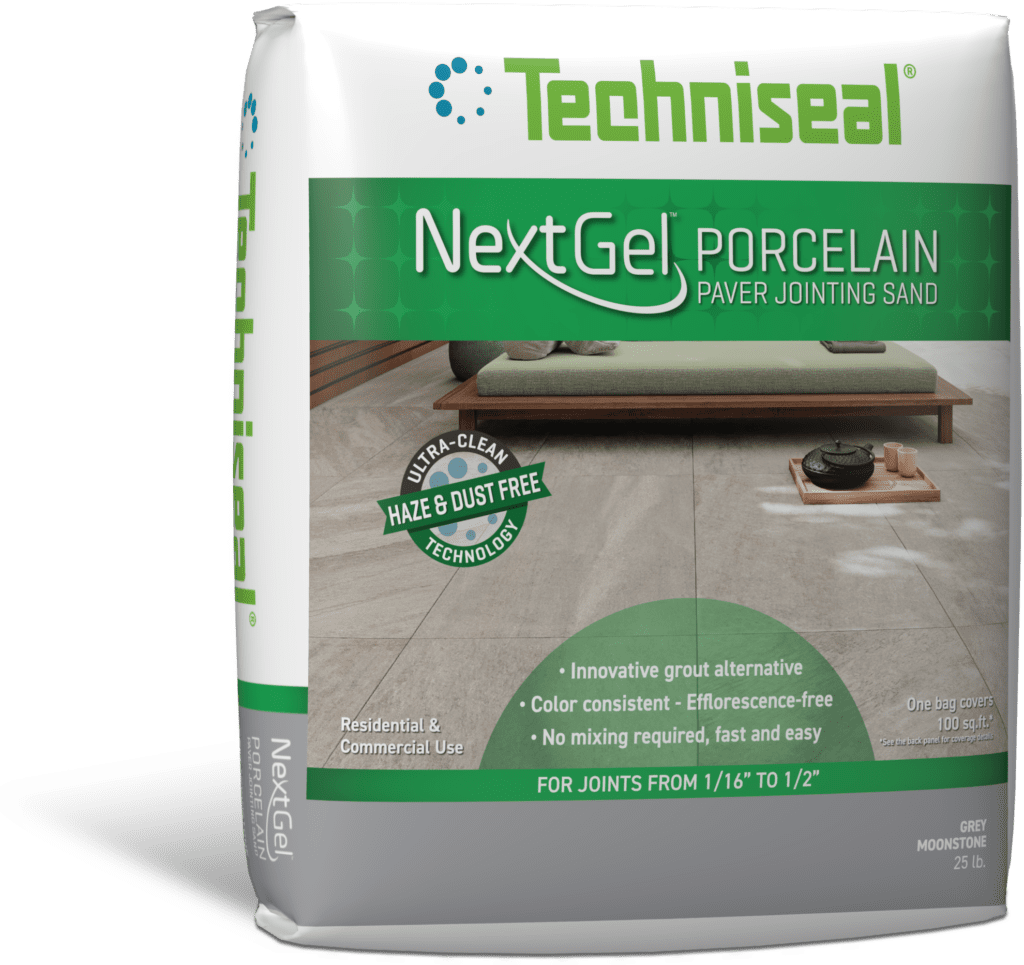 Paver Joint Options: When installing over dense aggregate, or open aggregate base, clear disc spacers must be used to create even joints at 4mm. Joints need to be filled with a high-performance polymeric, like Techniseal HP NextGel, following the manufacturer's recommendation. Techniseal will also be launching a new polymeric sand at Hardscape North America this October that is specially formulated for use with porcelain pavers. Stay tuned!
Mortar Set: If an existing concrete slab is available and in good shape, porcelain pavers can be overlayed like a tile. Please consider that this is the only type of installation recommended for vehicular applications. A poly-modified thin-set like LATICRETE 254 Platinum or MVIS Hi-Bond Veneer Mortar can be used to adhere the paver to the concrete slab. Joints must be at least 4mm wide and be filled with cement-based grout (not polymeric sand). Expansion and control joints must be tiled around and then filled with 100% outdoor-rated silicone (matching grout color).
Pedestal Installation: Rooftop decks are the trendiest features for urban commercial real estate developments, as well as high-end residential new construction. Knowing the type of installation, use cases and the amount of pedestrian traffic associated with the deck are key for ensuring the most appropriate installation system for the job. This includes the type of pedestals, safety backing, as well as any wind-uplift considerations. ALWAYS contact the engineer on record, the landscape architect and the manufacturer's representative prior to installing a pedestal project.

Tools for Cutting Pavers: It is recommended to cut porcelain pavers with a wet saw using a wet porcelain blade, which will provide a smoother cut, reduce dust, and avoid chipping.
Porcelain Paver Installation and Training: Belgard offers porcelain paver installation training through a variety of methods. Local sales reps are available for on-site training or for group Lunch & Learn courses. Belgard also offers training through the Belgard University program. To schedule training through a local rep, call 877-BELGARD (235-4273). Additionally, the full installation guide for porcelain pavers can be downloaded here.
Porcelain Paver Maintenance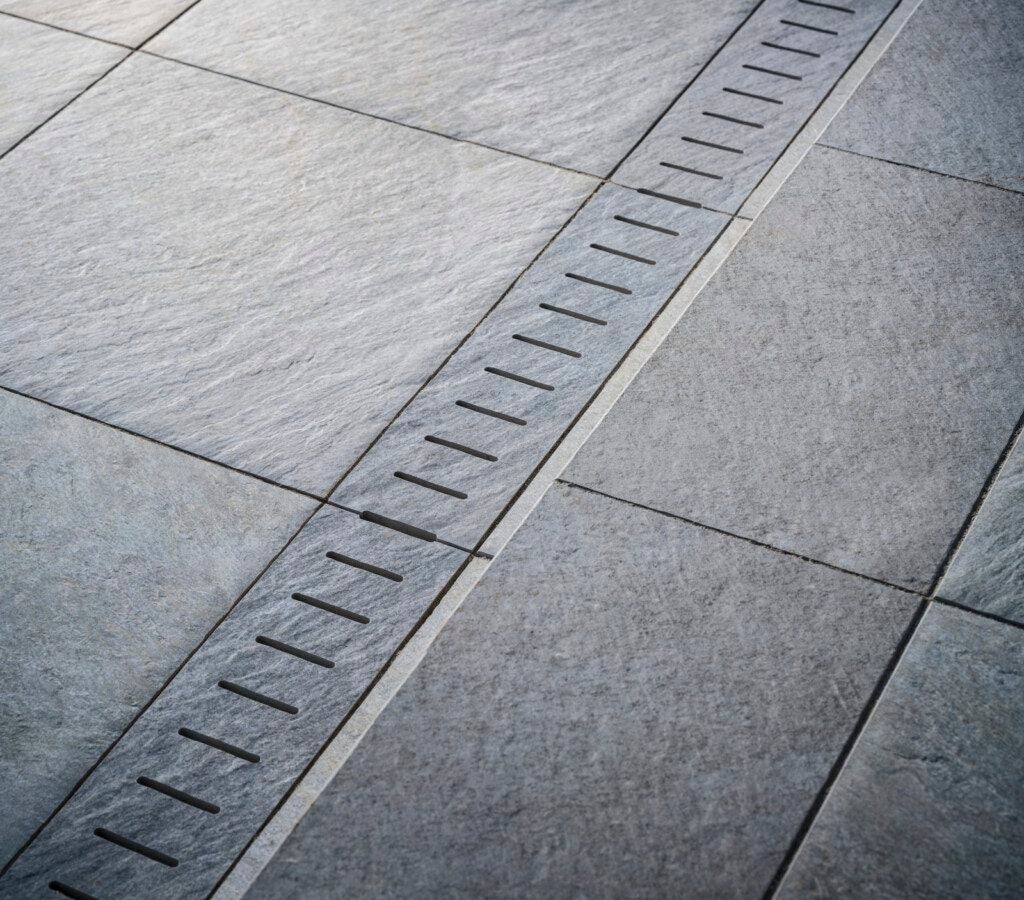 Belgard Porcelain Pavers ward off all stains, including red wine, acid, and oil. The color will never fade, and they never need to be sealed, will never allow moss or mold growth, and will not be affected by efflorescence.
Breakage: With a PSI strength of over 25,000 pounds, Belgard Porcelain Pavers support up to 2,200 pounds for pedestal installations and support vehicular loads with a concrete base and a mortar adhesive. If a paver should crack or chip, it can easily be removed with a special tool and replaced.
Cleaning: Belgard Porcelain Pavers can be cleaned using any type of cleaner and can withstand pressure-washing without deterioration of the finish. It is recommended to pressure wash at 1,600 PSI or less to avoid degradation of any jointing material.
Freeze/Thaw Cycles: Belgard Porcelain Pavers are frost-free and resistant to thermal shock caused by freeze and thaw cycles in colder climates. Porcelain pavers also resist degradation from deicing salts and other chemical agents.