The days are getting longer as we approach spring – but that doesn't mean hardscape lighting shouldn't be a key element in your space. Hardscape lighting adds ambiance, enhances safety and allows you to maximize your time outdoors for those late summer nights with family and friends.
New advancements in outdoor lighting mean there are more options available to suit both your needs and style. Whether you're looking to refresh an existing space or have a new project in the works, here are some new outdoor lighting trends to explore.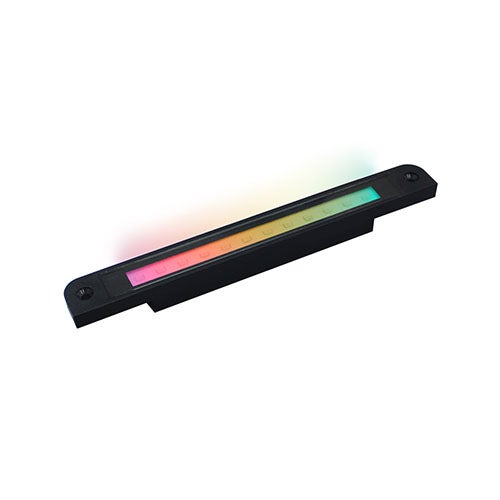 Color-Changing Hardscape Lights
Are you looking to set the mood for any occasion? Color-changing lights are very popular, as they offer you the ability to control and customize your outdoor space. The array of color options available lets you set the right tone – mix pinks and reds for an al fresco Valentine's Day dinner or choose your child's favorite color for an outdoor birthday party. You also can choose from cool or warm whites, depending on your preference and what type of lighting is needed.
Many color-changing options also have dimming and zoning options. You can change the lighting intensity, as well as set different areas of your space to different colors.
Tru-Scapes Lighting offers a full selection of App-control Hardscape and Accent fixtures to outfit your outdoor living spaces with RGBCW (red, green, blue, cold, warm) capability.
Modern Outdoor Lighting
Modern design styles are especially common today, characterized by clean lines and gray and black tones. If this is your aesthetic, several different lighting options also complement this style well.
Hardscape or undercap lights are linear in design, allowing them to be affixed to walls or steps to highlight your pavers and add safety. You can choose from more traditional warm white, modern pure white or color-changing options, depending on your overall desired look. Tru-Scapes paver lights also complement linear designs. Since they fit seamlessly between pavers, they blend in with your surrounding hardscapes and increase light around walkways for extra safety.
Dot lights are an increasingly popular choice for modern homes. These in-ground lights are installed easily and keep the focus on the rest of the outdoor area. Tru-Scape's new modern dot lights are available in a 4000k color temperature to match black and gray tones.
The integration of lights into the space rather than around the space is certainly a focus in modern styles but works with more traditional home styles, as well.
Find Your Lighting Style
If you're not sure where to start with your outdoor hardscape lighting, take some inspiration from Pinterest. You can find images that have a similar look and feel to your own space to get an idea of how certain lighting types will look.
Your contractor also is a great source of information and can help you plan ahead to incorporate lighting into your outdoor design.