Though you just may be settling in to ride out the cold winter months ahead, now is actually a great time to begin planning and preparing for upcoming outdoor improvement projects so they'll be ready when it warms up. Whether you're thinking of creating some raised flower beds, building an outdoor kitchen or installing a new pool, planning ahead makes any project go smoother and finish on time.
Get Inspired
Coming up with ideas, exploring what's out there and realizing the possibilities of your outdoor space is all part of the fun of planning your next project. The first place to start is Belgard's Inspiration Gallery where you can get ideas on outdoor living spaces, kitchens, fire features and more. Curling up on a comfy couch when it's cold outside and swiping through a variety of beautiful outdoor living photos will spark dreams that you can't wait to make come true.
Set a Budget
While dreaming is fun, most of us are all grounded by the realities of a budget. Before starting out on any project, it's best to do a little research on costs and establish a budget so your dream can become a reality without putting you in debt.
Add a Fire Feature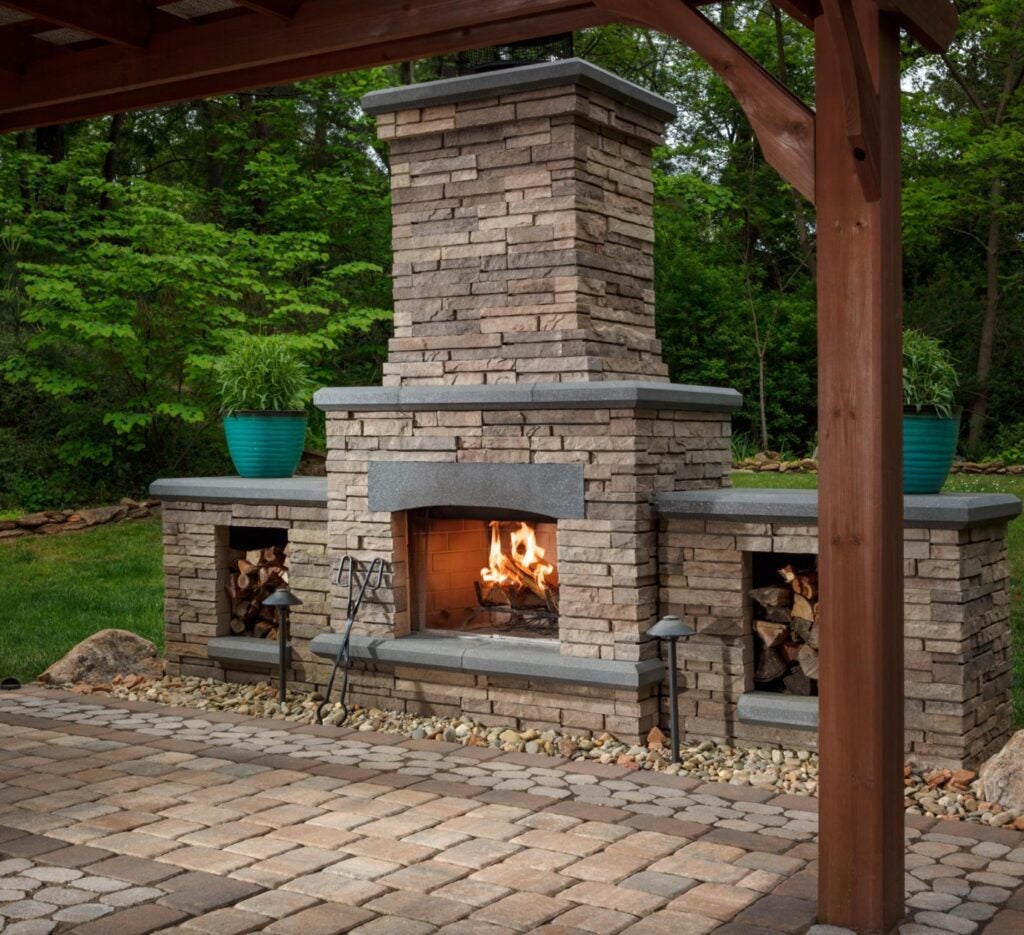 An outdoor fire feature like a fire pit or fireplace come first on this list because installation is easier and takes less time. It's feasible you could have this installed and available to use this winter or in the early part of the year when it's still cool. As far as planning, the first thing to determine is whether you are looking at freestanding fire pit or a traditional enclosed fireplace with a chimney. The fire pit is usually set off away from your home or outdoor living space with room for seating around it, while a fireplace often becomes the focal piece of your outdoor space. Belgard offers pre-built modular fire places as well as wood-burning or gas fire pits. Be sure to check local codes, ordinances and HOA restrictions regarding permanent fire features as the first part of your planning process.
Incorporate Built-in Planters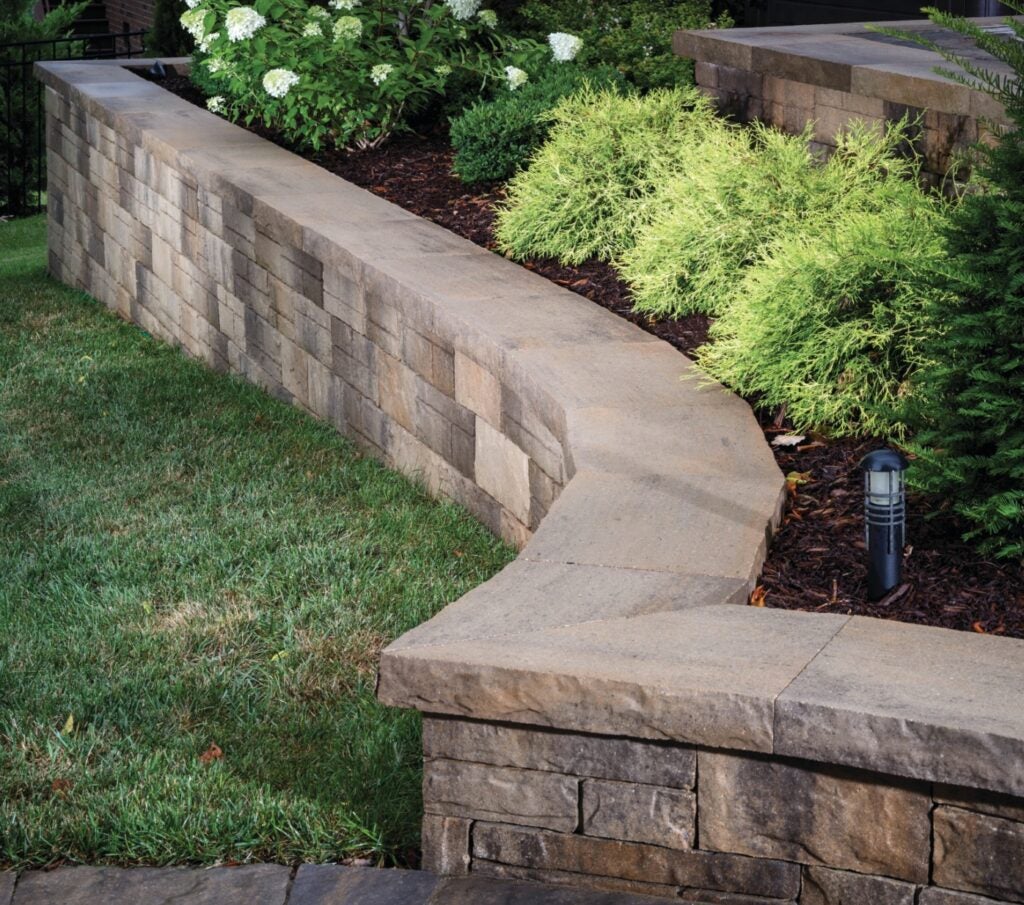 A well-landscaped area in and around your outdoor living space adds a colorful, natural element that will enhance the overall look. You can utilize traditional flower beds, or choose a built-in planter constructed with retaining wall block to provide a permanent fixture for adding color, texture and dimension to your space. Planters can also help define the border of an outdoor room or serve as additional seating around a fire pit. Using Belgard products you can coordinate with your pavers and landscape walls to tie the overall look together.
Build an Outdoor Kitchen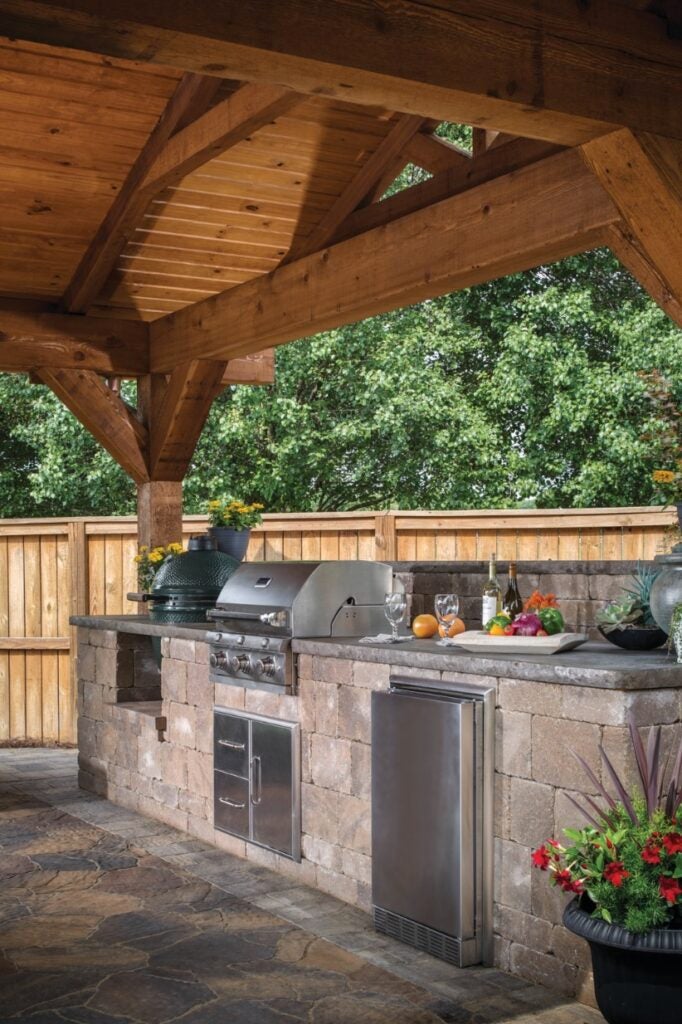 If you enjoy cooking, grilling and spending time with family and friends in the backyard, building an outdoor kitchen is a great way to provide a space to bring these all together. However, creating the perfect outdoor kitchen takes some planning and forethought. Here are a few things to consider.
Permits
If you add a roof covering, run electricity or install plumbing, you are most likely going to need a permit, so plan for this whether you're doing the work yourself or hiring a contractor.
Determine the Size
Figuring out the size of your outdoor kitchen depends on a variety of questions. How much space do you have and how do you plan to use it? Will it be just for cooking or will you be entertaining and eating in the area as well? Do you have a large family and many friends? Larger spaces can accommodate tables, chairs or even an island. Smaller spaces take a little more planning to maximize space.
Determine Your Cooking Style
For most people, a grill is a must. Do you want a gas grill or a charcoal grill? Is something permanent or built in the best option, or do you want something portable that you can move to a covered or uncovered area?
Appliances & Cabinets
Do you have room for a refrigerator, burners/stove, ice machine, bar/sink or more? Remember, even if covered, these items will be outdoors so they must be made to withstand the elements. For example, stainless steel cabinets, storage and accessories are always a good investment. Belgard's Elements line has a variety of products to take your outdoor kitchen to the next level.
Make a Splash with a Pool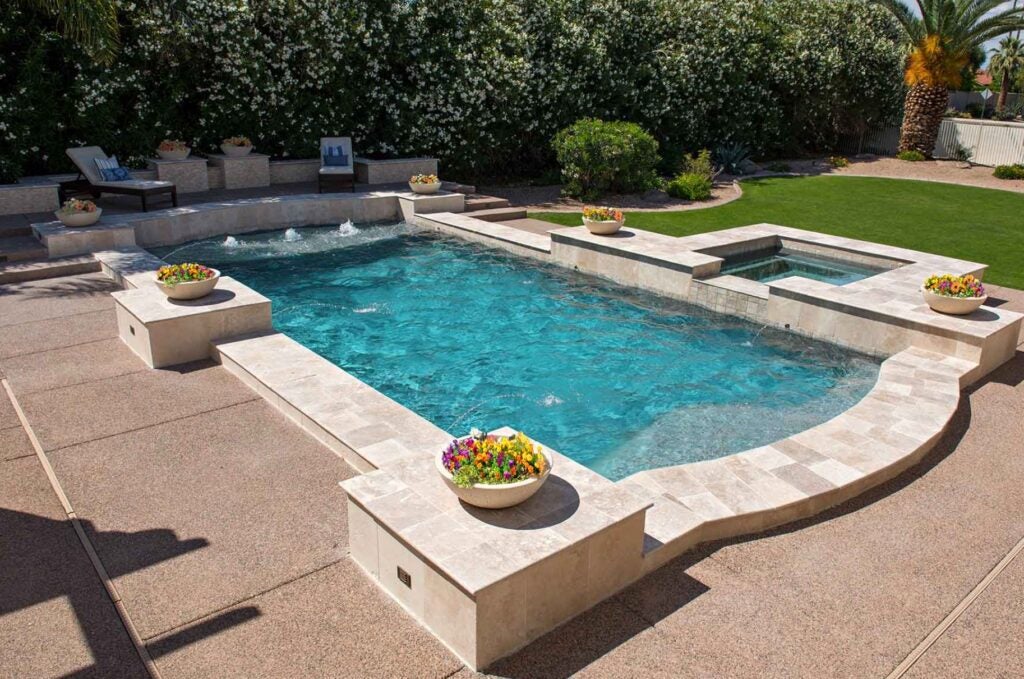 Planning on putting in a pool to enjoy next summer? Lead time on pool construction has become longer in recent years so winter is definitely the time to start planning. Here are some initial things to consider before beginning discussions with your contractor.
Check for Wires Above and Below
For safety reasons, your pool cannot be installed or built under any overhead wires (electrical and other utilities). Also, check your home plans for any sewer, gas or utility lines running under your yard. You can also call 811 for free to confirm what's below.

Assess Your Yard
While pools are generally easier to build or install when a yard is level, new technology makes it possible to install a pool virtually anywhere. Just know that conditions such as steep slopes, rocky soil, and limited access for equipment require special construction and installation considerations that typically add to the overall cost.
Consider the Size
Do you plan on eliminating your lawn entirely and filling the space with a pool and patio? Or are you looking to include grassy areas in the new landscape. In addition, working with a professional contractor will allow you access to the most up-to-date zoning, setbacks and building restrictions, which are extremely important to consider before construction begins.
Do You Need an Enclosure?
Depending on where you live you may need to budget for a fence or pool covering to keep your family and neighbors safe.
Get Your Feet Wet
Looking for a little inspiration and ideas on pool design? Check out Belgard's sister brand PebbleTec for a look at some amazing pool features along with the company's patented pebble pool finishes that revolutionized the industry.
Belgard Rooms
Now that you've seen what's possible, it's time to take your planning to the next level? Belgard Rooms provides templates for a variety of outdoor living spaces and individual elements to help give you additional ideas. With just a few questions about your vision, needs and personal style, you can begin customizing your own amazing backyard oasis.
Use this downtime during winter to plan for spring and you'll be ahead of the game when temperatures rise. For more planning tips check out our comprehensive Project Planning Guide.