The 2022 Hardscape North America (HNA) Expo in Louisville, Kentucky was an event like no other. From exciting engineers and designers showcasing innovative new technologies and products, to the top-ranked paver installers displaying their incredible craftsmanship, it was truly a can't-miss event. Belgard was out in full force, with social events, educational seminars, a 3,700 square-foot display booth, and sponsorship of the much-anticipated HNA Installer Championship. Whether you were a seasoned veteran or just getting started with hardscapes, there was something for everyone at HNA 2022.
If you were at the event or follow Belgard on social media, you would have seen that Belgard had significant representation at this year's expo, a testament to the brand's devotion to the hardscape industry. In addition to expansive indoor and outdoor booths, Belgard had a total of six sponsored teams in the installer competition advancing from various competitions held across the country this year, including the winners of the National Collegiate Landscape Competition.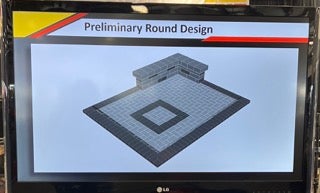 An annual highlight of the show, this year's HNA Installer Championship did not disappoint. Teams from all across the country spend the year prepping, planning, and staying up-to-date on installation best practices to ensure that they have their best foot forward to showcase their craft. The first round consists of a 60-minute installation that is pre-designed by the ICPI council. As each team completes their design, they are judged based on time, efficiency, technique, safety, and most importantly, their build being up to ICPI standards. Belgard was thrilled to announce that two of the top four teams that moved into the championship round were both Belgard Authorized Contractors; Shovel and Thumb from Ridgefield, Washington and Epic Pavers of Euless, Texas.
Shovel and Thumb, Epic Pavers, Green Ridge Landscaping, and Clearwater Summit Group all scored high in the preliminary round and were moved into the championship round where they would compete for nearly $20,000 in prizes including:
$4,000 Cash
Weber CF3 Forward Plate Compactor with Poly Pad
IQMS362 16.5" Dust Control Masonry Saw
ALMI 43U Easy Splitter
Artforms Builder Kit from Belgard
Probst SPEEDY VS 110v with 175lb. plate
Name engraved on the HNA Installers Championship Cup
Champions Plaque
Recognition in Hardscape Magazine, ICPI-NCMA publications and website
Moving into the championship round meant that all teams needed to prepare a custom design for their pad that would pair form, functionality, safety, and design, plus uphold installation best practices. There have been numerous jaw-dropping designs over the years, and the crowd was eager to see what the teams were going to come up with this year.
Participating as a judge this year, three-time HNA winner, Dan Hughes of Segmental Systems explained what it takes to design and build a winning design.
"It all starts with some small talk at our job sites as we bounce ideas back and forth until we come to an agreement on a design. With about 40 hours of design work, we perfect it down to a list of cuts, order of cuts, and how they will be installed. We found it beneficial to itemize every single step so that when the whistle blows, each person knows exactly what they need to do. We were always eager to go above and beyond, but it's important to stick to a design you know that you can finish in 90 minutes. Having variable elements that can be added and taken away based on the time was key to our success over the years."

– Dan Hughes, President of Segmental Systems Inc in Spokane, Wa.
With a lot of buzz around the expo leading up to the event, it was necessary that the teams showed up to the championship ready to bring their A-game. With unique designs, efficient practices, top-tier safety protocols, and good old-fashioned teamwork, these teams showed the crowd what it takes to be the best installers. A large crowd gathered to watch the creations evolve and cheer on their favorite team, curious as to the end result of each design and who would emerge on top. As the 90-minute timer approached 0:00, last-minute touches and straightening were critical in securing the win.
With precise judging, the winner of the 2022 HNA installer championship was Belgard Master Craftsman Shovel and Thumb!
Watch the Winning Project Take Shape
Each team started with a blank slate that they had to prep and level.

Cohan focused on installing the primary paver field while Durant made the cuts for the inlay design.

Onlookers tried to guess what design each team was creating.

The yin and yang began to take shape.

Nico coached from the sidelines, using a laser pointer to indicate pavers that needed to be shored up or replaced.

As Cohan raced to install the inlay, Durant began prepping the wall block.

Cohan and Durant worked together to secure the edges and fix any issues, while Nico kept the team on track with the clock.

Cohan and Durant inspect the patio for ICPI standards.

Durant compacts the pavers while Cohan shores up the edging.

Cohan and Durant work together to build the stone temple endcaps.

One of the endcaps included a Chinese character cut into the pavers to represent the word "heaven".
Their winning design was a sophisticated yin and yang patio inlay with zen bench seating and stone temple endcaps. Co-owners Brian and Cohan Fish are coincidentally nephews of Wade Ficklin, who is President/Managing Director of the European division of Oldcastle APG, Belgard's parent company. This made this win particularly meaningful to the Belgard family, evidenced by the large crowd of Belgard team members in attendance at the event. "Uncle Wade" was often seen FaceTiming from his home in Amsterdam to cheer on his nephews. Also coincidentally, Cohan Fish had just been inducted earlier in the week into the Belgard Advisory Council. He had also been interviewed in the Belgard booth by Joe Raboine for a special HNA edition of Inside Out with Belgard, Belgard's new podcast on industry trends. 
Strategy and execution brought the Shovel and Thumb team to the top quickly during the competition. Durant focused on the cuts, Cohan focused on installation and accuracy, while team member Nico Phelps coached from the sidelines to help the team keep track of time, cuts, and waste management. While the team worked efficiently and effectively, their yin and yang design checked all the boxes of design, functionality, and safety. Their winning score of 418 points set them into first place, with a second place score of 378 from Green Ridge Landscaping, 362 from Epic Pavers, and 338 from Clearwater Summit Group.
Finished Installations from the Finals
The winning patio design from Shovel and Thumb included a yin and yang basketweave paver pattern, a zen bench wall, and stone temple endcaps.

Green Ridge Landscaping took second place with a well-constructed herringbone patio that featured a contrasting soldier course border and a seat wall with a castle turret.

Epic Pavers took third with a herringbone patio, family activity wall, and built in chairs and coffee table.

Clearwater Summit Group's fourth place fire pit patio design was a nod to the local bourbon industry.
As the event came to an end, there was a lot of talk and hype about the 2023 expo and competition. Event judge Dan Hughes observed, "The competition each year is getting better and better, and the teams are more skilled than ever. I would encourage all teams that want to compete to start thinking about your design and strategy now, as this is just the beginning of the future of hardscapes."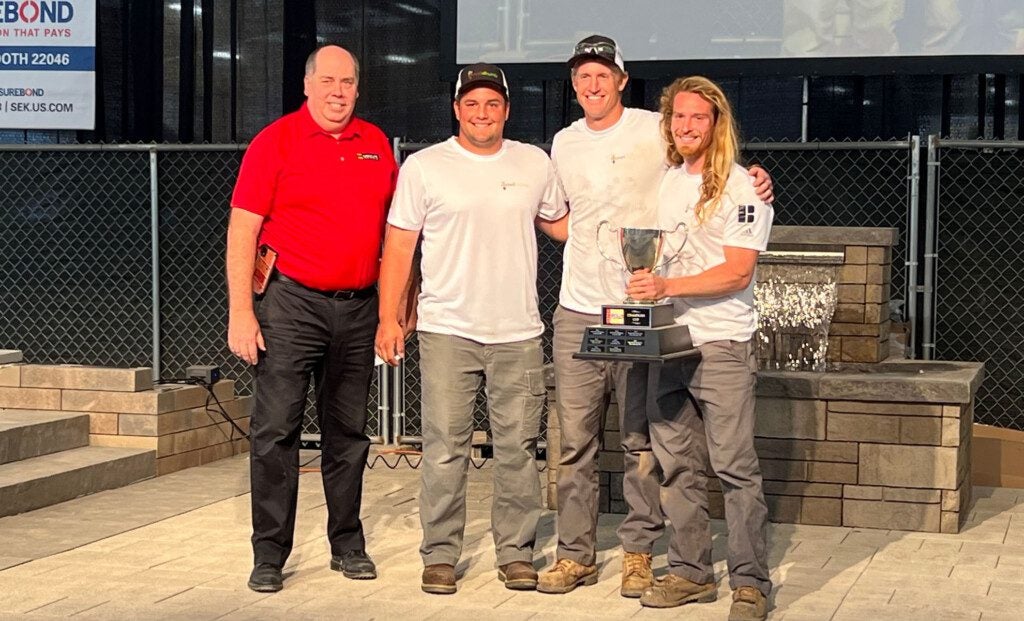 While teams are already beginning to brainstorm for the 2023 event, we look forward to seeing what design and techniques come through the doors of HNA next year. Will Shovel and Thumb defend their 1st place title? The 2023 event will come quickly, so make sure you are following Belgard on social media to stay up-to-date on all things hardscapes.