Tell Those Big Burgers to Slide on Over
National Hamburger Day is celebrated each May 28. But why not celebrate all summer long? If ever a food item deserved a day to be celebrated, it's the dish America brought to the world that can be as simple as a meat patty on a bun or elevated to an art form. To celebrate this year, we offer two suggestions:
Take the party outside and throw those burgers on the grill.
Forgo the traditional large burger for small sliders with a variety of topping options and let your guests get creative and expand their palette.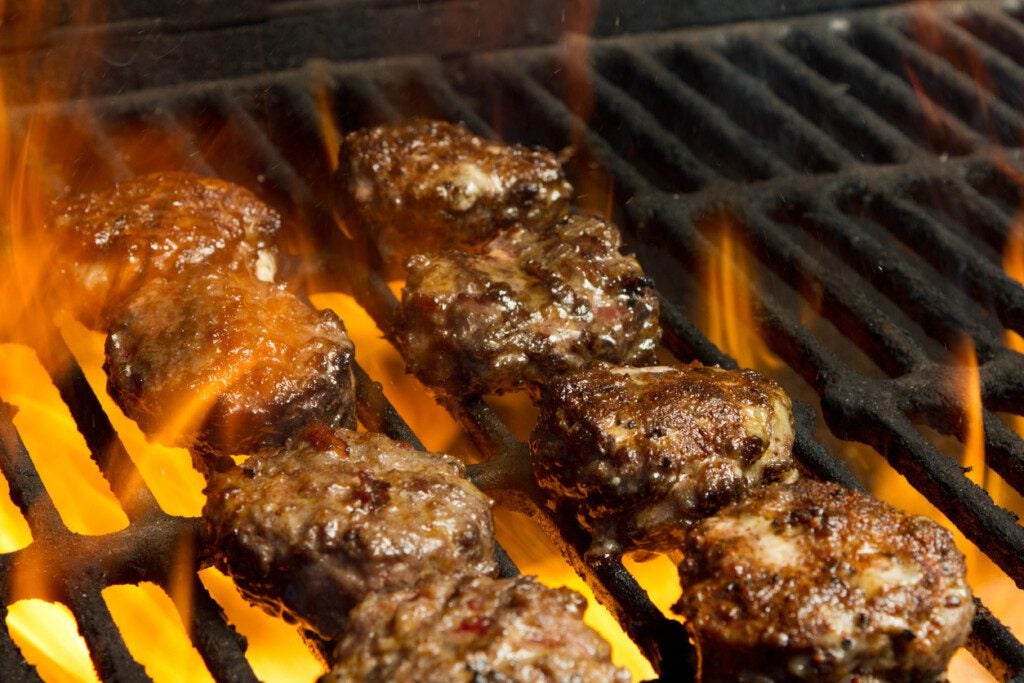 Why the Grill?
While frying a burger in a skillet is perfectly okay, we prefer cooking on a grill, especially charcoal where the meat absorbs a hint of smoke providing more depth of flavor. Plus, spending time with family and friends outdoors on a nice day adds to the whole experience.
Why Sliders?
For the uninitiated, sliders are very small hamburgers, which are believed to have originated from Navy slang in the 1940s. Some say the term comes from the way patties on the grill would slide around as the ship moved, or the large amount of grease the navy used when cooking them, or the way they seemed to quickly "slide" down the throats of hungry sailors. The burger chain White Castle co-opted the name to refer to their small burgers and the size association stuck.
Preparing & Cooking Sliders
To prepare a slider, you should use about a quarter to a third the amount of meat you might use to create a regular hamburger. Small Brioche buns or Hawaiian rolls are a fantastic option for your bread as they are soft with a hint of sweetness to balance the meat. Make the patty to fit this size bun and you'll be ready to slide them on the grill. Remember, you're cooking a lot less meat so a slider is going to cook much faster. Be careful not to overcook the burger and dry it out.
Create Your Own Slider Topping Bar
Since sliders are small, most people can eat more than one if they're fairly hungry. As mentioned before, providing a wide range of toppings and condiments for your guests allows them to try something different outside of the traditional mustard, mayo, ketchup, lettuce, tomatoes and pickles, all of which we still recommend you include by the way. Here are some unique accoutrements for your more adventurous eaters. To cut down on the work the day of, any of the items you choose to cook or make yourself should be prepared ahead of time and then heated (if needed) right before the sliders are ready to serve.
Onions: Most people may go with plain raw onions, but don't forget these three ways.
Caramelized…slice them up, throw them in a pan with olive oil, salt and a little brown sugar and cook for about 10 minutes until nice and brown.
Fried…go the easy route and grab a pouch of crispy onions from the store like French's.
Pickled…thin slice a red onion and place in a jar or heat-safe vessel. Then simmer a mixture of ½ cup water, ¼ cup white vinegar, ¼ cup apple vinegar, a teaspoon of honey and a teaspoon of sea salt and pour over the onions. Store in the fridge for at least 12 hours and they're ready to serve.
Cheeses: Sure there's American, cheddar, swiss and pepper jack, but don't count out blue cheese, gruyere, feta, goat cheese or some of the more far out flavors from the "special" cheese section at your local grocer like garlic, jalapeno, chipotle, tomato basil and the list goes on.
Pimento Cheese: If considering this style of cheese, opt for one of the more gourmet pimentos (yes, there's such a thing) like Palmetto Cheese from Pawleys Island and you can't go wrong.
Blue Cheese Buffalo Spread: Take some mayo, a little sour cream, blue cheese crumbles, add a dash of salt and then add hot sauce (like Franks RedHot) to taste.
Mac and Cheese: Add a dollop of comfort food to your burger. Just make your favorite instant mac and cheese, buy pre-made from the store, or find a recipe and whip up your own.
Horseradish Sauce: You can get a bit of this at most grocery stores to create a burger that bites back.
Candied Toppings: Add some sweet heat to a burger with candied jalapenos like these from Texas Pepper Works. Candied bacon is easy to make at home. Just pick up a pack of thick bacon, place on an oven-safe wire rack and sprinkle about a teaspoon of light brown sugar over each strip. Bake at 350 until crisp and you've got sweet and salty deliciousness. Put foil underneath for easy clean up.
Bacon Jam: You could also pick up some bacon jam for folks to slather on their slider.
Chili: That's right. Find your favorite chili recipe, make it beforehand, save the majority for a family meal and then put the rest in a bowl out as a topping.
Sweet, salty, tangy, spicy…there are many different ways to go when looking to add a unique twist to your burger. On National Burger Day or any day you see fit to cook up some burgers, invite your guests sidle up to the slider bar and let their imaginations and taste buds run wild.