It's Mardi Gras season. And while the holiday is known for its excess, parades and over-the-top parties, at its heart it is a time to celebrate with loved ones and take a break from our everyday lives. You don't have to live in New Orleans to host a Mardi Gras-themed party, all you need is a little guidance and you can bring the spirit home to you!
Mardi Gras—A Brief History
Like Christmas, Mardi Gras is a full season as well as an actual day, which is the Tuesday before Lent begins on Ash Wednesday. The season starts on Epiphany, a Christian holiday celebrated on January 6 that is otherwise known as Three Kings Day. This period between Epiphany and Fat Tuesday is known as Carnival and in New Orleans and cities across the south there are parades and parties for nearly an entire month. Most people don't know that the first Mardi Gras was actually not held in New Orleans. On March 3, 1699, the French-Canadian explorer Pierre Le Moyne d'Iberville camped about 60 miles downriver from the future site of New Orleans. Knowing it was Fat Tuesday back in France, Iberville held a small gala. A few years later, French soldiers and settlers feasted and wore masks as part of Mardi Gras festivities in the newly founded city of Mobile, Alabama. Today, you'll find Mardi Gras celebrations taking place across the country from lively parades with thousands of people in New Orleans to festivities in St. Louis, Orlando, Galveston, Pensacola, San Diego and more.
Food for Your Fete
King Cake is probably the most quintessential food associated with Mardi Gras. It dates back to the Middle Ages when people began celebrating the tradition of the Three Kings who brought gifts to the baby Jesus on Twelfth Night. The custom arose to eat a special kind of cake for the occasion and today, king cakes are now consumed throughout the season. Originally just a simple ring of dough, the king cake took different forms over the years with most of them appearing as a braided Danish pastry laced with cinnamon and iced in the Mardi Gras colors of purple, green and gold. In the 1940s, a tiny baby figurine (meant to represent Jesus) was baked into each king cake. The person who gets the baby in his or her slice is tasked with bringing a king cake to the next party.
Alas, you cannot celebrate on cake alone, so what's a great Mardi Gras dish that's easy to make and serves a large group? Jambalaya, that's what! This simple rice dish is filling and delicious and your guests will love it. There are a variety of jambalaya recipes and the one here makes a brown version which comes from Gonzales, Louisiana, which is known as the Jambalaya Capital of the World.
Jambalaya Recipe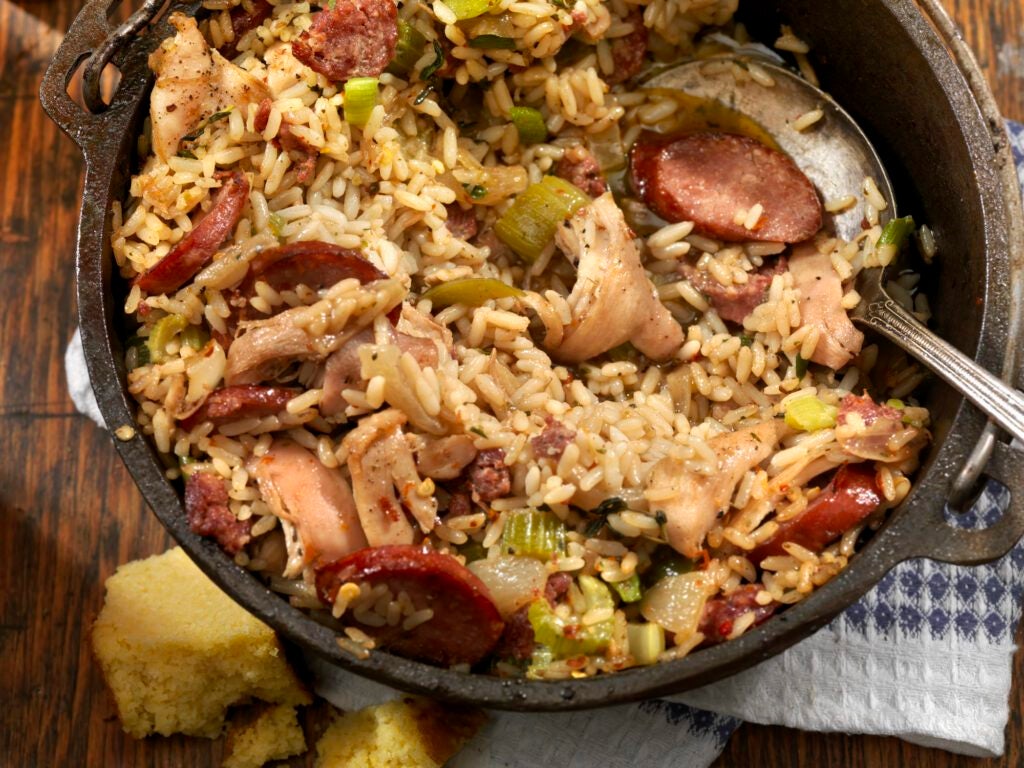 Makes 6 to 8 servings
You can use a whole cut-up chicken or any parts you like (about 3 pounds), breasts will do fine.
Creole Seasoning
Oil for browning
1 pound smoked sausage cut in coin shapes about ½-inch thick
1 onion, chopped
1 stalk celery, chopped
1 large pod garlic, minced
2 cups long-grain rice
1 capful liquid smoke
1/2 teaspoon cayenne, or to taste
Salt and pepper to taste
4 cups chicken broth
Kitchen Bouquet for a browner color (if needed)
Season chicken with your Cajun seasoning or any other seasoning and brown in oil. Remove chicken, and saute the onions, celery and garlic until onions are clear. Add the sausage and brown it. Return chicken to pot and add broth, Liquid Smoke and, if you want a browner color, Kitchen Bouquet.
Bring to a rolling boil and add rice. Bring again to a really hard rolling boil, stir, and lower heat to low. Cover and cook for 20 to 25 minutes.
King Cake Recipe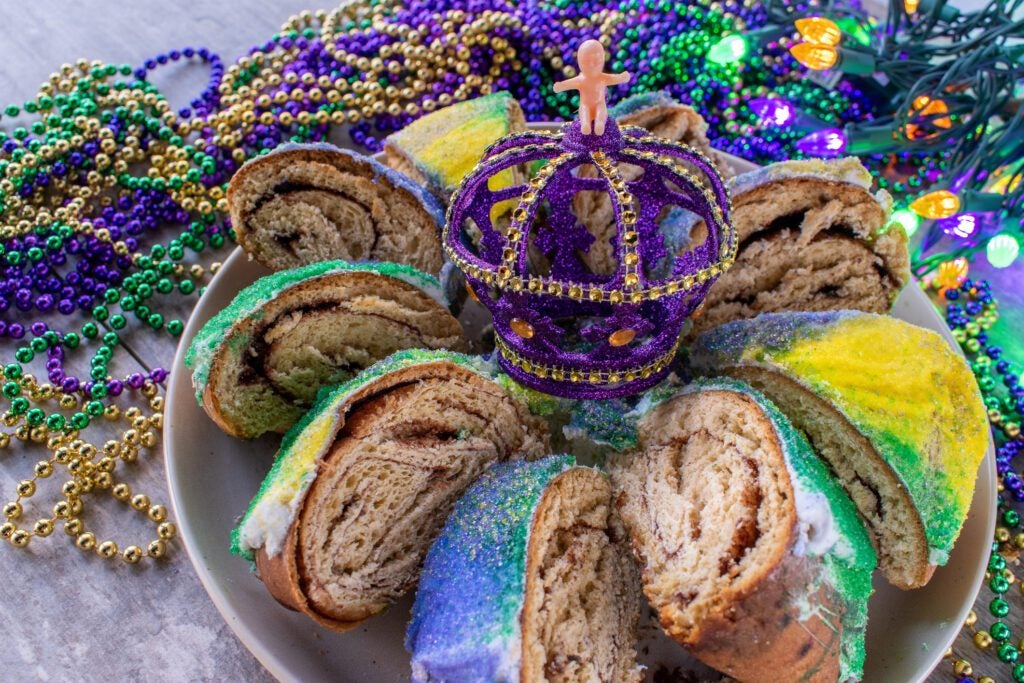 2 (¼-oz.) package active dry yeast
½ cup plus 2 tsp. granulated sugar, divided
2 teaspoons table salt
1 teaspoon ground nutmeg
1 teaspoon lemon zest (from 1 lemon)
4 – 5 cups all-purpose flour, plus more for work surface
4 large egg yolks
½ cup warm milk (105°F to 115°F)
½ cup (4 oz.) unsalted butter, melted
Cooking spray
1 pecan half or uncooked dried bean to substitute for the plastic baby
Glaze
2 cups powdered sugar, sifted
2 tablespoons fresh lemon juice (from 1 lemon)
2 tablespoons water
Purple, green, and gold sanding sugar

Prepare the Cake:
Stir together warm water (105°F to 115°F), yeast, and 2 teaspoons of the sugar in a small bowl; set in a warm place until foamy, about 5 minutes.
Beat salt, nutmeg, zest, 4 cups of the flour, and remaining ½ cup sugar in a stand mixer fitted with a paddle attachment on medium-high speed until combined, about 30 seconds. Add egg yolks, warm milk, melted butter, and yeast mixture; beat on medium-high speed until smooth, about 1 minute.
Turn dough out onto a lightly floured work surface; knead in up to remaining 1 cup flour, ⅓ cup at a time, until dough is no longer sticky. Continue kneading until dough is smooth and elastic, about 10 minutes.
Place dough in a bowl coated with cooking spray, turning to grease top. Cover and let rise in a warm place (85°F) free from drafts until doubled in bulk, about 1½ hours.
Punch down dough, and place on a lightly floured work surface. (If desired, sprinkle with candied citron; knead until citron is evenly distributed.) Shape dough into a cylinder 30 inches long.
Place dough cylinder on a buttered baking sheet; shape into a ring, pinching ends together to seal. Press pecan half gently into dough ring from underside of dough so it is completely hidden inside the dough. Cover and let rise in a warm place until doubled in bulk, about 45 minutes. Meanwhile, preheat oven to 350°F.
Bake Cake in preheated oven until golden brown, 25 to 30 minutes. Let cool on baking sheet 30 minutes.
Prepare the Glaze:
Stir together powdered sugar, lemon juice, and water in a small bowl until smooth.
Drizzle Cake with Glaze; sprinkle with sanding sugar, alternating colors.
Gather your friends and family together, be sure to crank up your Mardi Gras playlist on Spotify or Pandora and dig in to these two Fat Tuesday favorites and you'll bring the spirit of carnival to your hometown and add a little spice to your life.