Looking for a different take on turkey for the holidays? This Boudin Stuffed Turkey Breast Roulade is sure to turn a few heads and tickle some taste buds when it lands on the table. Also, it's fairly easy for the major reaction you'll get.
For the uninitiated, boudin (boo-dan) is a Cajun sausage made from pork, rice, select vegetables, and seasoning that's stuffed in a natural pork casing. There are seafood varieties too, such as crawfish and shrimp, even alligator, but this recipe calls for traditional pork. The fat from the pork and moisture from the rice both seep into the turkey to keep the breast tender and prevent it from drying out. If you live in the south, you may be able to get boudin from a grocery store or the local butcher, but I've also provided a list of some of the best places to purchase boudin in Louisiana and have it shipped to your door. (Warning: boudin from a grocery store may be a little generic and not of the quality you'll get from a butcher or specialty shop.) You'll use about 4 links for this recipe, but order some extra and throw it on the grill (indirect heat) as an appetizer to impress your friends at your next get-together. For this recipe, I grilled the turkey, but it will work in the oven, too.  
So here's what you need.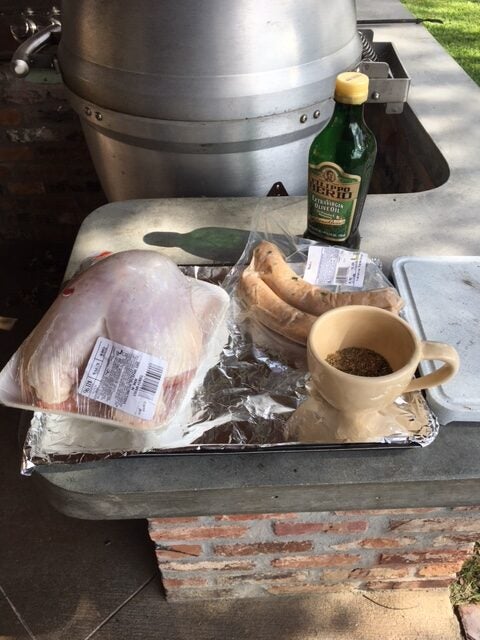 1 (4–5-lb.) whole skin-on boneless turkey breast, trimmed (these may or may not be readily available at your local supermarket, you might want to call ahead and check)
Kosher salt and freshly ground black pepper, to taste
2 tbsp. ground or minced sage
2 tbsp. garlic powder or garlic salt
2 tbsp. of dried parsley (just for some added color)
4 tbsp. olive oil (enough to cover the breast with some overflow)
1 lb. -2 lbs. of pork boudin sausage removed from the casing about 3 or 4 links. The more boudin you use the better it will taste.
¼ to ½ stick of butter
Serves 8-10
Instructions
In a small cup or bowl, mix salt, pepper, garlic powder/garlic salt, sage and parsley together to make a rub. Moisten your finger and take a little taste then add more of whatever ingredient you think it needs…more salt, more sage, etc.
Place the turkey skin side down on a cutting board. Make a lengthwise cut about 3⁄4" deep down middle of each breast, and in a few thick places to splay the meat out a bit to help make it thinner when you pound it. Just don't cut through the turkey. Cover the turkey with plastic wrap or wax paper. Using the smooth side of a meat mallet, pound the breast evenly and try to get it to a 1 1⁄2" thickness. If you want, season the turkey with a little salt and pepper, but not too much because your boudin is already seasoned. Take the boudin out of the casing and press it flat across the breast, leaving a 1″ border around edges.
Beginning with one long side of the turkey breast, roll it into a cylinder so that the skin faces outward. It's going to be messy and some of the boudin will fall out, but take what falls and shove it back in. Tie the turkey crosswise at about 1″ intervals with 15″ lengths of kitchen twine, then tie one 24″ length of twine around length of breast to secure it. Trim the excess twine with scissors. Place the stuffed turkey on the baking sheet lined with aluminum foil. Rub the turkey with olive oil and make sure some of the oil goes underneath. Season the turkey with your rub. You can let it sit in the fridge overnight, or just go straight to cooking it. (I went straight to the grill.)
Heat the grill or oven to 350°. Put the baking sheet with the turkey on the grill or in the oven. It should cook for about 1 to 1 ½ hours. If you're cooking it on the grill, turn it over a few times so that it gets browned on all sides and the skin is crispy. Baste it with melted butter a couple of times. Use a cooking thermometer and cook to 150°. In the over, cook it to 145° and then go up to 500° for 5-10 minutes to brown it turning it over once to brown the bottom, but don't burn it. Transfer the turkey to a serving platter and let it rest for 20 minutes. Remove kitchen twine. To serve, slice turkey crosswise into 1″ pieces. I used a knife with a serrated edge since the skin can get almost like a bread crust.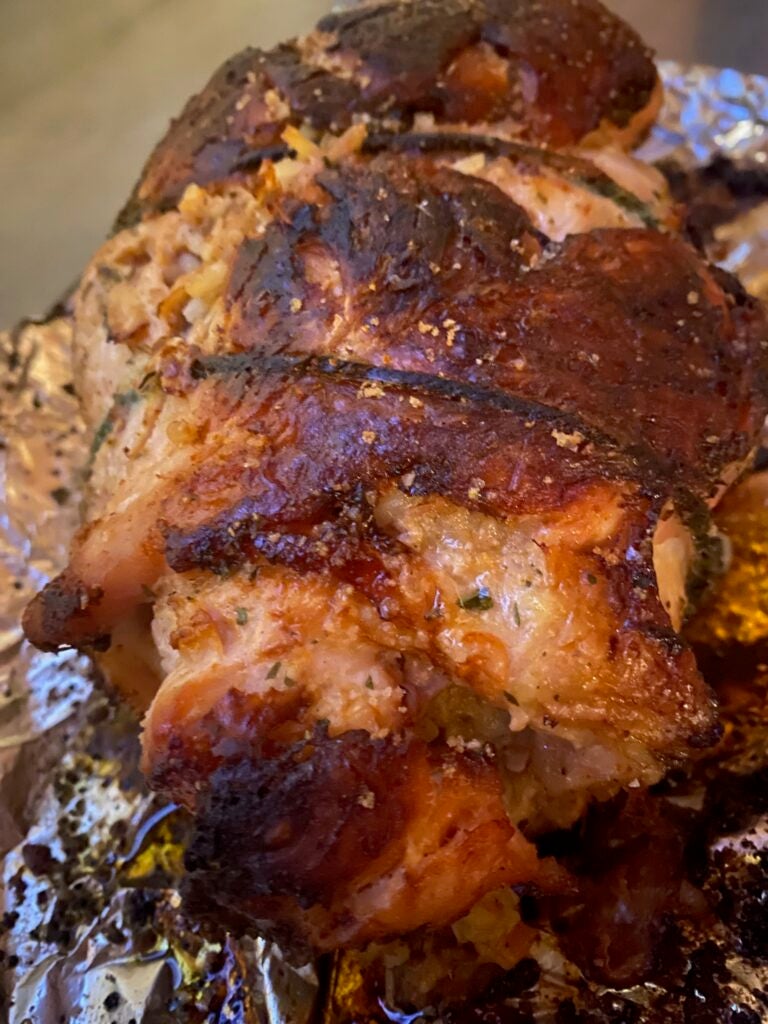 Below are some places to order boudin. I can vouch for the first three as they are small mom and pop shops that I've personally visited. The other two are larger companies that ship a variety of products, but I'm sure the product is delicious. Good luck and good cooking!
Billy's Homemade Boudin & Cracklins