People are spending more and more time outdoors these days, even if it's just past the backdoor right outside and into the backyard. As homeowners continue to invest in outdoor kitchens, fire pits and fireplaces, pools, and outdoor spaces to entertain guests, a plethora of equipment and accessories are being created to enhance the enjoyment of living life outside. With the holidays coming up, you're bound to have someone on your list who's an outdoor living enthusiast and we've curated a few gift ideas in a variety of price ranges sure to bring a smile to the face of your "giftee." Who knows, depending on your relationship with him or her, you may end up benefitting from the gift yourself. Let's get to it!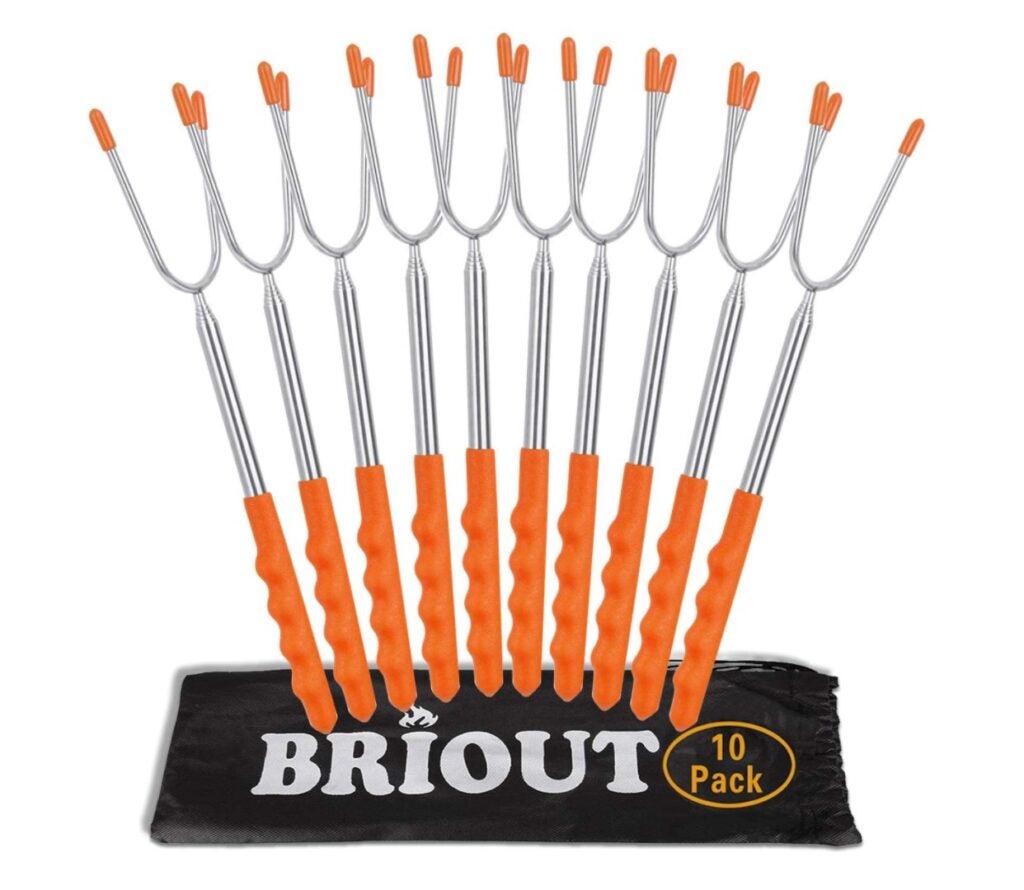 The S'more You Know: Marshmallow Roasting Sticks
There was a time when you just grabbed a stick off the ground to roast your marshmallows, or perhaps at one point you upgraded to an unfolded clothes hanger courtesy of you dad? Now, give the gift that will move your s'more creator up to the big leagues with BRIOUT Marshmallow Roasting Sticks. Premium quality 304 stainless steel is combined with comfortable rubber handles featuring finger indents to protect your hands while providing a firm, steady grip. At 45", the longest  helps keep the kids at a safe distance from the fire and the shortest length of 11.8" can be used as a BBQ fork. Comes complete with a matching storage bag because it's fancy like that.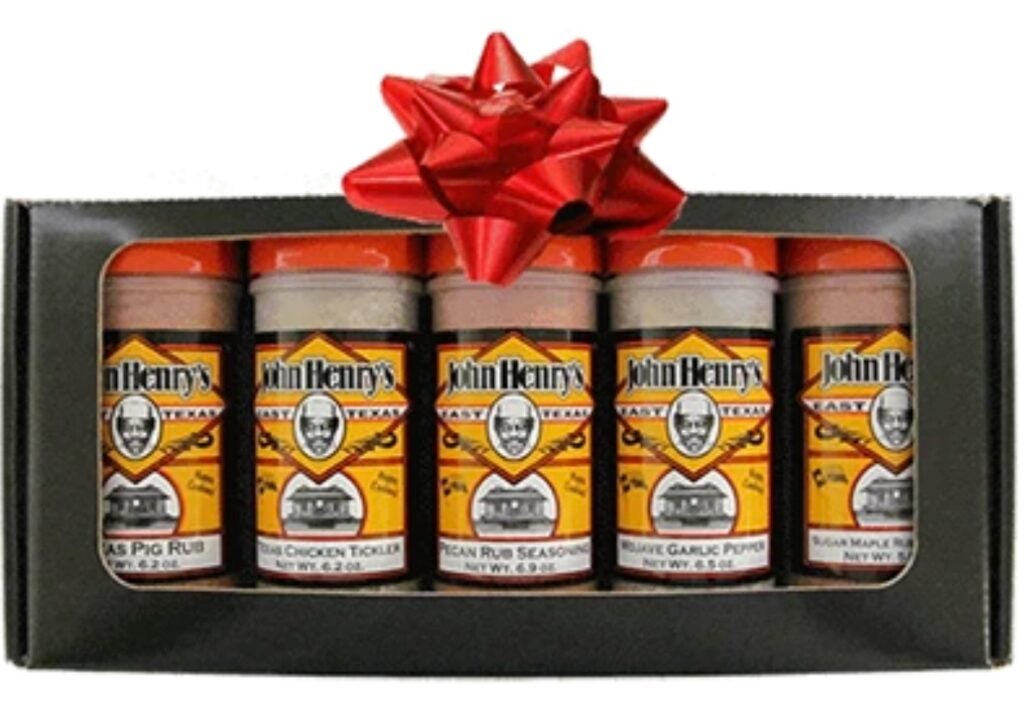 .
Here's the Rub: John Henry's All Purpose Rubs Gift Box
John Henry developed his passion for food and barbeque spending time on his great grandfather PaPa Charlie's farm in Elysian Field, Texas, near the Louisiana border. He learned the art of barbecuing and smoking meats and later went on to develop his own line of rubs, spice blends, sauces and more. Don't be fooled by the simple packaging, John Henry's award-winning products are the real deal and sure to take well-cooked meats to a heavenly level. This gift pack is the perfect introduction to John Henry's versatile range of flavors and includes Pecan Rub, Mojave Garlic Pepper, Texas Pig Rub, Sugar Maple Rub and the utterly amazing Texas Chicken Tickler.
.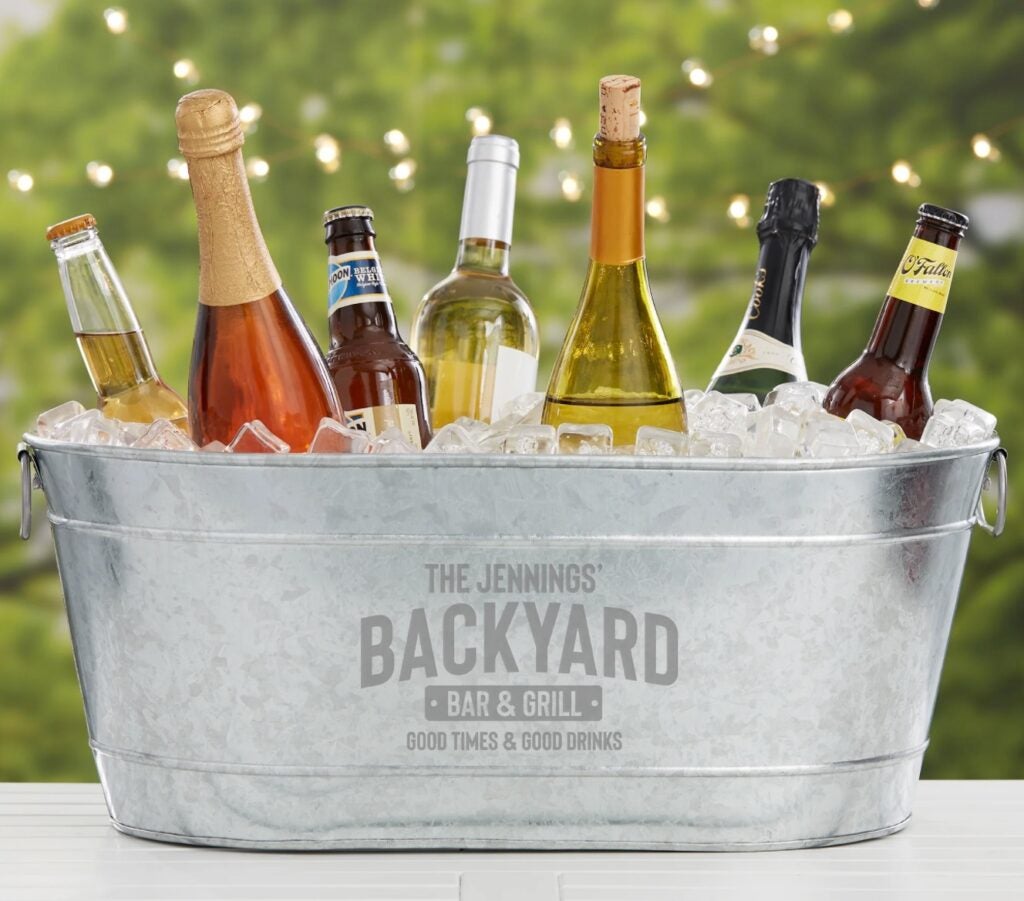 Chill Out: Personalized Galvanized Beverage Tub
Anybody can throw bottles and cans in a boring old ice chest. Help step up your "giftee's" beverage game with a stylish, Backyard Bar & Grill Personalized Galvanized Beverage Tub. With four lines of etched text and two handles for easy carrying, it's one nice touch at parties and get togethers.
.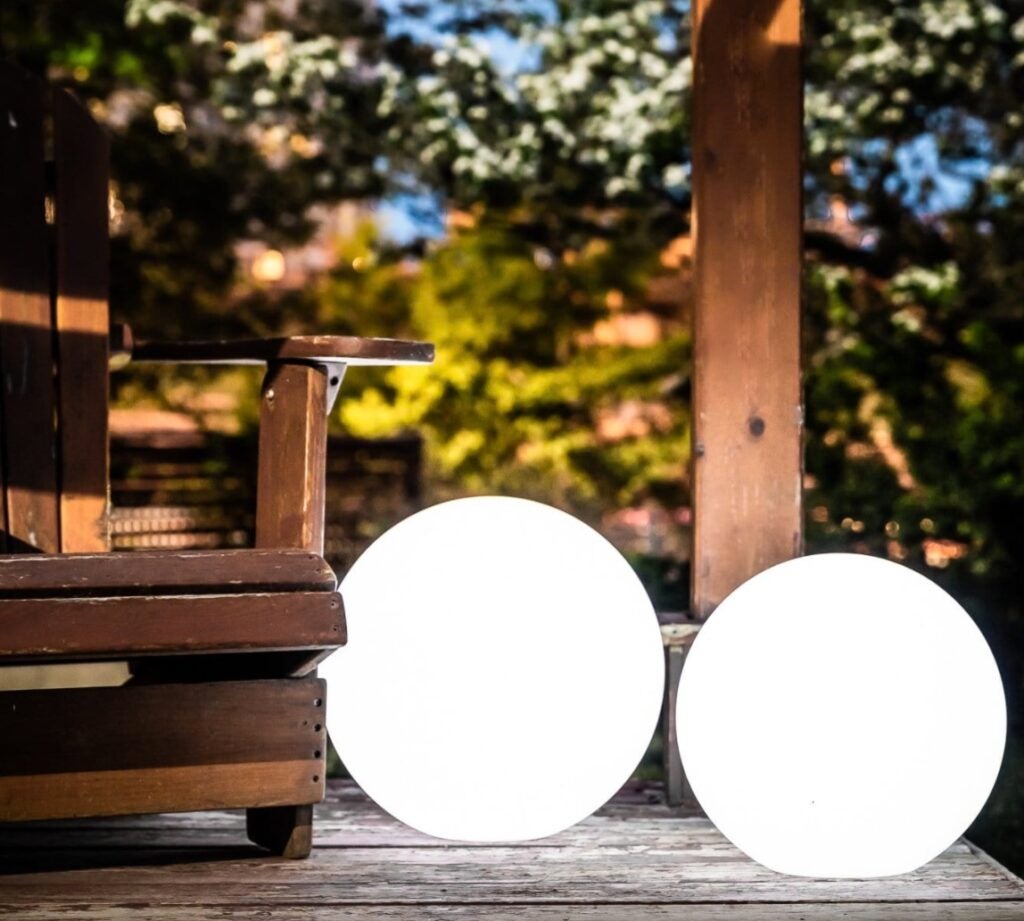 Light it Up: Element Lamp
Know someone who likes modern, sleek design and would love a unique lighting solution that's sure to be a conversation piece? The Element Lamp could be just the gift! This glowing orb is portable and can be easily moved to plug into any room or covered outdoor setting. Plus, the lamp features a remote control that allows it to change into four different colors to set the perfect mood. This light can become a permanent design fixture or the host can break it out for special occasions, either way it's a great way to make someone's holiday a little more merry and bright.
.
Rock On: Outdoor Rock Speaker
The RX805 Outdoor Rock Speaker blends in to flower beds, garden borders, landscaping around pools and more. With the features of a rock on the outside, inside features include an 8-inch polypropylene woofer and 1-inch dome tweeter that provide excellent high and low notes. Barely noticeable, but crank these speakers up and they'll have no problem filling large backyards, pools or patios with wonderful sound.  
.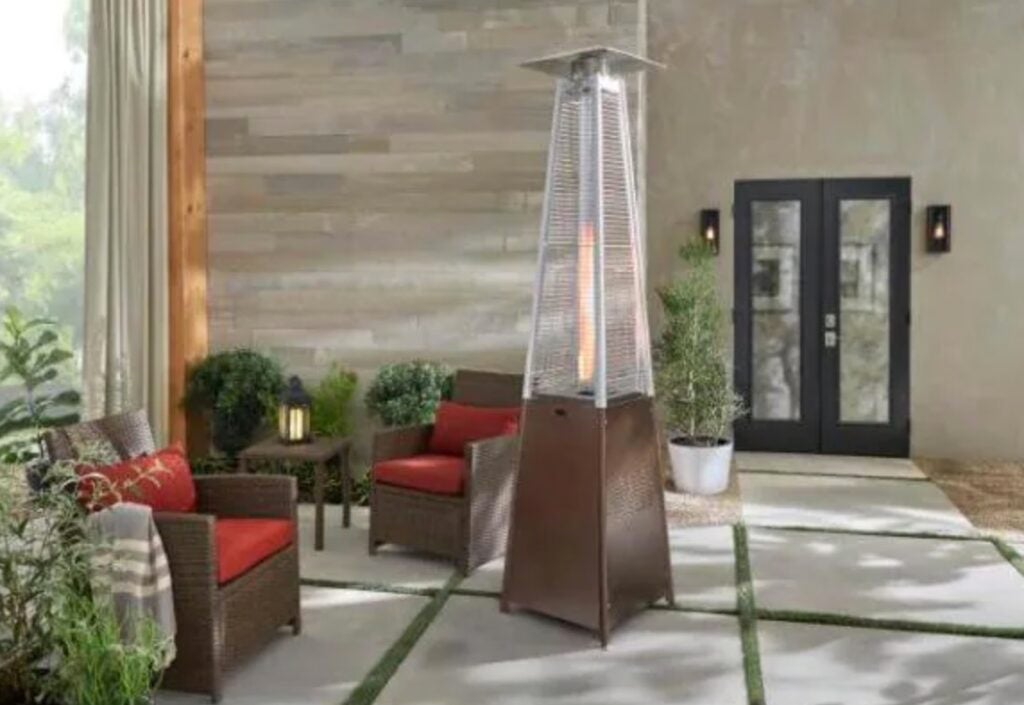 Warm Up Time: Gold Gas Patio Heater
When the temps fall, the Hampton Bay Gold Gas Patio Heater brings the heat to create a cozy outdoor space. Cranking out 42000 BTUs, this heater can maintain a comfortable temperature for any patio area. In addition to an ignition switch for quick starts, the heater also features wheels making it easy to move around to the perfect spot. This gift will be sure to warm someone's heart this holiday season.
.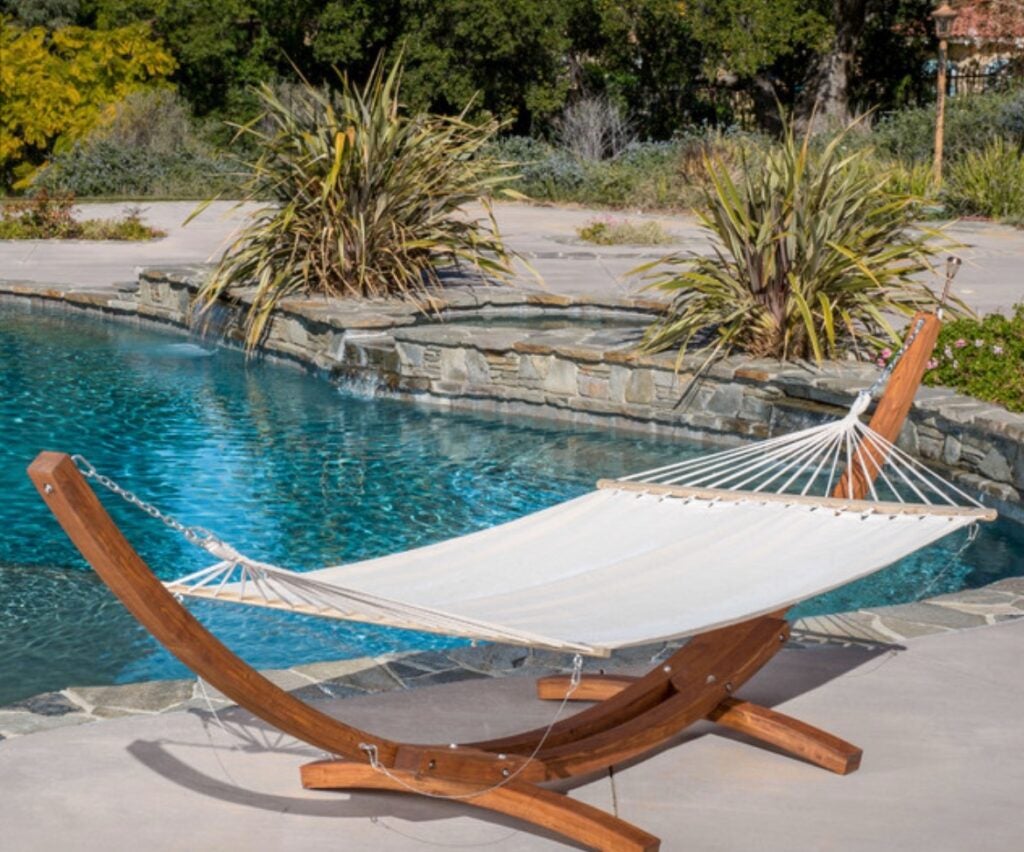 This is the Sway: Weston Outdoor Hammock
Ahhhh…nothing says outdoor rest and relaxation quite like a hammock and the Weston Outdoor Hammock is a splendid piece of backyard furniture that carries on this R&R tradition. Whether your "giftee" chooses to sleep beneath a shady tree, sway back and forth reading a good book or dry out from the pool while sunbathing, this teak-finished hammock with a cotton/poly blend fabric will bring years of Zen-like relaxation to any outdoor space.
.
Lights, cooking gear, entertainment, seating and heating…all gift categories that will bring joy to the outdoor enthusiast on your list. If you didn't find the perfect gift here, it's out there somewhere. But hurry, the holidays will be here before you know it.