Contrary to the opinion of strict carnivores, the backyard grill is not just for steaks and ribs. Nothing fishy about it! When done properly, grilled fish is amazing and offers a ton of health benefits. But there are definitely some pitfalls to avoid, not to mention some tips to ensure a better and tastier fish grill experience.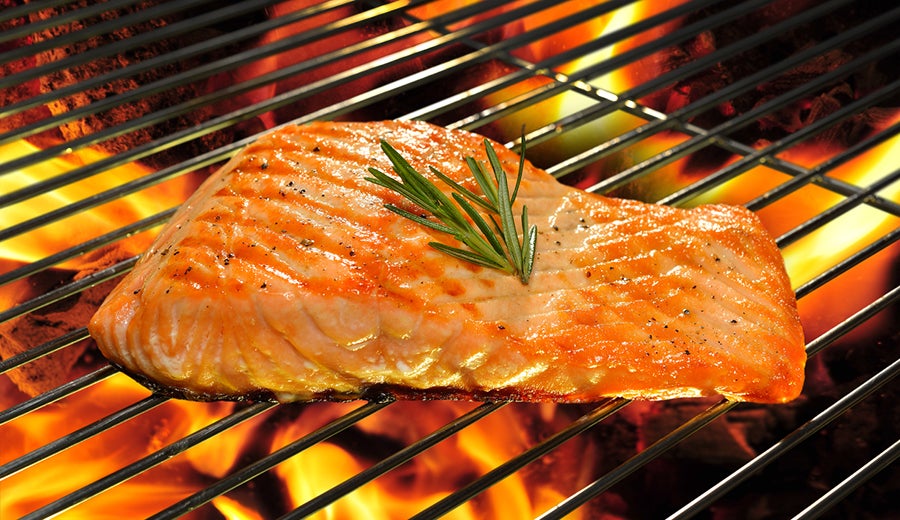 Best Fish to Grill
You can honestly grill any fish, but the prep and grilling methods will vary. No doubt about it, though, some fish are simply more ideally suited for grilling — specifically heartier fish with denser flesh. Some of the best fish for grilling are salmon, tuna, redfish, snapper, monkfish, halibut, swordfish and mahi mahi.
Best Recipes for Grilled Fish
Different fish have different textures and flavor profiles, which affects both seasoning choices and grilling method. Here are some quick and easy recipes that regularly get a thumbs up in our household. For any recipes that call for placing the fish directly on the grill, be sure to oil the grates to keep the fish from sticking to the surface.
Salmon: Keep the skin on and grill skin-side down on indirect heat until some of the fat starts to release and the meat begins to flake (for medium doneness). The great thing about salmon is that it works well with either sweet or savory preparations. My favorite recipe for grilled salmon is to season it with salt, pepper and garlic powder and baste during cooking with a my personal recipe for Spicy Bourbon Basil Glaze (recipe below).
Tuna: Tuna is hearty enough to be placed directly on the grill. One delicious option is to marinade tuna steaks in soy sauce, sesame oil and ginger for about 20 minutes. Roll the marinated steaks in a mixture of white and black sesame seeds, then sear both sides on a hot grill for about 2-3 minutes per side (depending on thickness) for rare to medium-rare.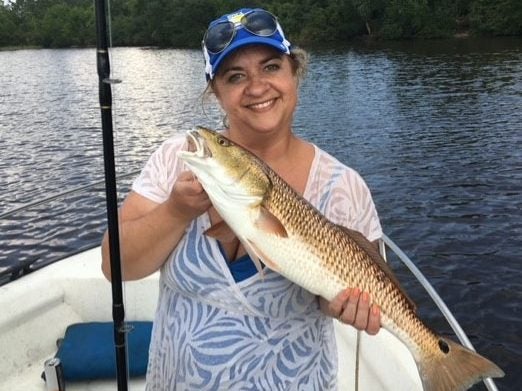 Redfish: By far, this is my favorite fish to grill — mostly because I love fishing for redfish. They hit your line like a Mack truck and are incredibly fun to land. And there's nothing like putting something on the grill that was swimming earlier that day. The best way to grill a redfish filet is skin-on (descaled) with the skin side down on indirect heat. Sprinkle on some diced onions and continually baste everything with melted butter that's liberally seasoned with pressed garlic, Cavender's Greek Seasoning and lime. Delish!
Snapper: Snapper is similar in consistency to redfish and can be grilled in the same manner — skin on, skin side down, indirect heat. A little milder and sweeter in flavor than redfish, I love to top it with mango salsa (diced mango, lime, red onion, fresh jalapeno, rice wine vinegar, cilantro).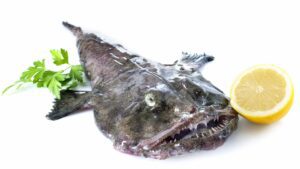 Monkfish: Easily the ugliest fish I have ever seen, this bottom-feeding ocean dweller can actually be found skinned and completely prepped in the frozen food section of Costco. I've also purchased it fresh at the fish counter of a Farmers Market in Atlanta, but even though they skinned it, I had to remove the spine and some of the skin membranes myself. Fresh tastes better (of course), but is more work. Monkfish is very hearty, with a similar consistency and taste to lobster. It can be chunked and skewered or grilled as filets. Rub with olive oil and simply season with Old Bay, salt, pepper, garlic powder and lemon. Sear on a hot grill, then move to indirect heat until done. For a dinner party once, I topped a Cream of Brie Soup with chunks of grilled monkfish. It was a total hit!
Halibut, Swordfish or Mahi Mahi: Halibut has a sweet flavor similar to crab. Mahi is a little milder. Swordfish is a little heartier. All three can be cooked in steaks on medium heat with a variety of seasonings and should be cooked all the way through. Halibut is delicious with a simple seasoning of salt, onion powder, dill and lemon. Mahi works really well with southwest seasonings like cumin and garlic. Swordfish is yummy salted and glazed with a light brushing of orange marmalade thinned with olive oil. The mildness of all three lend well to experimentation.
Best Accessories for Grilling Fish
With the exception of heartier fish that can be cut into steaks and placed directly on an oiled grill grate, it's better to use one of the following to keep fish from falling apart.
Best Way to Grill Small or Delicate Fish
Delicate, flaky fish (like trout) can dry out or break apart when grilled. When grilling this type of fish, create a moist and delicious all-in-one meal by wrapping filets in a foil pouch with some veggies, butter (or olive oil), white wine, lemon and your favorite seasonings. For a smokier flavor, you can grill smaller fish whole. The fatty skin will help preserve the moisture. In my experience, the best fish to grill whole is flounder. Simply score the top and continually baste it with seasoned butter combined with garlic and lemon.
6 Important Tips for Fish Grilling Success
Don't marinade it in citrus for longer than 10 or 15 minutes, or you'll end up with ceviche.
Cooking spray can be your best friend. Fish is delicate and can stick and break apart easily without it. Just don't spray directly onto a lit grill grate or you'll end up with a blow torch.
There is no one way to season any type of fish. However, a good rule of thumb is that oilier fish (like tuna or salmon) can handle sweet glazes, while milder fish are typically better with savory seasonings.
Like with grilled meats, it's often a good idea to let the fish rest a few minutes after removing from the grill before cutting into it to keep it moist.
There are often small bones hiding in fish meat that can poke your gums or present a choking hazard, so pay attention when preparing and eating.
Remember to sanitize anything that comes in contact with the raw fish to avoid cross contamination.
. . .
RECIPE: Spicy Bourbon Basil Glaze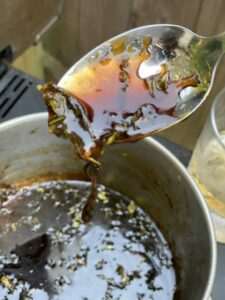 INGREDIENTS
1 pint bourbon
1 cup dark brown sugar
1 Tbsp sriracha
3 Tbsp soy sauce (to substitute coconut aminos, double this)
1 Tbsp sesame oil
1 pod pressed or pureed garlic
black pepper to taste
handful of basil leaves, julienned
INSTRUCTIONS
Combine all ingredients in a saucepan (except basil). Bring to a boil and reduce the liquid for about 20 minutes until syrupy. Stir constantly to keep it from bubbling over. Remove from heat and allow to cool a bit, then fold in the basil. Putting the basil in during the cooking process will diminish the herb's flavor.