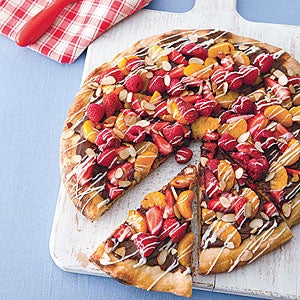 Looking for a new and different way to celebrate National Pizza Day? Try this Grilled Dessert Pizza for a contemporary twist on a national favorite. Smoky, fruity, flakey, nutty, and chocolaty…a winning combination to top off any family dinner. If you can't find fresh berries this time of year, check the freezer section. Just defrost them in a strainer and pat dry to avoid adding extra moisture to the dough. The instructions below call for the use of premade dough, which can be found at most groceries stores or made from scratch at home. For a fun family activity, let the kids help place the fruit toppings in step 4. But you might want to have a little extra on hand, in case they're tempted to sample while they work!
Ingredients
2 ounces white chocolate, chopped
1 pound pizza dough, thawed if frozen
1 cup chocolate chips
1 cup sliced strawberries
1 cup raspberries
1 cup drained canned mandarin orange segments
1/3 cup sliced almonds, toasted, optional
Preparation
1. Preheat grill to medium. Lightly mist a rimmed baking sheet with cooking spray and dust with flour. Place white chocolate in a bowl and set over a small pan of simmering water (do not let bottom of bowl touch water). Cook, stirring often, until white chocolate has melted. 2. Press and stretch dough to form a 14- to 15-inch round. Place dough on prepared sheet, place on grill, cover and cook for about 5 minutes, until crust is puffed and golden. Using tongs, flip dough over and cook for about 3 minutes longer. 3. Sprinkle dough evenly with chocolate chips, leaving a 1/2-inch border. Cover grill and cook 2 minutes, until chocolate chips have melted. Using an offset spatula or butter knife, spread chocolate evenly over dough. Using tongs or spatula, transfer pizza to a large cutting board. 4. Scatter berries and orange segments over pizza. Sprinkle with almonds, if desired. Dip a fork into bowl with melted white chocolate and drizzle over pizza.
. . .
Photo: Kate Sears, Styling: Susan Vajaranant (courtesy Time Inc.)