Tranquility. The sense evoked by this word is often lost in today's fast-paced world. When life gets too hectic, it's something we crave — a calm and peaceful moment to stop, take a deep breath and slowly exhale. This is exactly why outdoor living has become essential to the human spirit. And it's why this year's outdoor living colors of the year are centered on creating a tranquil space to unwind and reconnect with one another and with the natural world.

Both Belgard and the Pantone® Color Institute individually released their colors of the year for 2020. It's no coincidence that these two color tones complement each other, or that they were both chosen for their connection with nature and a sense of tranquility.
Known throughout the world for their expertise in the realm of color, Pantone annually announces the Pantone Color of the Year, which influences purchasing and design decisions in multiple industries — fashion, home furnishings, product packaging, brand identity and more. Their selection comes after careful analysis of global factors that impact color trends including the arts, entertainment, popular travel destinations and evolving lifestyle.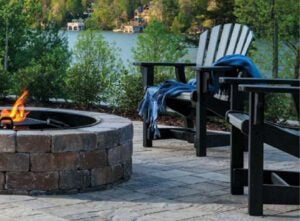 In the same respect, Belgard has long been the leader in the hardscapes industry with a definite influence on outdoor living design trends. Belgard also keeps a careful watch on architectural and lifestyle trends to anticipate the needs of the marketplace. With that in mind, the Terrarium color was selected and named for its biophilic ability to connect the built environment with the natural world. A rejuvenating hue found throughout nature, Terrarium complements the full range of colorations in the Belgard catalog and signifies growth, vitality and renewal.
Terrarium coordinates effortlessly with Pantone's Classic Blue, which Pantone notes is suggestive of the sky at dusk and chosen for its ability to instill calm and bring a sense of peace and tranquility to the human spirit. Together, these two colors are perfect for ushering in a new decade, one that's sure to be full of technological advances that continue to pull us away from that elusive state of tranquility.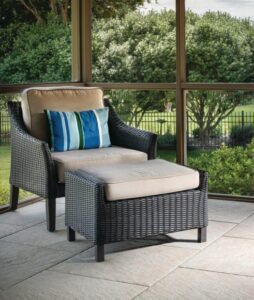 "We are living in a time that requires trust and faith," said Leatrice Eiseman, Executive Director of the Pantone Color Institute. "A boundless blue evocative of the vast and infinite evening sky, Classic Blue encourages us to look beyond the obvious to expand our thinking; challenging us to think more deeply, increase our perspective and open the flow of communication."
In that same line of thought, Terrarium reminds us that no matter how much we evolve, we are still part of the natural world. As technology continues to race ahead of the human ability to process it all, it is easy to understand why we gravitate to colors that allow us to create an outdoor living refuge where we can slow down for a moment and embrace our humanity. After all, outdoor living is not just about building or decorating a patio, it's about living in your outdoor space.