In colder climates, it's not uncommon for driveways, walkways or patios to be installed with either a heated pavement system or a permeable pavement system to help control ice buildup. This homeowner, however, chose to combine the two systems into one to create the ultimate ice-management pavement system.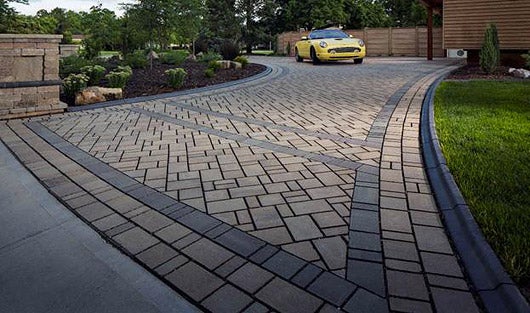 Benefits of a Combined Heated/Permeable Pavement System
With a heated pavement system, snow and ice melt immediately to prevent accumulation, but if the surface is not graded properly, or if the pavement settles or degrades over time, there can be pooling or other issues. In comparison, a permeable system allows melting snow to drain into the joints and down into the subsurface rather than remaining on the surface and refreezing into ice. Typically, a plow clears the bulk of the snow, ice melt is applied, and the water goes away. However, with a combined heated permeable pavement system, plowing or ice melt is typically not needed. All snow or freezing rain that hits the surface melts and drains immediately. Plus, concrete pavers are more durable than poured concrete or asphalt, ensuring increased longevity of a properly working system. After two winters, the homeowners report that the system is performing beautifully, with no water or snow accumulation whatsoever.
How Does It Work?
Heating cables are laid out in the bedding layer, beneath the pavers. Two heat/moisture sensors, each about the size of a tennis ball, are installed in the pavement to automatically turn the heating cables on when there is both precipitation and a below-freezing temperature. When the system is on, it takes a lot of electricity to heat the 4,300 SF drive and walkway, necessitating the addition of a 400-amp pedestal to operate the system. However, because the sensors require both moisture and freezing temperatures, the system is rarely on.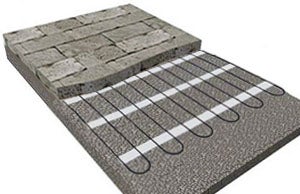 Installing the System
Although, the system was planned to include only 18" of excavation, abnormal site conditions required 36" of excavation. A variable base of aggregate was then installed – 27" of #2 stone, 4" of #57, and 2" of #89. A heating cable was installed within the #89 stone layer. In order to maximize the amount of heat transferred from the heating cable to the pavers, the stone separating the cable and pavers needs as much contact with both as possible. Crushed stone with fines transfers the most heat, but doesn't drain, so it isn't used in a permeable installation. Instead, the heating cable manufacturer, Warmzone Radiant, recommended smaller drainage stone (#89) because it has more contact with the cable and transfers more heat than larger stone. The crew also took extra care during the handling and installation of the cable to safeguard the protective coating and ensure long-term functionality of the system.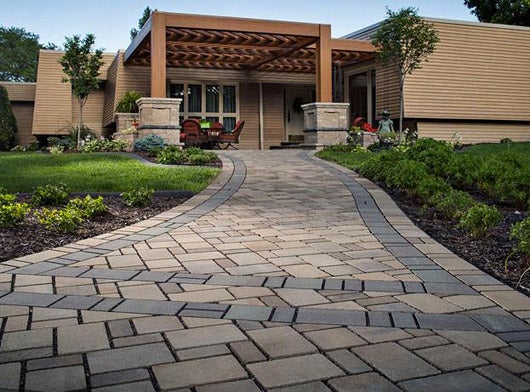 . . .
2014 HNA Project Award Winner – Residential Concrete Permeable Pavers
Design/build Contractor: Grindstone Hardscapes, Josh & Kristen Graczyk, Owners
Location: Grand Island, Nebraska