For over a decade, the gradual trend has been for homeowners to transform the formerly open backyards of existing homes into definable "outdoor living" spaces. In new home construction, however, this phenomenon has grown exponentially in more recent years to the point that outdoor living has becoming a standard feature at just about any price level. Although upgraded outdoor living spaces are more common at higher price levels, new construction home buyers at all levels want to know that they'll be able to live in and enjoy their outdoor spaces. According to builders, realtors and landscape architects, some definable trends have emerged as being "highly desirable" to potential buyers.
•   •   •
Indoor/Outdoor Convergence
For several years, the trend has been to create outdoor living areas that mimic indoor living. This has evolved in a way that with many new home designs, there is no distinct separation between the indoor and outdoor spaces, but more of a fluid separation between the two areas. These types of designs might incorporate floor-to-ceiling retractable glass walls, stackable doors or floor materials that contribute to that sense of flow. For example, Belgard Porcelain Pavers were designed for outdoor use, but coordinate with a line of interior porcelain tile, which allows for the same flooring aesthetic to be used both inside and outside of the home.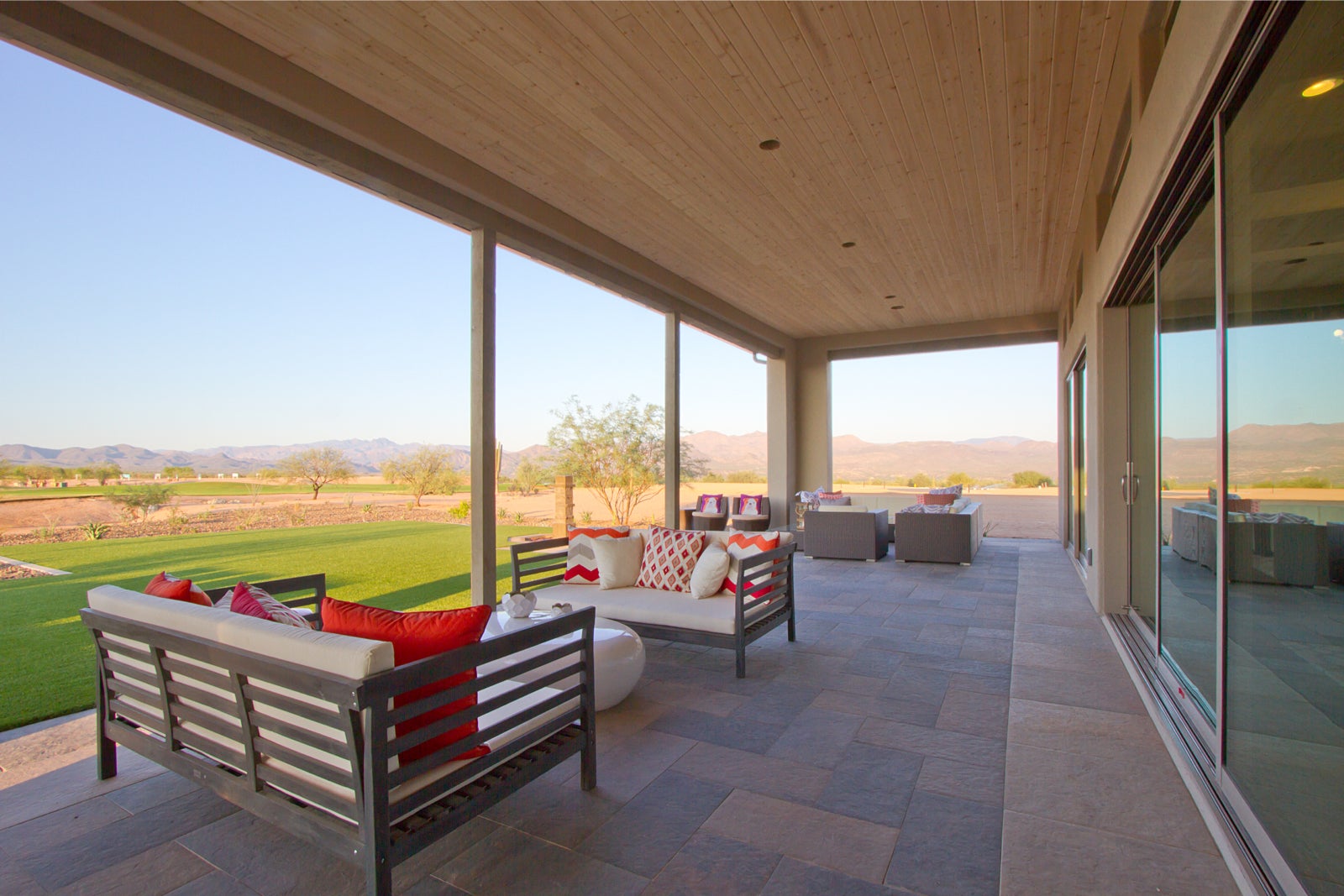 • • •

Fully Functioning Kitchens
Although this trend is more typically seen in higher priced homes, smaller homes are jumping on the outdoor kitchen bandwagon, even if on a smaller scale — like with a simple built-in grill. But for mid-level homes and above, buyers want an outdoor kitchen with all the conveniences of an indoor kitchen, and then some. In luxury homes, the outdoor kitchen often costs more than the indoor kitchen, with amenities that incorporate everything from dishwashers to brick ovens. In many cases, the outdoor kitchen also functions as an outdoor bar and includes items like roll-top beverage coolers, kegerators and wine refrigerators.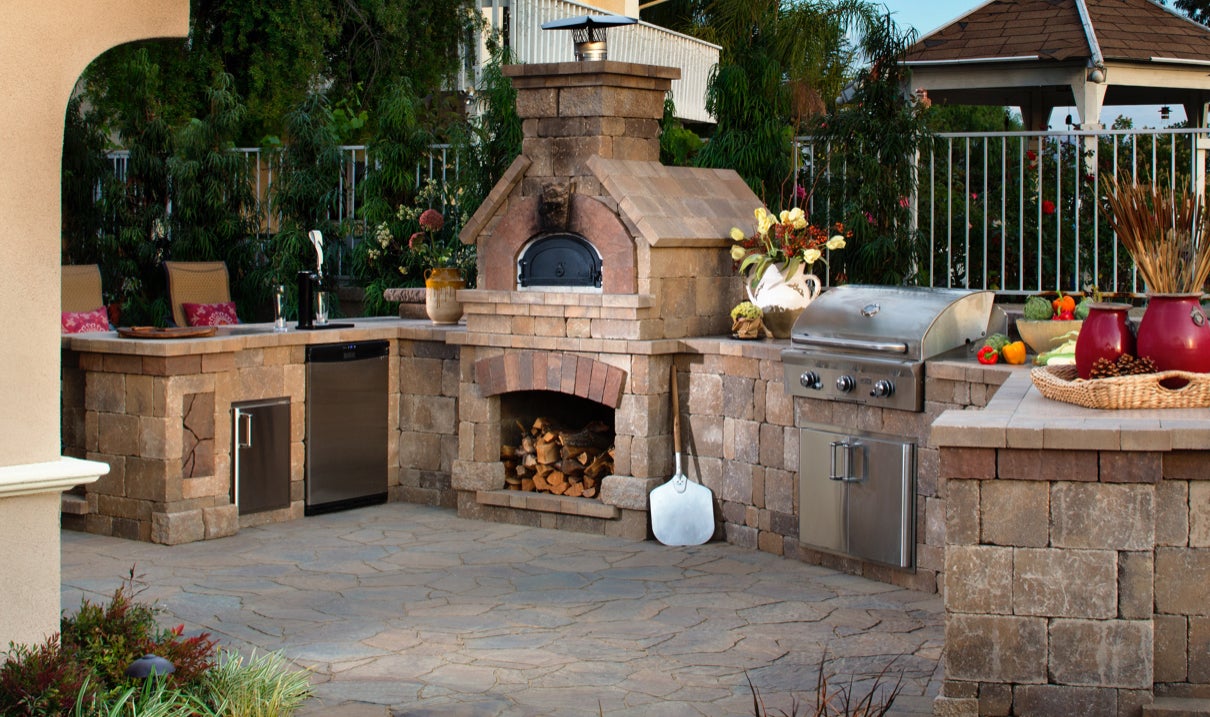 • • •
Integrated Audio/Visual and Lighting
New homes of every price range are incorporating outdoor televisions and sound systems, even if on the smaller scale of an outdoor-rated bluetooth speaker system. Mid-level homes and above are taking the trend to the next level with outdoor sound systems that are integrated with the interior of the home so that the same music can be played inside the home as outside, which follows the indoor/outdoor convergence trend. With the rapid advance of smart phone technology, this can be taken to an even higher level with systems that can operate off of a mobile app to control every electronic aspect of the outdoor living space, including TVs, sound systems, lighting, fire features and pool equipment.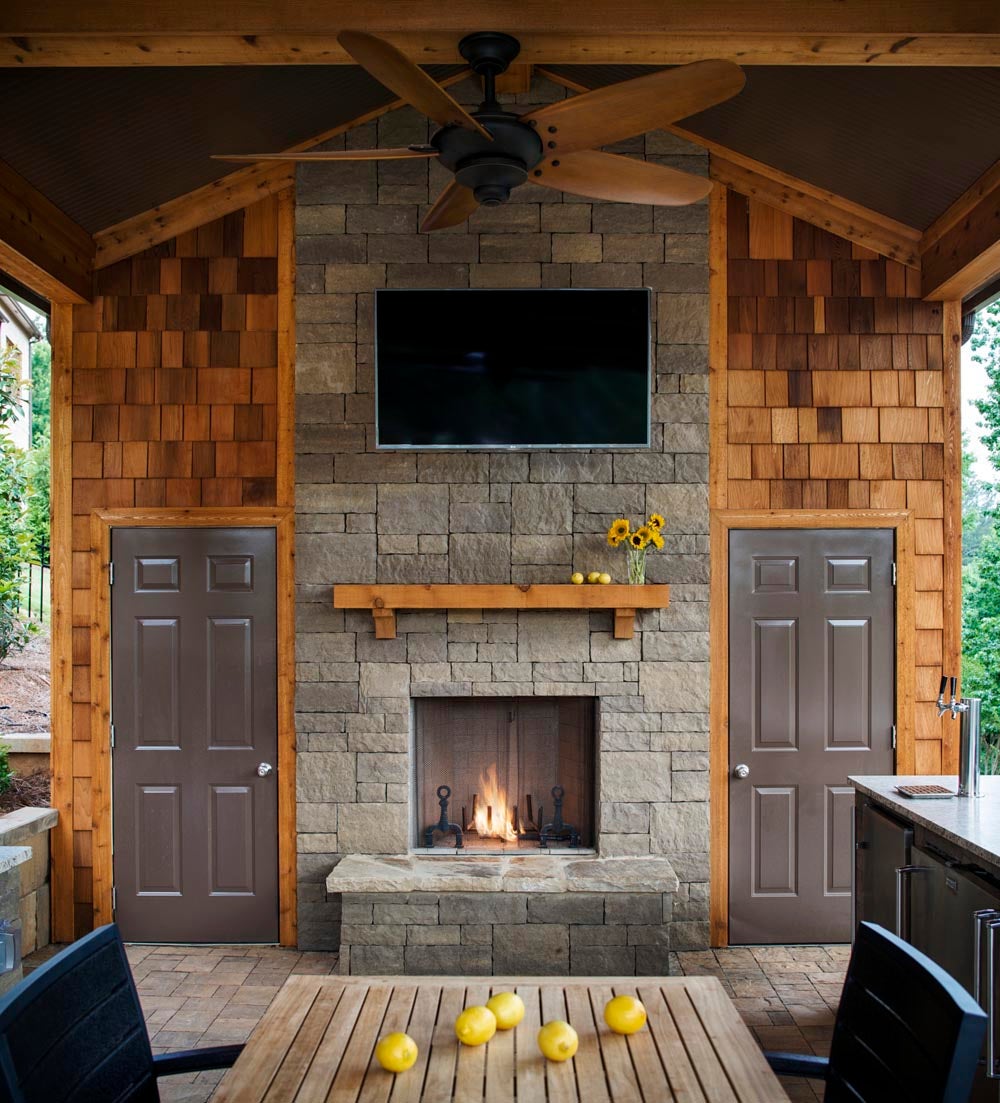 • • •
Intimate Outdoor Spaces
Home buyers are interested in having a relaxing outdoor living area where they can socialize and unwind, creating a trend towards more cozy seating areas, often incorporating a fireplace or fire pit. Some experts relate this trend to the fact that there's typically a TV in every room of the house, so a cozy outdoor space away from a TV can be a place to escape. Unlike expansive outdoor kitchen spaces, which may be limited to luxury homes, an "outdoor retreat" can be created on a smaller budget and appeals to buyers at all levels. In fact, a cozy outdoor space can easily be created by adding a freestanding wall or two. With the help of a few staged furnishing, potential buyers can get a feel for how they would live in the outdoor space.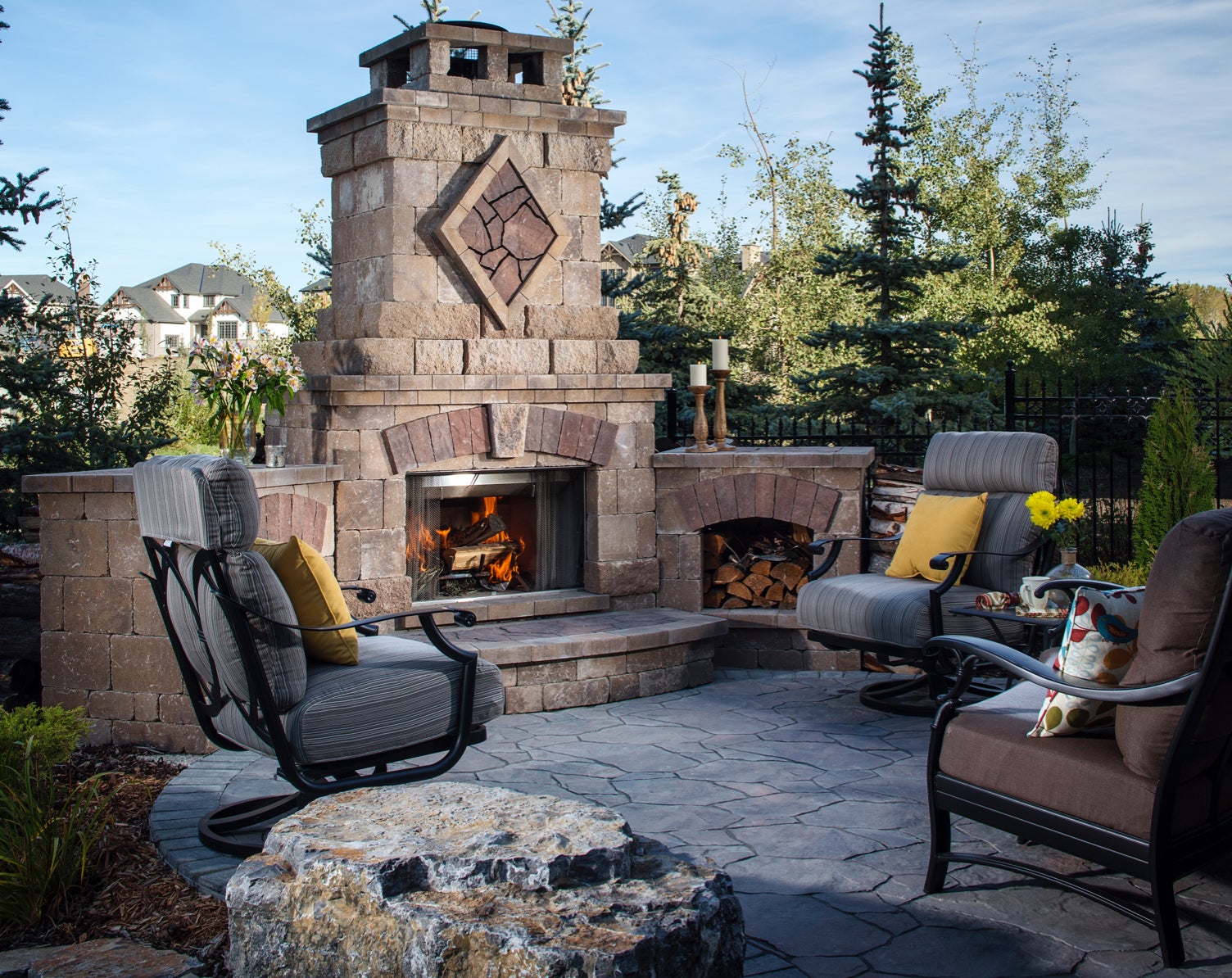 • • •
Sustainable Design
According to the American Society of Landscape Architects, this year's top trends in landscape design include both rainwater harvesting and the use of permeable pavers. Although a standard permeable paver installation simply allows water to filter through the paver joints into the ground below, a permeable paver system can be designed to also harvest and recycle rainwater, converging these two trends into one and allowing the reclaimed water to be used for garden irrigation and other uses. Current top landscape trends also include native plants and low-maintenance landscaping.