Outdoor living has indeed become a staple of American culture. As many homeowners begin to spend more time in their outdoor living areas than in their indoor living areas, the overall trends continue to revolve around creating homey, attractive, livable outdoor spaces that are an extension of the indoor environment. As we enter 2016, expect to see a continuation of this theme in outdoor living design, as well as increases in sustainable ("green") outdoor living practices.
.   .   .
Home is where the hearth is
Once upon a time, the living room fireplace was the favored gathering spot for family and guests, and roasting marshmallows over a campground fire was part of the annual family vacation. Modern outdoor living combines these two traditions into one with outdoor fireplaces and fire pits. This trend will continue to be one of the fastest growing phenomenons in outdoor living for 2016. To meet these needs, Belgard continues to expand and develop the Belgard Elements collection and has recently released a new Midnight trim option for the Bordeaux Series fireplace and matching kitchen pieces. In addition, Belgard offers a full line of retaining wall products that are ideal for creating custom outdoor fireplaces and fire pits, such as Celtik® Wall or Weston Stone®.
.   .   .
Mimicking the indoor environment
Outdoor living room designs continue to mimic the look of their indoor counterparts. This includes furniture design, lighting fixtures, decorative accessories and flooring. Modern interior design is trending towards larger tiles with natural textures. The same goes for outdoor hardscapes. Expect to see an increase in the popularity of larger format pavers with natural textures and design elements, such as the natural flagstone look of Mega-Arbel®, the cut flagstone look of Mega-Lafitt™, and the cut slate look of Lafitt™ Rustic Slab, all of which offer multi-piece large-format design options. Because of the thinner profile, Lafitt Rustic Slab and its smooth counterpart Lafitt™ Grana Slab are both available with an extra-large 14″x22″ piece. Also expect to see an increase in the popularity of Mirage® Porcelain Pavers, which are a durable outdoor-rated version of interior porcelain tiles and are available in a variety of large-format sizes and natural looks, including trendy wood grain and stone textures.
.   .   .
Rise of the outdoor chef
Outdoor kitchens now rival the scope and scale of their indoor counterparts, with professional-rated appliances, multiple cooking surfaces, and bar-type seating with ample countertop and prep space. Expect to see an increase in brick ovens as more homeowners learn that these attractive fixtures can be used for more than just cooking pizza, but can actually function as a full-use outdoor oven. To meet the needs of evolving kitchen trends, Belgard offers a variety of kitchen pieces and brick ovens in the Belgard Elements collection and has recently released Tandem™ Modular Grid, which can be used to quickly and easily create custom outdoor kitchens and coordinating design elements.
.   .   .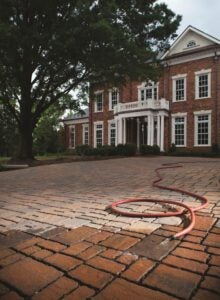 Turns out, it is easy being "green"
For several years, permeable pavers have been a growing movement in commercial construction as more municipalities develop and implement stronger codes for managing stormwater. But as homeowners learn about the benefits of permeable pavers, the trend is beginning to make its way into the residential arena, particularly for driveways, and is expected to continue to grow. Textured permeable pavers, like Subterra® Stone and Eco Dublin®, offer the natural stone look that homeowners desire, while at the same time reducing flooding and improving local waterways through the absorption and filtration of stormwater through the paver joints. As an added benefit, permeable pavers can be used as part of a rainwater harvesting system to collect and reuse water for irrigation or other gray-water uses. Because many states and municipalities offer grants and tax incentives for these types of sustainable, or green, practices, the reduced net cost is an attractive incentive for savvy homeowners.