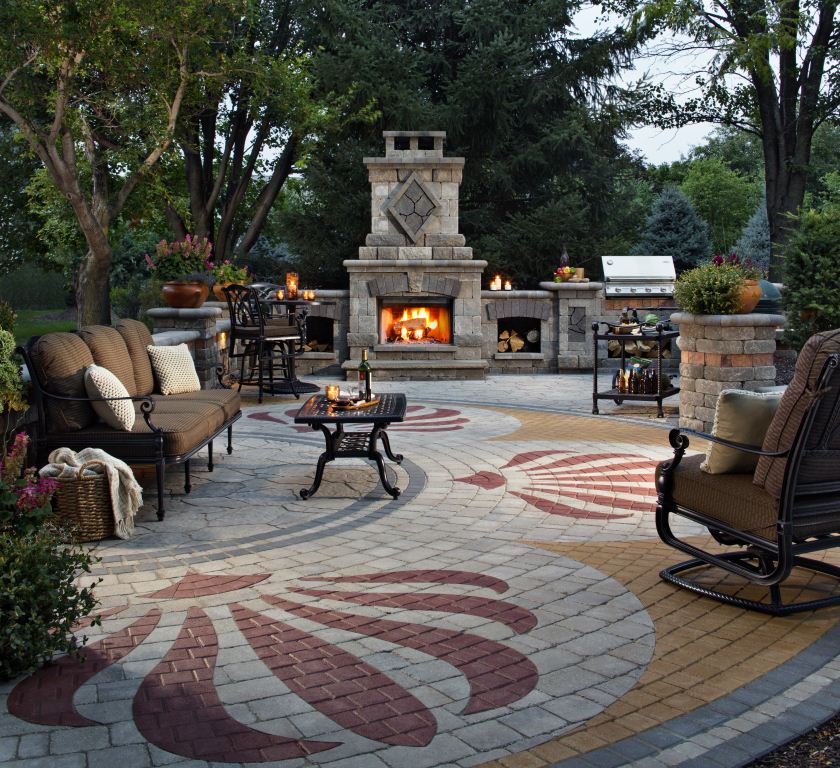 When designing an outdoor paver project, one of the most important decisions is choosing colors and textures that fit your personality. Deciding what is right for you and your home can be a daunting task, but these tips about color and texture should help you navigate the process with ease and result in a beautiful outdoor living space.
Color
You probably brighten up a kitchen or bedroom with vibrant paint colors and accessories that pop – your outdoor space is no different. Don't be afraid to "paint" with pavers and choose colors that make an impact. You can even show your team pride by working with a Belgard Authorized Contractor to design a customized patio with your team's colors or other design. If you're not so adventurous to incorporate your team spirit into your hardscape design, the best advice is to select hues that work in harmony with your home environment. Here are a few things to consider when selecting your paver colors:
Pavers a few shades lighter than the color of your house won't compete for attention; gray-toned pavers used with brick houses eliminate the urge to match everything; and, brick-colored pavers add warmth to wood or stone houses.
Choose pavers with similar tones for a coordinated effect. Light colors reflect the light and open up an area, whereas darker tones absorb light and make areas appear smaller.
A multi-color blend is a paver with more than one color. It can be a blend of two, three, or more colors. Multi-colored pavers blend better with their surroundings. Most minor stains are thoroughly camouflaged in the multitude of hues and tones.
Texture
Texture is just as much fun to play with as color when selecting pavers. With such a wide variety of textures, you shouldn't feel the need to settle on just one to create a stunning outdoor space. Adding multiple textures to your design can add even more interest. Textures can be suited to meet your practical needs as well. Smoother, more rounded surfaces are ideal in high-traffic areas or swimming pool decks.
For more tips to help you plan your outdoor space and get inspired, order a free Idea Book.